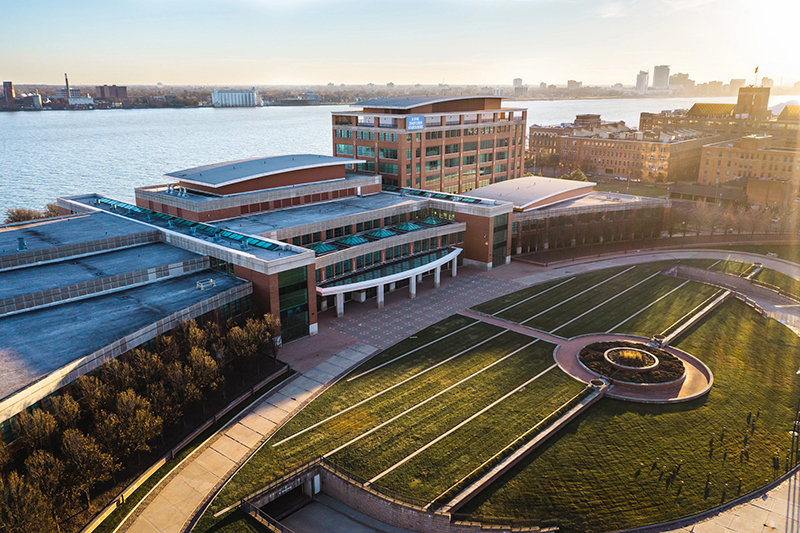 Bedrock, one of Detroit's largest real estate developers, announced today it has acquired The Icon, a 420,000-square-foot multi-purpose development located at 200 Walker St. along Detroit's riverfront that was the former home to the United Auto Workers – General Motors training center. Terms of the transaction were not disclosed.
This acquisition by Bedrock adds more than 18 acres and 880 parking spaces to its growing downtown portfolio and continues its expansion from the central business district to the east riverfront.
"Detroit's riverfront was one of the first of many things about this city that captured my imagination and inspired my move here," says Kofi Bonner, CEO of Bedrock. "The adjacency of the area to the Central Business District and the eastern neighborhoods provide a unique opportunity to connect the vibrancy of the downtown core to the vitality of the riverfront communities."
The Icon includes an eight-story west building office tower and two-story auditorium, a three-story center building with a training center and warehousing space, and a one-story east building with a partial mezzanine and full-service cafeteria. The auditorium seats 375 and the top floor is a 360-degree outdoor terrace. It also has 880 parking spaces.
It is located adjacent to Bedrock's recent acquisition of 300 River Place — a 500,000-square-foot Class A office building — and is located almost exactly midway between Hart Plaza and Belle Isle. The company's stated goal is to extend activity along the entire Riverwalk by providing access to public space, waterfront living, offices, warehousing, and event space.
"The Detroit Riverfront Conservancy and other stakeholders have spent years curating an iconic, memorable, world class public amenity," says Bonner. "Bedrock can build on this legacy to provide a more robust environment with improved sustainable infrastructure, parks and mixed-use developments, fueled by people occupying mixed income housing, retail, entertainment and office spaces."
While plans and programming for these parcels are still underway, Bedrock is in the early stages of imagining a vision for the area that includes sustainable infrastructure, mixed-income housing, dining, office, public space, and more — all beside the Aretha Franklin Amphitheater and Atwater Beach.
Beyond residential and entertainment opportunities, the area's proximity to Canada and its international border provides ample opportunities for business attraction and economic growth for Detroit.
Facebook Comments