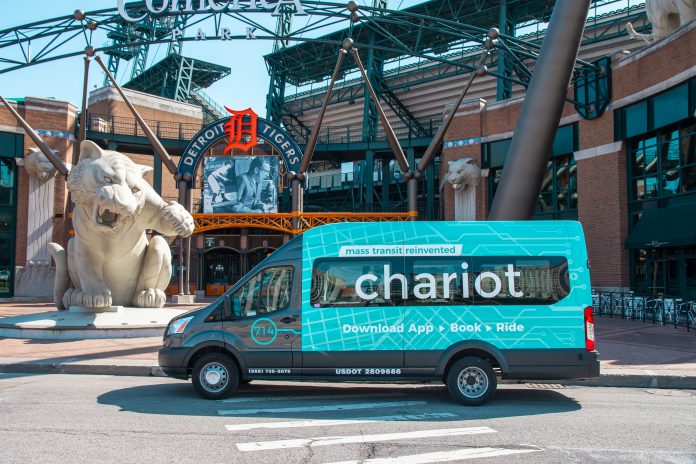 Detroit-based Bedrock, the real estate arm of the Rock Family of Companies, today announced it will offer its employees Ford Motor Co.'s Chariot microtransit service for use during their commutes to and from work. Initial plans call for Chariot to run its 14-passenger, WiFi-enabled Ford Transit vehicles along three routes, with daily operating hours from 7am – 9am and 4pm – 7pm.
Initially, routes will serve employees living in Lincoln Park, Allen Park, Dearborn, Plymouth, Canton Township, Livonia, Southfield, Berkley, Royal Oak, and surrounding areas. The service will be available to thousands of team members at launch, and will be subsidized by Bedrock as an employment benefit.
Bedrock plans to add future capabilities to the Chariot service by opening up seats to members of the public traveling along the same commute corridors, with the potential for new routes to be added in subsequent months.
The service also helps pave the way for additional downtown organizations to launch employee routes of their own, or sponsor routes in neighborhoods that are underserved by transit. Riders can reserve a seat on a Chariot via an iOS or Android app
"As we continue to develop and attract new businesses, visitors and residents to Detroit, it is imperative that we have a transportation system in place that streamlines access into the city for everyone," says Kevin Bopp, vice president of parking and mobility at Bedrock. "This partnership is the first step in a series of deployments that will help to fill gaps in our existing transportation system, and we are excited to be welcoming Chariot to Detroit."
Chariot works closely with such partners as public transit agencies, universities, health care institutions, city associations, corporations, non-profits, and other organizations to design custom microtransit routes. The routes may serve end-to-end service for individuals who don't live near transit stops and would typically drive alone in their own vehicles or serve as first- and last-mile transportation, helping bring riders to public transit that may not have previously been easily accessible.
"Chariot is designed to be a convenient, nimble solution to easing congestion challenges, and offers a more enjoyable way to travel to work daily," says Dan Grossman, CEO of Chariot. "We appreciate Bedrock's efforts to encourage innovative transportation solutions for Detroit, and see opportunities to continue to improve mobility for local residents and employees."
Bedrock is a full-service real estate firm specializing in acquiring, developing, leasing, financing, and managing commercial and residential buildings. Since its founding in 2011, Bedrock and its affiliates have invested and committed more than $5.6 billion to acquiring and developing more than 100 properties, including new construction of ground up developments in downtown Detroit and Cleveland totaling more than 18 million square feet of space.
Bedrock's real estate portfolio consists of more than 330 office and retail tenants in downtown Detroit. Additionally, over the last year Bedrock has invested in both the Randolph Technical Center and the Breithaupt Career and Technical Center, both in Detroit, to help build a pipeline of talent.
Facebook Comments