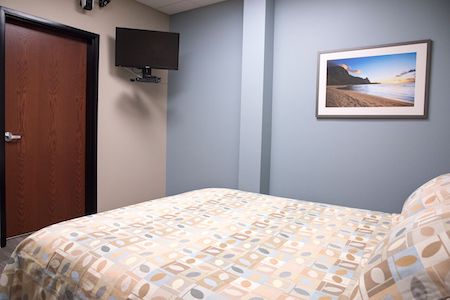 Southfield-based Beaumont Health has opened a new and expanded Sleep Evaluation Services center. The 11,556-square-foot outpatient facility features 16 beds and is located at 16310 W. Twelve Mile Rd.
Beaumont relocated the center from its original location in Berkley in response to increased patient volumes and expansion of the pediatric sleep program, causing the program to outgrow their prior location, a 7,000-square-foot, 10-bed Berkley facility.
The team of sleep experts working at the center includes board-certified physicians and nurse practitioners for adults and children, as well as board-registered polysomnographic technologists trained in both overnight and home sleep testing.
The program services patients of all ages, including infants and children. Patients are evaluated by sleep specialists for concerns related to sleep or alertness such as sleep apnea, insomnia, circadian disorders, and excessive sleepiness. An individualized program is then developed.
"Our clinic offers technology and equipment designed to provide the gold standard in pediatric and adult sleep disorder evaluations," says Dr. Nader Mina, medical director of Beaumont Sleep Evaluation Services. "In terms of scope of services and size, we believe this new facility to be one of the largest in Southeast Michigan."
A sleep study is a comprehensive, safe, and painless procedure for measuring brain activity, eye and body movements, heart rate, pulse, blood oxygen levels, snoring, breathing, and airflow. Patients need a physician referral or a prescription from their doctor to participate in a sleep study.
Typically, patients taking part in a sleep study arrive in the evening to spend one night in a private room which includes a television, private bath, and shower. In the morning, patients usually go home, or to school or work. For patients who work afternoon or evening shifts, accommodations can be made. The new center also offers day studies.
"Our new facility will support sleep clinic visits; a continuous positive airway pressure, or CPAP, compliance program to treat sleep apnea; pediatric family-friendly sleep rooms; and much more," adds Dr. Mina.
Additionally, Beaumont has Sleep Evaluation Services located in Macomb Township and St. Clair Shores, with two Sleep Apnea Centers in Canton Township and Riverview. All five are accredited by the American Academy of Sleep Medicine.
Facebook Comments