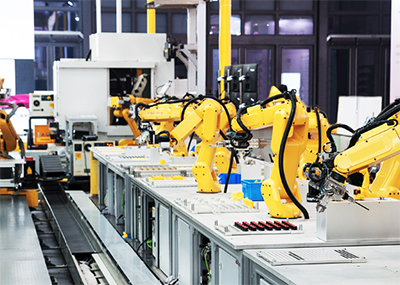 A new Industry 4.0 Accelerator program — the first of its kind in the U.S. and led by Troy-based Automation Alley with support services from Lean Rocket Lab in Jackson and Lawrence Technological University's Centrepolis Accelerator in Southfield — is launching in Michigan to help small- and medium-sized technology and manufacturing companies with digitization.
The Industry 4.0 Accelerator program is a $2.5 million investment fund made possible through the Michigan Economic Development Corp. with $1.3 million currently available for early stage companies as well as established firms looking to commercialize products, services, or technologies within the Industry 4.0 sector.
Industry 4.0, or the fourth industrial revolution, is known as the convergence of the digital and physical technologies disrupting industry and includes technologies like artificial intelligence, the Internet of Things, advanced robotics, 3-D printing, and digital twin.
"Industry 4.0 is challenging the way businesses operate around the globe," says Tom Kelly, executive director and CEO of Automation Alley, a technology and manufacturing business association and Industry 4.0 knowledge center based in Troy. "It's no longer a question of whether your company will be affected by the digital transformation but when. We are pleased to partner with Lean Rocket Lab and LTU's Centrepolis on the Industry 4.0 Accelerator program and are looking forward to investing in innovative companies and Michigan's future."
Companies involved in the program will receive direct investment and business coaching services to help spur innovation, commercialization, and growth. The accelerator also is looking for larger firms and organizations to partner on this effort and support Industry 4.0 adoption for Michigan manufacturers.
"The attraction, development, and deployment of the best technologies will help these companies succeed and simultaneously ensure Michigan's continued role as the epicenter of advanced manufacturing," says Brandon Marken, founder and CEO of Lean Rocket Lab, a manufacturing and tech-focused startup accelerator and incubator.
Services will be customized to meet the needs of each participating company. Those services may include:
Potential pilot and demonstration project funding.
Support with customers and strategic partners.
Potential connections to product development partnerships with customers and strategic partners.
Individualized training and mentorship.
Company growth assessments.
Technical and business milestone progress planning
Strategic plan development.
Management team and talent assessment.
Investment and fundraising strategy support.
Potential connections to investors and capital sources.
Shared workspace opportunities.
"The Michigan Economic Development Corp. is proud to support the Industry 4.0 Accelerator program," says Nadia Abunasser, federal and development projects director for the MEDC. "The addition of this program will ensure high-tech manufacturing startups across Michigan have access to the resources they need to take their projects from ideation to commercialization, solidifying Michigan as a leader in entrepreneurship and innovation while continuing to build on our manufacturing heritage."
For more information or to apply, contact John Bedz, Automation Alley's special programs manager, at bedzj@automationalley.com.
Facebook Comments