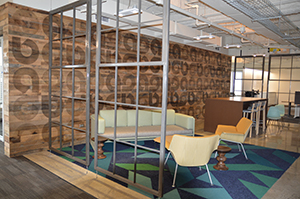 Ally Financial Inc. today opened its new office in the One Detroit Center — renamed the Ally Detroit Center on Woodward Avenue in downtown Detroit. The newly renovated building will be home to more than 1,500 Ally employees who worked at the GM Renaissance Center.
"Ally Detroit Center is a unique and creative space that was designed to pay homage to our long history in Detroit and inspire the collaboration and innovation that will shape our future as a part of this vibrant city," says Jeffrey Brown, CEO of Ally.
Brown, along with Detroit Mayor Mike Duggan, Jim Ketai, CEO of Bedrock Detroit, and Mitch Albom, Detroit Free Press columnist, author, and founder of Detroit Water Ice Factory, attended an official ribbon cutting ceremony this morning at Ally Detroit Center.
The 13 Ally-occupied floors in the building, a total of 321,000 square feet, were designed by Detroit-based design firm SmithGroup JJR. Brown says each floor is named after a Detroit neighborhood, including Rivertown, Eastern Market, Corktown, and Belle Isle, among others. He says each floor was designed with specific materials, colors, and textures to evoke the feel of a certain neighborhood. For example, the 15th Floor, dedicated to Eastern Market, features reclaimed wood, industrial steel elements, and a three-dimensional logo made of green moss.
Brown says nearly 20 percent of the usable work area on each floor offers informal collaboration space, which includes a "playground" space with murals and furnishing dedicated to a specific Detroit neighborhood. Employees have the option to sit or stand at their desks.
He says about 350 Ally employees will move into the building in April, and the majority of the 1,500 employees will be moved in by November.
One Detroit Center is one of the tallest office buildings in Michigan. The skyscraper was built in 1993 and designed by architects John Burgee and Philip Johnson.
Facebook Comments