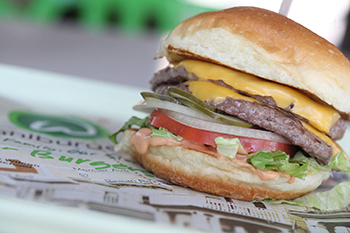 The first Wahlburgers restaurant in Michigan, a growing national chain of burger-centric eateries founded by actor Mark Wahlberg and his two brothers, Donnie and Paul, will be located at 569 Monroe Street in Detroit's Greektown district. The two-story space, set on the north side of the street, is located between Monroe St. Steakhouse and Red Stone Barbeque Restaurant.
Over the next five years, Wahlburgers plans to add six locations in Michigan and another six restaurants in Ohio under a partnership with Nino Cutraro, principal of M & N General Contracting in Troy, and co-owner with his wife, Elizabeth, of Bella Piatti in downtown Birmingham. The Greektown restaurant is scheduled to open this summer.
"Mark and I got to know one another when he was in town filming, Transformers: Age of Extinction (Transformers 4) in the summer of 2013," Cutraro says. "We stayed in touch with one another, so when the opportunity arose to do a partnership, we came together on a deal for Michigan and Ohio."
Cutraro is no stranger to the restaurant and nightlife scene. He owned Taboo, a nightclub along Detroit's east riverfront district that operated from 1985 to 1994 and attracted such celebrities as Madonna, Prince, Michael Jackson, and James Brown. During the 1990s, he owned Metropolitan Music Cafes in Royal Oak, Farmington, Wyandotte, and Columbus, Ohio, as well as the Ultimate Sports Bar and Grill in downtown Pontiac.
Cutraro, who has operated M & N General Contracting since the 1980s, says the Wahlburgers in Greektown will offer up to 130 seats amid 4,200 square feet of space at street level and on a second story space. Each floor will offer a bar.
Like other Wahlburgers, furnishings will include stained wood trim and accents, white porcelain-like tile, silver and green tables and chairs, large TV screens, and large menu boards. Current locations include three restaurants in Massachusetts (Boston, Hingman, Lynnfield), Orlando, Coney Island in New York, and two in Toronto. In the coming weeks, restaurants will be added in Philadelphia and Las Vegas.
The menu includes several burger selections, including the O.F.D. (Originally From Dorchester) made with a half-pound burger, house made tomato jam, bacon, Swiss cheese, and sautéed mushrooms on an artisan bun. Other selections include salads, sandwiches, Yukon gold fries, tater tots, onion rings, chili, and desserts.
The Wahlberg's also own Alma Nove, a 143-seat Mediterranean restaurant in Hingman, Mass., which is named after Alma Wahlberg, who raised nine children. Alma and Executive Chef Paul Wahlberg run the restaurant.
In tandem with the restaurants, the family stars in Wahlburgers on the A&E Network. The next series premiere is scheduled for March 8. In addition, last week the Michigan Film and Digital Media Office said it was likely that portions of Transformers 5 starring Mark Wahlberg would be filmed in and around Detroit this summer. The movie, to be directed by Michael Bay, is scheduled for release in summer 2017.
---