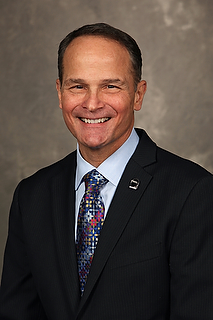 Scott LaRiche, vice president of Lou LaRiche Chevrolet in Plymouth, was this year's honorary co-chair of the Kidney Ball. The annual event took place on Saturday, Dec. 1 at the Westin Book Cadillac in Detroit and featured an afterparty for the first time. Updates to the event did not change its mission – to raise funds for the National Kidney Foundation of Michigan. DBusiness checked in with him before the ball.
DDN: How and why did you get involved with the Kidney Ball?
SL: The first year I attended, I really didn't have a personal connection. I was invited by a friend of mine … And he, at the time, was an honorary chairman. So, at this event, I met all kinds of people — some people that had lost someone because of complications with kidney disease. I met children with kidney disease, parents, friends … the real heroes, that gave one of their kidneys up so someone else could live. So, I met this giant group of people, people that had lost people, people that were there and healing because of the Kidney Foundation. And I saw all these worker bees. All these people working very, very hard to try to raise money for what, I was learning, was a really great cause. What I didn't know was that a short six months later, I would lose my mom because of complications with her kidneys. She had been sick for quite a while, and, I mean, I guess you could kind of say the rest is history after that. I saw first-hand how people were helping people, and then I lost someone because of kidney disease.
DDN: What is the goal of the Kidney Ball?
SL: No. 1 is to raise awareness of kidney disease and how it affects so many people; 900,000 Michigan adults that are over 20 have some sort of chronic kidney disease. So, raising awareness, no. 1, (also) raising funds so that the foundation can educate people about it. Because 70 percent of kidney disease is preventable. If the word gets out on what to look for and what signs are out there that you may be contracting some sort of kidney disease, then you have an opportunity to stop it. But, the other thing that they're going to do, and I saw a number, $500,000 is what we're trying to raise, it's going to not only go to the educational part of it, but they have programs like kids camps … For kids that have kidney disease or those who have actually had kidney transplants, it gives them an opportunity to get out and enjoy a true camping experience for a week. Diabetes prevention programs — there's a whole plethora of other things.
DDN: Can you tell me a little bit about the National Kidney Foundation of Michigan?
SL: One of the things that I found out since I was involved with (my friend) and now as the honorary (co-)chair is that I had no idea that 90 cents of every dollar raised actually goes to the programs and services. That kind of blew me away. I'm normally very picky about the charities that I'm involved in, and I had never even looked at the charity navigator to see what the National Kidney Foundation of Michigan's rating was.
DDN: What else does the foundation meant to you?
SL: I was kind of caught up and passionate about it not only because I had met all those great people, the heroes that had given up their kidneys, and met the people that had lost family members, but then lost my mom, but I was just passionate about it because of that … they are in the top one percent of all charities in the United States. That in itself says a lot about how determined they are to use every resource they get, every dollar to the best of their ability to make sure that they spread the word. That, I think, really speaks highly about the foundation and mission of the National Kidney Foundation of Michigan and the people that volunteer and work there.
DDN: What is one thing you want everyone to know about kidney disease?
SL: It's preventable. If you think you have some sort of a symptom, even if you aren't familiar with what the symptoms may be, if you feel any kind of pain in your kidney area, or you're feeling lethargic or whatever it might be, get yourself checked out as soon as possible, because there is a way that you can get help. And, like the studies show, 70 percent of kidney disease is preventable, so if you feel the onset of something, please, take the time to get checked out.
Facebook Comments