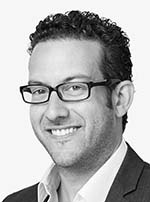 Co-founder | SLI Automotive Group, Commerce Township | Employees: 23 | Revenue: $4.5M
Josh Kaplan, like most entrepreneurs, often juggles multiple enterprises at once. As a 15-year-old, he managed several businesses along with his schoolwork. His work practices haven't changed as an adult. Kaplan, co-founder of SLI Automotive Group and CEO of Sunscreen Mist, also sits on the board of directors of the nonprofit Kids Kicking Cancer.
After high school, Kaplan worked in industries spanning from retail to nonprofit work to running financial operations. 
He eventually found himself back in the automotive industry three years ago when he, his cousin, and his brother took over the family business, an automotive replacement parts supplier. The trio restarted the company after Kaplan's uncle retired. Prior to taking over the family business, Kaplan headed up the  sales division and worked to raise capital from banks and investors.
"I was the guy on the phone 10 hours a day trying to make a sale — it didn't matter if it was $100 or $100,000," he says.
Today, he's in charge of the growth and direction of SLI Automotive, which serves such markets as automotive, medical, and financial. The company has offices in Commerce Township; Orlando, Fla.; Anaheim, Calif.; and, soon, Scottsdale, Ariz.
As CEO of Sunscreen Mist, he oversees production of automated booths that spray sunscreen (SLI manufactures the booths). Kaplan, together with co-founder and president Tony Fayne, appeared on ABC's Shark Tank in May, and while they didn't receive an investment, Kaplan says the exposure was amazing.
His advice on being successful: "If you have the right team, the right product, and you have the ability to grow, then the only thing that's left is the hard work that you put behind it to get to where you want to be," Kaplan says.
---