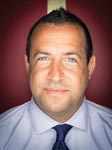 Executive Vice President, Impact Management Services, Southfield
Employees: 18 Revenue: $17 million Education: Central Michigan University
Growing up in Bay City, Jeff Lothian gained valuable experience sourcing, screening, orientating, and training key personnel in the manufacturing sector by working every job imaginable at his family's business. The company manufactured and installed large boilers and turbines for use inside power plants, and Lothian did everything from working on the factory floor to driving large delivery trucks. "I was working with pipefitters and boilermakers, sort of those old-school trades that provide tremendous value for the companies they work for," says Lothian. Starting in 2005, he joined entrepreneur Pete Davis, and the pair quickly expanded what was a firm specializing in professional engineering staffing solutions to include light industrial job placements, since renamed Impact Management Services. "Our biggest segment is serving what we call commercial staffing, so finding those key personnel that are needed for any company to grow their business," he says. "As everyone knows, there's a war on talent right now, pay rates have climbed, and there's more perks, so things are very competitive." Lothian says a key factor in the company's success is identifying skilled workers, such as welders, who are looking to stay for the long term. "Finding reliable, quality people is what sets us apart," he says. The firm, he says, is on pace to record $30 million in sales this year, and through acquisitions, will be at $100 million in 2017.