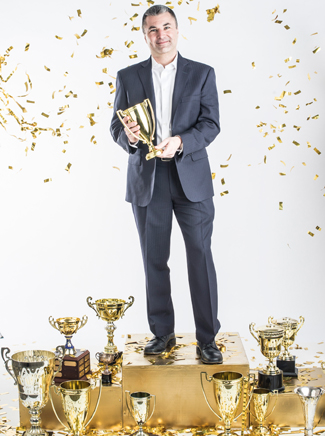 Ron Utterbeck CIO GE Advanced Manufacturing Software Technology Center, Van Buren Township
Listen to the Champions of the New Economy Interview

Standard MP3 Podcast: Download
Why he's a Champion of the New Economy:
As CIO of General Electric Co., Ron Utterbeck orchestrates the generation and delivery of billions of pieces of data on behalf of 300,000 global workers. But in recent years, as data-sharing began to grow, he says he felt more like a digital traffic cop than a visionary leader. "Apart from all the emails, we had a hard time connecting our veteran workers with our younger employees," says Utterbeck, who also serves as director of the GE Advanced Manufacturing Software Technology Center in Van Buren Township. "Unless our workers met at a water cooler, there wasn't a good way for them to share connections, knowledge, and ideas across the corporation." To bridge the divide, Utterbeck and his team took the best of social networks like Facebook and Twitter and developed GE Colab.
How does GE Colab work?
Most everyone is familiar with Facebook, and while you might share a picture on Facebook, you would never share an internal file from work. We thought about how we could take some of the best things from social networks and apply them internally at GE. In essence, we wanted to harness our collective brainpower and make the world a lot smaller place for our employees. If you think of GE Colab as a virtual water cooler, it allows you to share best practices across the 175,000 workers who are now on the network (the program was launched in 2012). If one of (GE's) workers in India has a problem, they can post it on GE Colab and within minutes there will be multiple responses. The system offers different groups, file-sharing, video-posting — you name it. We brought all of those features together in one platform, rather than have all of these dispirited offerings. We continue to add functionality and applications so you can approve a purchase order on the spot, rather than (having to) go to a separate program and fill out all of the paperwork.
What other ways are you driving efficiency?
We've developed (internal) mobile apps that drive customer efficiency. For example, in our health care division, we have MRI machines set up in hospitals in a given region, and they check in virtually, now, to provide a status report. It's like calling home. We've since added to that. When a part breaks down, a service engineer in the field gets an alert so that they can incorporate (a repair visit) into their daily route rather than reporting back to the office, responding to a phone call or email, and then (going to) service the problem. It also works in our energy division. We have built a lot of wind farms, so when there's a problem with a turbine, the engineer knows which one it is — say, No. 172 of 300 (units). It's a great timesaver.
Why did GE establish its Advanced Manufacturing Software Technology Center in metro Detroit rather than Silicon Valley?
It's all about access to talent. Michigan is a great place to do business. We've been able to recruit great people with the right skill sets. When we started, we hired seasoned professionals, and now we're hiring more junior members. We really like that balance, because I think you have a better team when you continually enhance the career and development pipeline. Right now, we have 935 employees and we plan to have 1,100 (workers) in the next year and a half, and 1,400 down the road. We have every IT profession covered here (for the corporation), including health care, power and water, appliances, lighting, and aerospace. It's quite a talent base.
How do you balance workflow between GE's specialized businesses and everyday consumers of, say, kitchen appliances?
GE Colab provides greater efficiency among our specialized businesses, and we harness the social aspects of the Internet to help develop better consumer products. We look at what people are saying after they buy one of our appliances, and we gather all of those responses and turn them over to our product design team. Our whole appliance line has gone through a complete redesign, so we leveraged a lot of information from consumer sentiment about our washing machines or refrigerators. It's candid feedback, quite frankly.