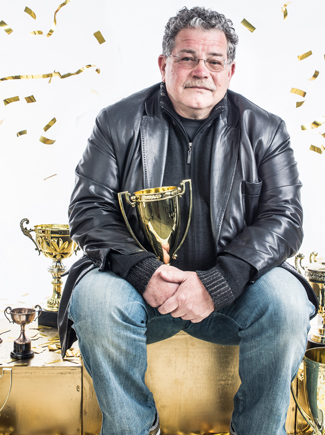 Ron Harwood Creative Director and Principal Illuminating Concepts, Farmington Hills
Listen to the Champions of the New Economy Interview

Standard MP3 Podcast: Download
Why he's a Champion of the New Economy:
In the last six months, Ron Harwood, creative director and principal of Illuminating Concepts in Farmington Hills, launched a division called Intellistreets, an LED street lighting system where individual poles are loaded with applications such as cameras, digital signs, wireless networks, and speakers. The system targets municipalities, universities, commercial developers, and hospitals; customers can order one or multiple features based on their needs. In addition, Harwood recently started a finance arm to help municipalities upgrade their streetlights with new LED bulbs. On average, the LEDs last five times longer than conventional bulbs, while cutting energy use in half.  
How did you get started in the lighting design business?
It was 1981, and I was doing design build electrical contracting. A number of clients asked me to design their lighting projects, so I launched Illuminating Concepts. Today we have 60 employees and we work all over the world on behalf of building owners, casinos, shopping malls, and universities. Creative lighting design is a form of entertainment, and it's constantly evolving. Before — with the introduction of LED technology — our clients wanted to use a lot of colored lights to highlight their buildings; now people are moving away from colored lighting. They're focusing more on light as a form of art they can utilize to focus on architectural elements such as the top of an historic building.
Many communities are dealing with financial challenges. Has that affected your business?
Finances are tight right now, and everyone wants to see a return on investment. Lighting promotes safety, of course, but municipalities want to know how they can save money in an environment of rising energy costs. We work with them to find creative ways to save energy. We work with mayors all over the country and show them how a great lighting program helps repopulate cities after the workday is over. It helps bring people to an urban district to visit stadiums, concert halls, restaurants, and festivals. The action is in downtown areas, which are becoming entertainment districts. We let the controlling stakeholders know what a connected street lighting system can do for promoting pedestrian traffic, safety, and efficiency.
How do you integrate wireless technology into Intellistreets?
In the last couple of years, there's been a sea of new technology. With a wireless control network, the lights communicate with a home base. One thing that saves communities money is maintenance. When a light component needs to be replaced, a module on a streetlight alerts home base, meaning the municipality or business can better sequence equipment repair trucks. If there is a danger such as a natural gas leak, the police can use the speakers on the streetlights to communicate with pedestrians. You can reroute traffic via digital signage. Cameras also act as a crime deterrent.
Where is Intellistreets operational?
Right now we are in London, the Netherlands, Sweden, and a few large communities in North America. We have pilot programs in Auburn Hills; Las Vegas; New Orleans; Asbury Park, N.J.; and Boston. We also are looking at opportunities in Detroit, where I was born and raised. We'd like to (equip) downtown Detroit, Midtown, and the other neighborhoods, especially as (the Michigan Legislature) recently approved a lighting authority to repair the streetlights in Detroit. We'd also like to do work on the M1 Rail line (project).
How have you integrated the new division into your overall company?
Intellistreets accounts for 10 percent of our business. Next year it will be 30 percent, and in three years it will be 50 percent (in North America). Apart from urban districts, we're working with shopping malls to enhance their lighting and reduce their energy costs. In addition, with digital signage, the malls can advertise their tenants or offer promotions. The good news is we can sit down with the decision-makers and get things done, which means we don't often appear before public bodies like a city council. Speed to market is what we're all about.