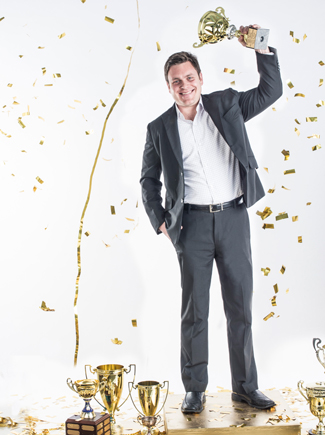 Matt Mosher Founder and CEO HiredMyWay.com, Detroit
Listen to the Champions of the New Economy Interview

Standard MP3 Podcast: Download
Why he's an Emerging* Champion of the New Economy:
Matt Mosher was 15 years old when he started his first company — offering and servicing saltwater aquariums. Two years later, he sold the business. "I got tired of cleaning fish tanks so I launched a landscaping construction firm," Mosher says. After adding a property management company to his portfolio in 2008, Mosher began looking at ways to better pair recruiters with job candidates. He launched hiredMYway.com in 2010 and, soon after, started a related site called CollegeTopTalent.com. Together, the two sites streamline the hiring process by better organizing and qualifying candidates.
How do you manage three companies at once?
I tend to be very visionary, and I'm good at building infrastructure and putting people in the right place. You find the right people by having a good reputation and treating team members well. I have an intuition for finding the right personalities for the jobs that need to be filled. Everyone is treated as an equal. Even though there are different skill sets, the people who work here feel they have a voice and (believe) they can make a difference. One of my strengths is providing constructive criticism, along with encouragement when things are going well. As for time management, I spend about 90 percent of my professional time on hiredMYway.com (on average, per month), with the rest devoted to the other two companies.
What's next for hiredMYway.com?
We are in hyper-growth mode. Since the fall of 2012, we've been laser-focused on growth. We established a solid business model in terms of revenue-generation and growth. Our goals are to make the company profitable within a year while expanding at a fast pace throughout the United States from our original Midwest reach. We built a great product that people want to engage with, and now we've got to market it properly through creative and traditional marketing, along with social media and other strategies. I'm a big believer in developing a solid product before you go too crazy putting it out into the mainstream.
Any operational lessons you've been able to share between companies?
One of the biggest things I've learned is to never reinvent the wheel. There's always someone who has done it before, or something similar. I'd rather learn from them than try to invent it myself. If you learn to leverage the people around you, you get further much faster. I used to do everything on my own, but now I've learned to move at light speed by leveraging knowledge. When I was 15, I did everything myself. I didn't know how to delegate. When I was 18, I got a contract to build a $100,000 water feature for a private home. Instead of consulting with some experts, I did it myself. It cost me a lot more than it should have, but I got it done and it won a lot of national awards.
One core value you have is to "treat problems as puzzles." What puzzle are you working on right now?
For hiredMYway.com, the puzzle is creating the right (online) package that works and makes sense for the audience, from the recruiters to the job candidates. It must make financial sense and be user-friendly. At the other companies (Mosher Property Management Services and Mosher and Associates Landscape Construction, both in Birmingham), we look for efficiencies to provide better service and increase our margins.
What was it like running a saltwater aquarium company out of your parents' home?
I was really into fish tanks, so it was an opportunity to make some money and invent things. I went around to different businesses like salons, offices, and restaurants. I got a few accounts and grew the business for two years before selling it. Frankly, I got bored with it and the work was getting monotonous. I think one of the best things you can do is look for the next path. When the economy started to get bad (in 2008), I could see it coming in my landscape construction business. So I started the property maintenance business to offset the downturn. That worked out well, because while our new orders slowed, we were able to pick it up on the maintenance side. db
---