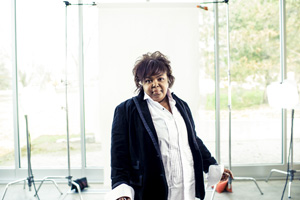 Alicia R. Jones CEO Harmony Point Computer Training Center, Detroit
Why she is a Champion of the New Economy:
Alicia R. Jones has provided computer training to more than 1,500 children and adults since 1998, and that's only the beginning. This fall, Jones, CEO of Harmony Point Computer Training Center, east of downtown Detroit, will move the school to a new campus in Midtown. The future IT hub, which will accommodate 2,100 students annually, will feature computer labs, a production studio, a 500-seat theater, and a cyber café.
The digital divide is a major challenge in Detroit. How do you overcome illiteracy and learning disabilities?
We have an 85-percent success rate as it relates to students who graduate and land a job, or continue on in a given educational field. We have a waiting list of people who want to enter the program, which is free or available at a very low cost for veterans, disabled individuals, and disadvantaged people. For people who have the means, the introductory price is $500 for six to eight weeks of training. Every student is tested before they begin, so we can determine their skill set. If someone is illiterate, we place them in a computer-based literacy program where they learn to comprehend our technology curriculum. We teach people how the Internet works and explain basic operating systems. The students also take apart and reassemble the computers, to demystify the technology and essentially remove any fears or phobias. There's intermediate and advanced training, as well.
What jobs are available?
Our graduates have gone on to become software engineers, technology directors, and network administrators. Our graduates have earned scholarships or started their own companies, working with TechTown's business incubation center (at Wayne State University). This summer, we're launching a computer-training program at 16 Detroit public schools. In addition, our new headquarters will be a green campus and we will have a geothermal energy system, along with solar and wind power capabilities. We'll train students in the green energy environment. The school will be open 24/7, and we'll have an area for companies from around the country that want to come here and interview our students or set up a particular curriculum.
How does the latter program work?
Working with the private sector, we customize curricula for employers. Say a company needs six IT administrators to help oversee their internal systems. We train the administrators and get them certified, or work with the company's existing staff to offer training programs. Our partners have included the U.S. Labor Department, Michigan Works, the Michigan Economic Growth Authority, and Comerica Bank.
What's the biggest demand-driver?
It starts with tech support in nearly every sector. Engineers need tech support because they often don't do the front-end work. So we train engineering assistants, database administrators, administrative assistants, and people on the ground floor of IT. We get them prepared so they can go on to become engineers or IT directors. Some people come to us with technical experience, but they are not certified or they are unemployed. For every student, we offer a battery of professional development training that includes conflict resolution, corporate etiquette, time management, diversity training, life skills, budgeting, and interviewing skills. In this way, our students are prepared to enter the professional work environment.
What's your most successful turnaround story?
A mother had told her 12-year-old son that he needed to support the household, so he began stealing cars and was in and out of juvenile detention. He came here when he was 18 years old and on probation. He went through our professional training, as well as anger management classes. He also underwent professional counseling, to resolve the issues of the past, and now he's an instructor for an IT company in Troy.
If Bill Gates offered assistance, what would you ask for?
I'd tap his brain trust and have his team help us develop a curriculum, both now and into the future. IT changes rapidly, and we offer our students a strong foundation that they can lean on to anticipate technological advances. I'd like to collaborate with his team at Microsoft to improve our training programs. We'd also like help in establishing metro Detroit as the Silicon Valley of the Midwest. We are very passionate about what we do, and we have a dogged tenacity to infuse technology into communities that have historically been left behind.
---