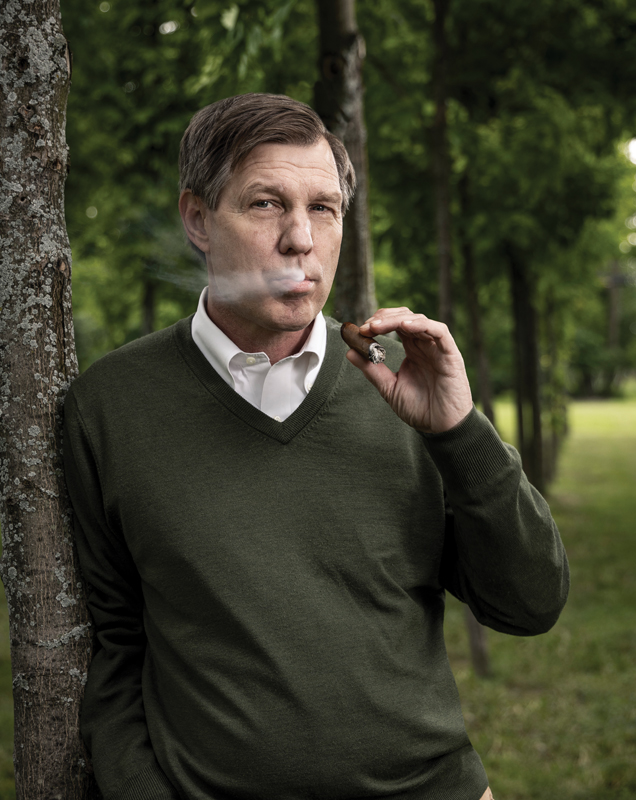 The original idea was simple enough: Uplift an impoverished area of Detroit by generating demand for large tracts of nearly worthless land through farming. When John Hantz, founder and CEO of Hantz Group Inc., a large financial holding company in Southfield, began approaching Detroit officials about establishing the largest urban farming initiative in the world, his idea largely fell on deaf ears.
Undeterred, in 2009 he hired Michael Score, an agricultural educator and counselor at the Product Center for Agriculture and Natural Resources at Michigan State University in East Lansing, to negotiate with the city to acquire land that would be converted into a working farm.
Taking the concept further, abandoned buildings would be transformed into micro farms utilizing aeroponics, the process of embedding a seed — which subsequently grows into a fruit or a vegetable — in a biodegradable material and then using a nutrient-rich mist, rather than soil, to promote growth.
"I was driving through the city one day on my way to work, and I looked at how abandoned and dangerous it was in the neglected neighborhoods, and I thought, 'How can you create demand to get rid of the scarcity?' " says Hantz, founder of Hantz Farms, now Hantz Woodlands, in Detroit. "My initial idea was that farming would generate fruits and vegetables, provide new labor opportunities, clean up the neighborhoods, and, if successful, boost the value of the land in a given area."
Score likened the effort to a green version of Thomas Edison's Menlo Park Laboratories in New Jersey (since moved to Greenfield Village in Dearborn). In Detroit, large, vacant buildings would be converted into advanced R&D planting centers. Along with using limited amounts of water, some of the plants could produce fuel to power lights. Research trials, meanwhile, would be conducted in soil remediation.
"I began negotiating with the city in 2010, and while we had amazing ideas, we ran into a lot of technical issues such as irrigation," Score says. "Still, my contacts at Michigan State were very interested in joining us by establishing a global food research and innovation center adjacent to the Hantz urban farming operation. The center would develop innovative and sustainable methods of producing highly nutritious food using limited water and energy."
But as Score approached the city with the farming concept, Mayor Dave Bing's administration, along with some City Council members, resisted the idea at first. Unwilling to work in a municipality that didn't embrace urban farming, Michigan State pulled out of the project. MSU also failed to raise the necessary funds to establish the R&D center.
As Score continued to negotiate with the city, it was clear support for the project was lukewarm at best. In turn, Score says other nonprofit organizations that planted trees or operated urban farms in the city didn't want the competition, and they lobbied City Council members to vote against Hantz's project.
"So we switched gears and moved forward as a tree farm," Score says. "We changed the company name to Hantz Woodlands. Some people in the city had visions of livestock in the neighborhoods, and no one wants to live downwind from a working farm. We were never going to do livestock, but still the idea persisted."
In a stroke of good fortune, Kevyn Orr, Detroit's emergency manager during the city's historic Chapter 9 bankruptcy, favored the idea. In August 2013, Orr approved a deal in which Hantz Woodlands would acquire 190 acres of land in a roughly one-square-mile area on the city's east side, bounded by Mack, Jefferson, St. Jean, and Van Dyke.
The east side of the project abuts the Jefferson North Assembly Plant owned by FCA US, while the west side includes such neighborhoods as East Village, Indian Village, and West Village. After speaking with numerous residents in the area, the idea of a tree farm ran into some resistance.
Ray Anthony Anderson, who has lived in the square mile for 62 years, says he and many of his neighbors expressed concerns about the extent of the farming initiative during community meetings. But once the project was centered on planting, maintaining, and harvesting hardwood trees, much of the initial skepticism faded away.
"This was a very tight-knit community before the (1967) riots, with well-maintained homes and services you could walk to like grocery stores, ice-cream parlors, barber shops, and movie theaters," Anderson says, "but after the riots, the neighborhood deteriorated tremendously. There was debris everywhere — tires, you name it.
"When the Hantz team came in, there was some skepticism and some people thought they would force everyone out. My mom will be 88 in September, and we talked about moving, but Mike (Score) said if we could hang in there, things would get better. And they have gotten much better. I'm glad we stayed."
Score says he and Hantz began hosting community meetings to provide residents with more information about their plans for revitalizing the area. At the same time, they wanted to prevent unfounded rumors from spreading.
"We didn't want to ram an idea into the neighborhood; we wanted community input in support of our goal of using tree farming to boost land values and get rid of the blight," Score says. "Everyone wanted to get rid of the blight, but some people were concerned that if we planted fruit trees there would be pesticides, and it would create food for rodents, while evergreen trees would block the view from one street to the next."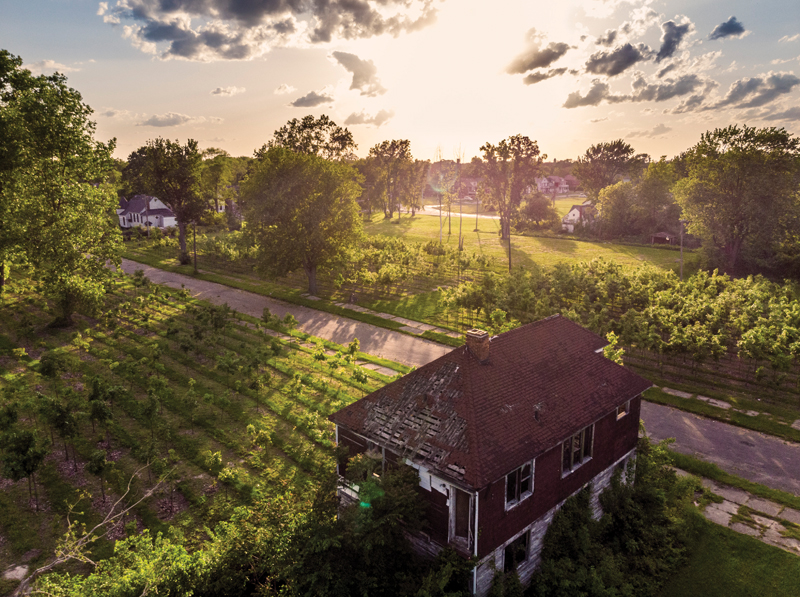 So Hantz and Score settled on a plan to plant hardwood saplings on open land they had acquired from the city. The first effort was to establish a pilot zone near Davison and Mt. Elliott. After clearing a 3.5-block area of 150 cubic yards of trash — including 430 tires — and removing several burnt-out homes, Hantz Woodlands planted 900 saplings.
Soon after, in 2014, the company organized 1,500 volunteers who planted 15,000 trees over the course of one day in the Hantz Woodlands area between Indian Village and the FCA plant. Each sapling cost $1.50 and ranged in height from 3 to 4 feet. The varieties included burr oak, swamp oak, white birch, black cherry, tulip poplar, and sugar maple.
The trees were selected for their ability to handle a pH level of 8 in the soil —slightly more alkaline than acidic. At the start, the saplings were planted close together to encourage upward growth toward the sun. The dense layout also created larger canopies, and limited the growth of branch saplings on the trunk or roots. Over time, the trees will be replanted on other lots until they're large enough to be sold for a profit.
From 2015 to 2017, 12,000 more trees were planted. Overall, 27,000 trees were added. Another 5,000 trees will be planted this summer, in part using land Hantz Woodlands recently gained in the square mile via a land swap for parcels it owned next to the FCA plant.
The exchange of land was needed to accommodate a $2.5-billion retooling of FCA's Jefferson North Assembly Plant and an expansion of the Mack Avenue Engine Complex. When completed over the next three years, the added production of SUVs and crossovers is expected to create 5,000 new jobs.
In return for 11 acres (43 parcels) it owned in the FCA expansion area, Hantz Woodlands received 35 city-owned acres (365 parcels) within its square mile. On its face, it appeared the company got much more than it gave. But under the original deal with Orr, Hantz Woodlands had an option to acquire an additional 180 acres of land from the city if it met certain conditions (since fulfilled). As it stood, the added land would have taken years for the city to assemble, so the two sides negotiated a separate deal for the property swap. At the same time, the option was cancelled.
In addition to receiving land, the Hantz team agreed to rehabilitate 80 vacant homes it had acquired from the city within the Woodlands area. If the homes aren't renovated by April 2021, the 400 parcels will revert to the city. Hantz and Score say they're confident the homes will be restored by the deadline.
In turn, several dozen homes that were beyond saving are being demolished, a process that's expected to be completed by the end of the year.
When the Hantz team came in, there was skepticism and some people thought they would force everyone out. … But Mike (Score) said if we could hang in there, things would get better, And they have gotten much better. I'm glad we stayed.

—Ray Anthony Anderson
Hantz adds that next year, work will begin on what will be $300 million to $400 million in new development amid a 20-acre area in the neighborhood. Described as a mini-Soho, Hantz says the project will include a mixture of for-sale, rental, and affordable housing, along with retail, restaurants, and public spaces.
To date, Hantz says he and his Hantz Foundation have invested more than $12 million into the neighborhood. The effort included removing overgrown brush, trash, debris, and burnt-out homes, as well as planting and trimming trees, cutting the grass every two weeks, and beautifying the area. It's all come without public subsidies or brownfield credits, while the city is able to generate tax revenue on land it once owned.
"The business model that we see is that other areas of the city or other urban areas, led by community groups, could plant trees, nurture and maintain them, and sell them a few years later for a profit," Hantz says. "The saplings we're planting for $1.50 can command prices of $200 to $300 from a nursery or a landscaping company.
"Now imagine if a marketing program goes with it, meaning the trees are branded as having been grown in Detroit in a given neighborhood, and people from other parts of the city, the region, or the state can buy them for their yard or their office lawn. They feel good because they're supporting the turnaround of a neighborhood, and the money the community raises can be used to cut the grass and beautify the area. At the same time, the city doesn't have to cut the grass, so it can focus its resources on something else."
Hantz acknowledges that while the FCA expansion project will help raise the value of the surrounding land, the urban transformation effort — where communities plant and sell trees or another cash crop — works regardless of whether or not a major development happens nearby.
"You talk about adding more affordable housing in Detroit, and that's great, but some of the people who are living in the Hantz Woodlands area have seen their houses go from $5,000 in value a decade ago to upward of $200,000 to $250,000 today. That's taking affordable housing and adding value," Hantz says. "Before, if a grandmother died, none of the kids wanted her home. Now, with property values rising, the kids want the home.
"The tipping point for success in our neighborhood is that residents start cleaning up their property because now they can see from street to street, they see the grass is being cut, there's no illegal dumping, kids have a safe passage to school, and the property values are rising. That's a positive message all the way around, and that's exactly what's happening."
As part of the renovation of the square mile, the Hantz team has selected two separate building companies to renovate 80 homes in the area. Woodlands Initiative, which is upgrading 60 of the homes, is co-owned by longtime builders Glenn Prentice and Adam Helfman.
"The homes are being renovated from top to bottom," says Prentice, who has renovated more than 600 homes in Michigan, Ohio, and Indiana over the past 12 years. "We'll keep as much of the architectural and historical detail as we can. The wood floors and bathroom tiles will be restored, we'll keep the original staircases, and in some cases we'll remove a wall or two so the first-floor space is more open."
From there, the company will add new roofs, high-efficiency windows, furnaces, central air, electrical and plumbing systems, granite countertops, and landscaping treatments. Garages also will be built, now that Hantz's team has cleared the alleys.
Prentice says the first renovated homes will be available in the fall, with the remaining houses to be completed next year. "These are 90-year-old homes, for the most part, and when we're done they'll look like homes in Detroit's University District or Sherwood Forest," Prentice says. "Once we're done with the renovated homes, we plan to build new homes in the area."
Roy Gelerman, co-owner of RDCUO, a home renovation company in Detroit, says he has already renovated eight homes in the square mile, and is beginning work on upgrading another 20 homes.
"We're building middle-class homes in lower-class neighborhoods, with the goal of making the neighborhoods middle class over time," Gelerman says. "We preserve everything we can, we replace all of the mechanical systems, add new roofs — it's a top-to-bottom process. And we landscape the yards. We're part of the solution in revitalizing Detroit."
In addition to beautifying the neighborhood, the Hantz Foundation has provided support for three schools in the area: Detroit Enterprise Academy, Hutchinson Elementary-Middle School, and Southeastern High School. The investment includes enhancing workforce development initiatives so students have a real opportunity to attend college, or have access to in-demand careers.
"We work exclusively in the square mile, and the overall focus is to connect students in the community to high-quality education and resources that will lead to their future success," says Lauren Hantz, president of the Hantz Foundation. "We help provide tools so elementary and middle school students are prepared to attend in-demand high schools like Cass Tech, Renaissance, and Martin Luther King."
The effort includes offering access to internships and job placement programs. In turn, the foundation extends support for an array of needs including classroom materials in the fine arts, access to different study materials, business classes complemented by field trips, and a professional speaker series that doubles as a mentoring program.
In one effort, the foundation partnered with Carhartt Inc.'s flagship retail store in Detroit's Midtown district to show eighth-graders firsthand how to operate a small business. The project began when students created decorative wreaths from vines growing at their school. From there, they formed a marketing and sales team, and came up with a company name, InterTwine.
"All of the wreaths were sold, and it was a very successful program," says Hantz, whose father is John Hantz. "The students learned how a business operates, they got to learn how to make a production line to produce the wreaths, and they debated different ideas. They learned that if the product had extra decorations, it wouldn't make money. So they learned to balance pricing with what the consumer was willing to pay."
Hantz Woodlands and the foundation also worked together to acquire more mature trees and plant them around the schools. In addition to beautifying the school grounds, the trees doubled as study projects for science and art classes.
Beyond helping the students, the foundation, working with Beaumont Health in Southfield, began offering a nursing apprentice program in the classrooms for students, parents, and residents in the neighborhood. Now on its fourth cohort, 12 to 15 people attend a 10-week program that leads to a certified nursing degree. Lauren Hantz says the program has achieved a 98 percent job placement rate following graduation.
"The nursing program really changed the dynamic for the schools, where now parents and students are studying together in the same environment," she says. "We've also partnered with (nearby) Pewabic Pottery to bring art classes to the schools. Now students have access to additional opportunities, including improv classes where they learn about proper manners, how to diffuse conflicts, and how to dress for a job interview. These are all important skills students now have in their toolbox. And these skills last a lifetime."
Howard Freeman, a homeowner who has lived in the area since the 1960s, says the school programs should be spread across the city. "People now view the schools as a community center where you can go to get different services, like the nursing program," he says. "We never saw that before."
Like other longtime residents, he says the area transformed rather quickly from a tight-knit neighborhood to a forlorn, forgotten enclave following the 1967 riots.
"We weren't a priority for the city or the police department," he says. "The grass was growing 5 feet tall, the streetlights didn't work, and if you heard a noise in the alley at night, you sure didn't go back there. You waited until the morning to see what happened. When the Hantz team came in, everyone was skeptical of their plans, but I got to say, they did what they promised," he says.
Looking back on the twists and turns the project has taken, John Hantz says he's satisfied with the progress to date. Summing up the effort, he says the song lyrics to "Jesus Christ Superstar," from the play by Andrew Lloyd Webber, "are our story."
He admits his original plan of producing fruits and vegetables was complicated, but once Hantz Woodlands pivoted to farming hardwood trees, everything else fell into place.
"Like the play, all we were asking from the beginning is, Why aren't we trying something different? Why were we doing the same old thing that obviously didn't work, because the neighborhood was a mess that kept getting worse?" he says. "Did we make changes along the way as we learned more things? We sure did. The biggest success for me is if other community groups, foundations, and businesses embrace this model in different neighborhoods."
Facebook Comments