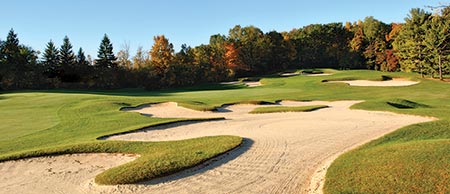 In a season that marks the 50th anniversary of the Radrick Farms Golf Course, the University of Michigan in Ann Arbor is offering golf enthusiasts a long-awaited treat: public play on Radrick, as well as on the school's prestigious Blue course — a rare Alister MacKenzie design that's located across the street from Michigan Stadium.
Until now, play on either course was limited to students, alumni, or university-affiliated organizations and their guests. 
This season, however, golfers willing to spend $110 for weekday play or $140 on weekends can hit away. A package deal for both courses is $200 on weekdays and $250 on the weekend. Corbin Todd, director of the university courses, says the decision to allow the public to use the courses was in response to the many requests the university, as well as the Ann Arbor Visitor's Bureau, gets all the time.
"(Those) passing through with a MacKenzie course on his or her bucket list, or a Pete Dye course, there was no way we could accommodate them. So we figured if we could carve out some time to make the courses available, we should do it," Todd says. Members at Radrick Farms will retain priority tee times, he adds.
Both courses carry a special cachet for golfers who appreciate the history of the game.
The Blue course, also known as the University of Michigan Golf Course, opened in 1931 and is one of only six in the country designed by MacKenzie, an iconic British 19th century architect who abandoned a career as a surgeon to design golf courses. With the legendary Bobby Jones, MacKenzie went on to design and build Augusta National, the home of the Masters Tournament. He also created Crystal Downs Country Club on Lake Michigan in Frankfort, which is recognized among the top golf courses in America.
Meanwhile, Radrick Farms was the second 18-hole course designed by Pete Dye, and the one he credits with launching his Hall of Fame career as arguably the most influential golf architect of modern times. In the 50 years since Radrick Farms opened, Dye — who is now an active 89 years old — has designed some 350 courses in the U.S., and 27 others around the world.
At Radrick Farms he worked with his wife, Alice, a fine amateur golfer in her day who is credited with influencing innovations such as forward tees — something that made courses more playable for female golfers. 
Dye, who lives in Florida, says he is delighted that the university is allowing the public to play on the course. "They are both fine courses and it's a very good thing for the game of golf to allow anyone to play them," he says. "That's a very good thing.
"Radrick Farms has held up very well (as a challenging layout) over the years," he adds, noting that 50 years ago only the longest hitters drove the ball 250 yards, a distance that is common today among better players.
Dye, an Indiana native, says former U-M President Harlan Hatcher recruited him to build the golf course. Hatcher had played the first course Dye designed, a nine-hole layout in Eldorado, near Indianapolis. The Dyes were surprised by the invitation because the Eldorado course was very controversial and not particularly well-received, mostly
because of a creek that crossed the nine holes 13 times.
"I guess he didn't go into the creek 13 times, losing a lot of balls like some golfers did," Alice Dye says. "The course later added a second nine holes, but we weren't asked back to build it." 
Dye recalls that when he left Hatcher's office after two hours, Hatcher's secretary told him that in the years she had worked for Hatcher, Dye's visit was the longest time anyone had spent in his office.
"Radrick Farms was the first big course we did that really got us started," Alice Dye says. "The first course we did was dead flat in a corn field. When we came to Ann Arbor, we hadn't worked with land that had the contours and roll that we saw at Radrick Farms. We had a lot of challenges, like trying to get a green up on a hill." 
Another challenge was dealing with Fred Matthaei, who had a special attachment to the trees on his former property. "Mr. Matthaei was a tree lover and he didn't want us to take down any trees," Alice Dye says. "We tried to tell him you can't play golf in a forest, but that didn't convince him. We wound up taking down trees at night and burying them."
Todd says a committee comprised of veteran members at Radrick Farms is planning a season-long celebration to fete the course's 50th anniversary. One event in the works is a weekend with the Dyes on a U-M football Saturday.
"It's on our schedule and we plan on being there," Alice Dye says. "It all started for us with Radrick Farms, and we haven't stopped since." n