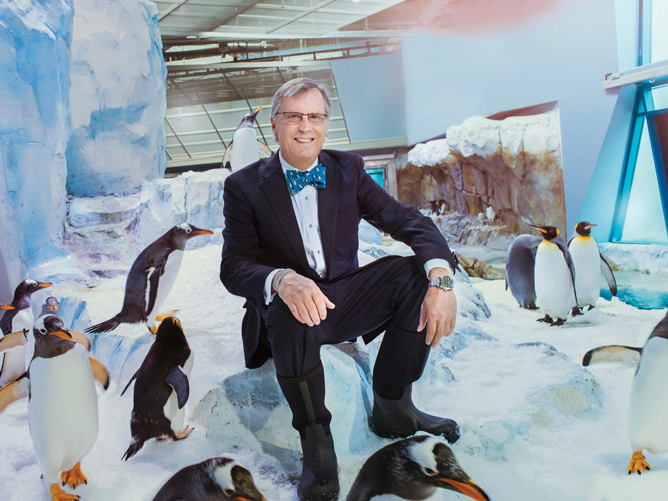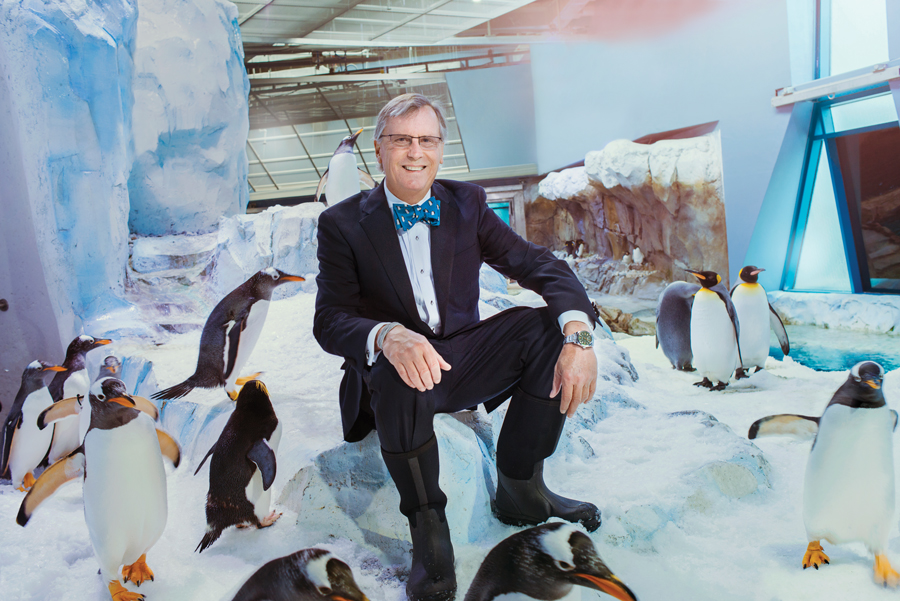 >>  a cool gift After selling R.L. Polk and Co. to IHS Markit for $1.4 billion, Stephen Polk provided a gift of $10 million to the Detroit Zoological Society to help build the Polk Penguin Conservation Center. "The gift was really a combination of a number of things," says Polk, a board member of the Detroit Zoological Society since the 1980s. "I love the Detroit Zoo and what they do for people, the timing was tied to the sale of the business, and the zoo had identified a project they wanted to see built."
---
No company, no family has done more to track the trajectory of America and its people than R.L. Polk and Co. From the aftermath of the Civil War to the 21st century, from railroads to the automobile, and from computers to cyberspace, R.L. Polk has chronicled the movement of America's people from east to west, from farms to cities, and from pen-and-pencil to punch cards and gigabytes of data.
It's a distinctly Detroit story of triumph and tragedy, reinvention, and resurrection.
Stephen Polk, the last of five Polk family CEOs, rescued the firm from a crippling debt load in the late 1990s, streamlined the operations, built its Carfax automotive database into a national industry and consumer brand, and sold it in 2013 for $1.4 billion. The buyer, IHS Markit, is a global information giant in industries ranging from aerospace to automotive, energy, maritime, technology, defense, and security.
Today Polk, 61, remains active as one of Michigan's top business leaders and philanthropists. He will chair the 2017 Mackinac Policy Conference (May 30-June 2) at the Grand Hotel on Mackinac Island, the Detroit Regional Chamber's annual gathering of corporate and civic power brokers. Next year, he will serve as chairman of the Detroit Regional Chamber.
A year ago, Stephen and his wife, Bobbi, were honored with the Max M. and Marjorie S. Fisher Award for Outstanding Philanthropist, in the wake of their $10-million donation to the Detroit Zoo for the Polk Penguin Conservation Center, the largest gift in the zoo's history. The $30-million exhibit attracted more than 1 million visitors in the first six months after opening, helping drive zoo attendance to an all-time record of 1.7 million in 2016.
"Our entire family views Detroit as our roots, even the folks who no longer live here," says Polk, who is a partner in two Detroit mixed-use projects — DuCharme Place in Lafayette Park and Third and Grand in New Center. He also runs Highgate, an investment firm in Birmingham that has six employees.
It's a bit odd to see the low-key, soft-spoken Polk strike a higher public profile than he ever did while leading the family's private R.L. Polk and Co., but it's certainly not the first unexpected turn in his life.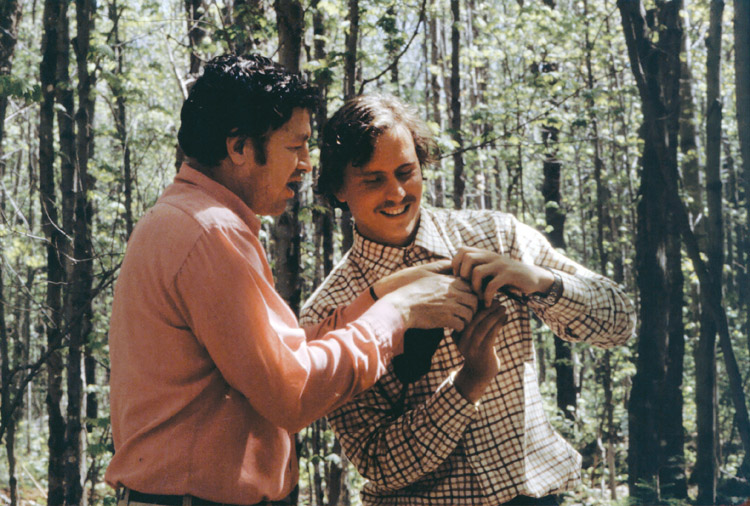 Polk performing GRADUATE WORK IN NORTHERN MICHIGAN IN THE 1970S.
A wildlife biologist by education, Stephen was an unlikely CEO. He was 15 years younger than his brother, Ralph Lane Polk IV, the fourth family member to carry the same name and lead the company. When his brother died in a boating accident in 1985, 29-year-old Stephen was thrust on a fast track to the top of the company — one he soon discovered was in need of a major overhaul.
Rather than take on the turnaround himself, he enlisted, for the first time in the company's history, respected nonfamily executives. These individuals, with expertise in different realms of business, helped advise him during a time of great upheaval in technology, and in Detroit's bread-and-butter automotive industry.
Such a move would have been unthinkable back in the days of the first Ralph Lane Polk, the company founder. A fellow of boundless energy and ambition, he had trouble as late as age 70 allowing his son and successor, Ralph Lane Polk II, to make key decisions as president, according to family archives that detail the son's frustration.
The founder of the company had been a 15-year-old drummer boy with the 40th New Jersey Volunteers of the Union Army, and was on hand for Gen. Robert E. Lee's surrender at Appomattox in 1865. From there, he mustered out and headed west, trying several lines of work on a life's journey that would eventually take him to Detroit — where, as a 21-year-old, he would launch his information enterprise in 1870.
The 143-year saga of that enterprise is little known even today, as the private, family-owned firm never sold public stock and never published quarterly sales and profit reports. What is known is that the company was a true American trailblazer in establishing information as a highly valuable product.
R.L. Polk pioneered what we today call Big Data, more than 80 years before IBM shipped its first computer. Known chiefly in modern times for its vast automotive data and analytics, R.L. Polk had become the nation's largest publisher of city directories by the early 1900s.
As a result, the Polks were one of Detroit's earliest prominent business families. The founder, Stephen's great-grandfather, obtained financing in 1872 for his first directories from James E. Scripps, who in 1873 launched The Evening News, the forerunner to The Detroit News.
Polk in his Civil War uniform.
Polk would ride the railroads that were going coast-to-coast, criss-crossing the nation in the latter part of the 19th century. He would stop at new towns that had sprung up along the railroad lines, and collect information about the businesses and people settling there for his city directories.
He made plenty of stops. Early Polk city directories were published locally in Detroit, Grand Rapids, Saginaw, Bay City, Jackson, and Port Huron, and in towns as far west as Butte, Mont., Portland, Ore., and Walla Walla, Wash.
As the automobile transformed American notions of freedom and commerce early in the 20th century, General Motors turned to R.L. Polk in 1921 to conduct the nation's first automobile census — for a princely sum of $15,000 per year — from 1922 to 1924.
GM also paid Polk to compile 10-day reports from the field on its own sales, which it shared with the industry. Other carmakers adopted the approach, making 10-day sales the industry standard until 1993, when the car companies switched to publicly reporting U.S. sales on a monthly basis.
R.L. Polk grew to become a premier provider of data on automotive sales, pricing, tastes, and marketing for the auto industry's first 100 years. Its data was the foundation for the annual Automotive Loyalty Awards launched by Polk in 1996, which have continued under the IHS Markit brand since the sale.
In the teeth of the Great Depression, R.L. Polk published a New York City directory in 1932 — government-funded by the Emergency Unemployment Relief Committee — that provided employment to more than 1,000 people. Its 2,656 pages included information on more than 1 million residents, a 386-page business directory, and a 240-page list of buyers.
During World War II, when the U.S. auto industry shifted production from cars to armaments, the federal government tapped Polk to compile complex lists for food and fuel rationing, while also doing classified projects for the military.
In the postwar boom years, Polk was so successful that its directory division was sued by federal antitrust regulators and was monitored for a time under a 1955 consent decree relating to its pricing, profits, and expansion into certain markets.
R.L. Polk fought many landmark legal battles over access to, and the use of, motor vehicle records. The privacy issues raised in such cases are echoed today in high-profile cases like the recent dispute between the FBI and Apple over access to personal iPhone data.

>>  family affair The five leaders of R.L. Polk and Co. include Ralph Lane Polk, Ralph Polk II, Ralph Polk III, Ralph Polk IV, and Stephen Polk
---
Four men named Ralph Lane Polk would run the family company before tragedy struck in 1985. Just four years after becoming president, the founder's great-grandson, Ralph Lane Polk IV, disappeared and was presumed dead in a boating accident on Grand Traverse Bay in northern Michigan.
His brother Stephen had to quickly prepare for a top leadership role he never expected to have. Even without being groomed for the position, however, Stephen proceeded to rescue the company from a mountain of debt, sell off non-core assets in the nick of time, and build Carfax into a national brand that would propel R.L. Polk to its 2013 sales price of $1.4 billion.
When Stephen was born in 1955, the challenges he would face in adulthood were not yet visible on R.L. Polk's horizon. The company's city directory division was still dominant and the automobile industry, a key customer, was booming.
Strong economic growth and the advent of computer technology in the post-World War II economic boom made R.L. Polk's business more complex. Princeton graduate Ralph Lane Polk III, who became company president in 1949 upon the death of his father, decided to share the top leadership duties in 1963, assuming the title of chairman while appointing Walt Gardner as the firm's first non-family president.
Gardner, a former jockey, was a hard-charging, risk-taking alter ego to the quiet, analytical Polk III. Together, they presided over a period of record growth, brought in new technology and production methods, and eventually expanded R.L. Polk's global footprint with acquisitions in Canada, England, Australia, and Germany.
For R.L. Polk, along with the rest of the nation, the 1960s were a time of rapid change and turbulence. Computers began to play a major role in data collection, storage, and publishing. In 1961, a Polk city directory in Eureka, Calif., was the first published with data processing techniques.
In 1962, Polk's Arrow Guide division branched out into street guides and city maps. Following a 1966 federal law mandating recalls of motor vehicles for safety defects, R.L. Polk was recognized as the authoritative source for notifications to car and truck owners for safety, emissions, and warranty work. During the next two decades, the company participated in 270 million such notifications.
In 1967, longtime Detroit radio show host Bud Guest declared, "Outside of the U.S. government, no one handles and organizes so many separate pieces of information" as R.L. Polk. By that time, the company had more than 9,000 employees, 55 offices and production locations, and more than 1 million square feet of office space.
The ability to quickly gather and process reliable data on vehicle ownership via magnetic tape soon spawned a spate of legislation related to privacy. The bills, introduced in numerous states, were aimed at limiting or denying use of motor vehicle registrations for commercial purposes.
In 1968, R.L. Polk hired John O'Hara — an attorney with expertise in privacy law, libel, and antitrust — away from his New York law firm, to work for Polk as chief legal counsel.
O'Hara, who would later serve as CEO upon the boating death of Ralph Lane Polk IV, led Polk's successful lobbying and legal efforts to ease restrictions on access to automotive data.
Stephen Polk was 25 years old, working in Michigan's Upper Peninsula on a two-year graduate research program on yellow-bellied sapsucker habitats, when he decided to join the family business in 1981. "I came to the conclusion that (wildlife research) was more a hobby than a career, and I wanted to learn more about the family roots in the business, plus earn a living," he says.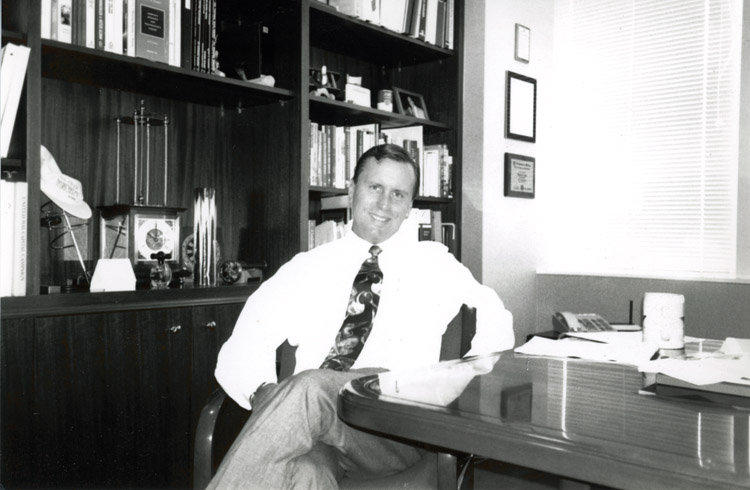 >>  family environment Stephen Polk in his office in the 1980s.  Asked about acquiring the company, Edouard Tavernier, senior vice president of transportation at IHS Markit, says, "Carfax provided us with the scale and unrivaled recognition in the automotive sector, and the 1,200 colleagues that joined us at the time of the acquisition have contributed a huge amount of industry expertise and talent to our business."
---
Four years later, when his brother, Ralph, vanished while sailing alone across Grand Traverse Bay after a visit with Gardner, Polk found himself on the leadership fast track. He replaced O'Hara as president in 1990, and took over as CEO in 1994.
Before his brother's disappearance, Polk had worked at directory-division outposts in Richmond, Va., and Dallas long enough to grasp that city directories — the business on which R.L. Polk was founded and built — were in a downward spiral.
"It was an education for me in what it really means to manage the dying end of a product life cycle," Polk says. "When I started working there, it was already in a steep decline. Costs were skyrocketing and the overall demand for what the directories offered was evolving to new formats. We were doing a door-to-door census, and door-to-door sales, for every one of these towns around the country, for 1,200 books, in an era when it wasn't being done anymore."
Polk also worked on the company's automotive data analytics business from 1984 to 1985, before being elevated to a bigger role after his brother's death. Just prior to replacing O'Hara as president in 1990, the company had gone on a diversification spree in search of a growth driver to compensate for the shrinkage of sales and profits from the fading directory business.
The company acquired Advertising Unlimited Inc. (AUI) in 1987, National Demographics and Lifestyles a year later, and 40 percent of Geographic Data Technology in 1989. None were the magic growth bullet that R.L. Polk was craving, and the acquisitions led to debt on the balance sheet.
By the mid-1990s, R.L. Polk was a highly diversified company that included a calendar printing operation, a "trinkets and trash" subsidiary (pens, cups, and first aid kits), and a plastics business. They also published university department newsletters.
The trouble was that the overall enterprise was more than $200 million in debt, and was struggling with its debt covenants.
To turn things around, Polk recruited non-family, independent outside directors to join the company's board, shook up the top management team, launched a strategic review of the company's focus, and retained Bain and Co. as consultants.
In a 1994 address to management, Polk said the way R.L. Polk had dealt with change in the past was haphazard. "No other company in the country can claim (Polk's) depth of information services," he told the group, "but we have not been living up to the potential we should." Sales growth was flat and profits were shrinking.
From there, Polk and the board decided to clean house and sell all businesses that did not have anything to do with automotive. The hidden automotive jewel with breakout potential was Carfax, a Canadian-owned provider of used-car vehicle history that Polk, in 1993, had acquired a 35 percent stake in.
At the end of the 1990s, Polk peddled AUI to Norwood Promotional Services, then bundled up its other nonautomotive businesses and sold them in early 2000 to Equifax Inc. for $260 million. Cash from those sales wiped out Polk's debt burden. Meanwhile, in mid-1999, Polk talked the board into buying 100 percent ownership of Carfax.
Carfax had grown steadily under the leadership of its president, Dick Raines, in the 1990s. But when Raines pushed in 1999 for a $20-million advertising campaign to turn Carfax into a more recognizable brand, its Canadian owner, Blackburn Marketing Services, balked.
Blackburn saw it as too big a gamble and decided to put Carfax up for sale. R.L. Polk, by dint of its 35-percent stake, had a right of first refusal. Rather than see the company go to a competitor, Polk talked his board into acquiring the rest of Carfax, and also promised to fund the big ad buy.
In 2000, Carfax launched an ad campaign to educate consumers on how to avoid the risks inherent in buying used cars. Sales took off like a rocket, growing tenfold over the next 10 years, according to Polk; they would grow to generate more than half of R.L. Polk's total sales.
Mike Moore, an outside director Polk had recruited to the board, recalls Carfax was a "big gulp" for the board to approve amid the big restructuring and sell-off of other business units.
"I'll never forget it," Moore says. "We were buying the other two-thirds of this company with roughly $30 million in sales (and paying) about $70 million or $80 million — and not only do we have to pony up that money as part of the deal, but also assure that we'll be able to spend $20 million on advertising for the next two or three years. We had the cash in the bank, so we weren't going to sink the boat, but we knew it was like putting money on seven and throwing the dice."
Former board member Rick Inatome, cofounder of computer retail chain Inacomp, calls the Carfax purchase "a classic disruptive if-you-build-it-they-will-come gamble." He also praises Polk for allowing Carfax to operate with a great deal of autonomy, rather than making it conform to the more traditional structure of the family company. "Stephen handled the cultural differences well, with a surprisingly functional 'twin culture' design, different incentives, and decision-making," he says.
The next decade culminated with the 2008 global financial crisis and the Chapter 11 bankruptcies of two huge R.L. Polk customers: General Motors and Chrysler. Luckily, Polk was a protected creditor and didn't supply raw materials for auto production, so the company's exposure was fairly limited.
In 2013, after turning Carfax into a juggernaut that put reliable, critical pricing information into the hands of car buyers and dealers, Polk saw that it was time to seek a buyer. "Stephen had looked at his family and there weren't many on a pathway to being a part of the company," says David E. Cole, a former board member and chairman emeritus of the Center for Automotive Research in Ann Arbor. "Also, it was a time of relatively low interest rates, which meant that if people had to borrow money to buy something, they could borrow a little more."
R.L. Polk ended up going to an auction with two strategic buyers and three private equity firms. IHS, Cole says, wanted R.L. Polk badly enough to say, "We'll pay you quite a bit more money, just make these other people go away." And they did.
Polk didn't have a long-term plan to sell the 143-year-old company. "A plan would be too strong a term. I just knew I wasn't going to retire," Polk says, once the decision was made.
Facebook Comments