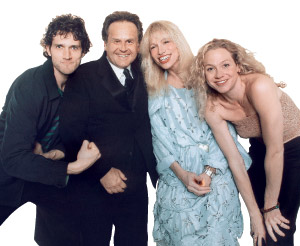 In a production world that used to be made of pretty young models hoisting cards in front of shiny automobiles, Gail & Rice has evolved. "We, of course, provide the talent," President Jeff Bouchard says. "But we're interested in providing look, feel, and touch engagement, as well."
Founded in 1931, Gail & Rice is three-faceted — focusing on corporate entertainment and meetings, corporate event staffing and training execution, and strategic communications. "Those three areas are pretty equally broken down," Bouchard says. "Our diversity [in these projects] has kept us healthy."
At the forefront of their event schedule are the 60+ auto shows taking place in the U.S. from September through April, including the North American International Auto Show in Detroit. Bouchard (his brother is Oakland County Sheriff Michael Bouchard) and his staff spend many pre-production months molding pretty faces into what they like to call their "walking, talking Wikipedias" — product specialists equipped with competitive knowledge.
In addition to working with automakers such as GM and Chrysler, Gail & Rice has worked with 85 of the top 100 Fortune 500 companies, turning otherwise routine business meetings and corporate events into "inspiring, motivating, brand-building experiences."
Having had some success as a backup vocalist, Bouchard knows the music business well — from both sides of the record. Years ago, he "wrote a few things" with '70s superstar singer/songwriter Kenny Loggins and sang on some of his tracks. "I think being able to see things from the side of a performer is an advantage in doing business with them," Bouchard says.
Since joining Gail & Rice in 1981, Bouchard has used his knowledge of the entertainment business to book big-name talent such as Elton John and Carly Simon for corporate events. Despite changing trends, Gail & Rice still finds its business growing in both size and clientele. The company, which grew by 12 percent in 2007, has four other offices across the country. "We're interested in long, steady growth," he says.
Facebook Comments