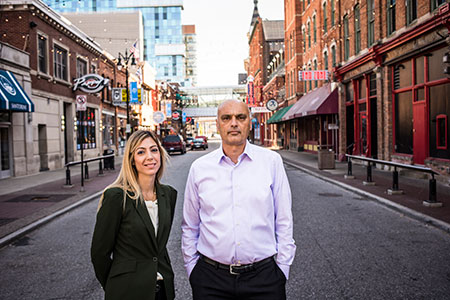 For years, Greektown was the star of dining and entertainment in downtown Detroit. Yet over the last two decades, the central business district has added considerable competition for leisure dollars, including restored theaters, restaurants, stores, casinos, and two sports stadiums, with a third one on the way.
"We used to have more than a dozen Greek restaurants (along Monroe Street), and today there are four Greek eateries," says Athina Papas, a partner in Santorini Estiatorio, a restaurant on Monroe that features traditional Greek cuisine with a modern twist. "We were losing our original identity at a time when people (were finding) many other options (for enjoying) downtown Detroit."
Don't look for a rush of Greek businesses to replace what today is an eclectic mix of stores and restaurants along Monroe, offering everything from deep-dish pizza to barbecued ribs to gourmet burgers. Rather, the entertainment district is taking a page from such metropolises as Miami and Denver, and adding energy, charm, and aesthetics.
"We've been looking at U.S. cities, but also those in Europe, to bring more character to Monroe Street," says Tasso Teftsis, a partner in several businesses in Greektown, including Red Smoke, Astoria Bakery, and Krema, with his brother, Michael Teftsis, and sister-in-law, Rosalva Teftsis.
"Some of the things we're looking to add are more tables and chairs on the sidewalks, brick pavers in the street, flower boxes in the second-floor windows, and themed banners on the lamp posts. We also recently added more than 2,000 LED lights over Monroe and the parking lots."
The impetus for the changes comes from the recently formed Greektown Preservation Society, a nonprofit planning and operational agency made up of 40 surrounding businesses. It follows the Greektown Merchant's Association, which was founded in the early 1900s.
"The Greektown Preservation Society gives us more flexibility in terms of the common improvements and programming we've been adding in recent months to set ourselves apart from the rest of downtown," says Papas, whose family also owns the Pegasus Taverna.
Among the initiatives slated to roll out in 2015 are decorative, nonworking parking meters created by local artists (people will be encouraged to drop money in the meters and the funds will be donated to homeless shelters), along with the addition of a historical marker, added greenery, more holiday decorations, and increased marketing programs like the recently launched Greektown Harvest Festival.
"The better we do as a block of businesses, the better everyone does," Teftsis says. "Next year, we're looking to close Monroe Street on Friday and Saturday nights, which will improve the overall aesthetics and boost foot traffic." db
Facebook Comments