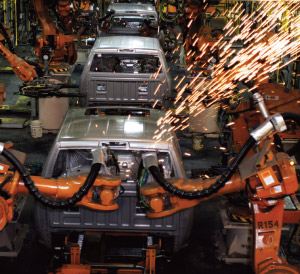 When entrepreneurs Aaron and Michelle Crumm were deliberating where to start their fuel-cell company, Adaptive Materials Inc., Michigan was at the top of their list as the place to build their 21st-century products. "Even when we were a little research and development company, we knew that we wanted to transition into manufacturing," says Michelle Crumm, the firm's chief business officer. "And if there's one place that knows manufacturing, it's Michigan. There's a ton of manufacturing experience here, the mechanical engineers we need are here, the infrastructure [is here, and] the spaces that we need to make things."
So the University of Michigan graduates — she has an MBA and he has a doctorate in material science — bought a former Johnson Controls factory south of downtown Ann Arbor earlier this year after landing several projects from the U.S. military. The company had about $5 million in revenue in 2007, including government contracts.
They began manufacturing prototype batches of portable fuel cells — 10 to 25 units in each run — that can power equipment such as computers and cell phones used by the military, so soldiers don't have to pack dozens of heavy batteries. The company also makes fuel cells that run on propane for recreational use by campers, fishers, and hunters.
Next year, Michelle says the company will be well on its way to making hundreds, if not thousands, of fuel cells in a factory that used to manufacture air bags for the auto industry. Michelle says the ability to go from a few units to thousands is at the heart of why she wanted to manufacture close to home. "Michigan is the place that knows how to make millions of parts per second." And, she adds, it has the people who know how to do it well.
"I was able to hire a manufacturing person from the auto-supplier industry who had already built out an entire facility, put the lines in, ordered the equipment, and hired the people," she says. "People are amazed when they walk into our facility. They ask how we did it. I say we hired somebody who had been there, done that."
"Been There, Done That"
You could easily translate that same quality to Michigan. When it comes to manufacturing, the state has "been there, done that." For more than a century, Michigan has made the office chairs we sit on, the tables we eat off of, and the cars we drive — among thousands of other products.
But despite that depth and wealth of manufacturing knowledge and infrastructure, Michigan's once-strong manufacturing base has been in a steep decline for more than a decade. The story of why has been told all too often. Labor and materials costs rose even as market shares dropped for U.S. firms. Many companies — notably the carmakers that the Michigan economy heavily depended on — made the decision to move manufacturing out of Michigan to other states (predominantly right-to-work states) as well as to Canada, Mexico, China, and elsewhere around the globe.
What's more, six years of the Granholm administration has led to a cozy relationship with labor unions. Soon after Granholm was elected, she directed that a new division, the Department of Labor and Economic Growth, run the Michigan Economic Development Corp. The move hasn't escaped manufacturers, who routinely set up their operations in other states to avoid union influence. In turn, taxes have risen steadily since the governor took office, making it harder for companies to compete on a global scale.
The results have been all too obvious. The Bureau of Labor Statistics, as reported by the nonprofit consulting firm Michigan Manufacturing Technology Center (MMTC), estimates that a decade ago there were 888,000 employees working in 16,045 small- to medium-sized plants throughout Michigan. By mid-2007, those numbers had dropped to fewer than 631,000 employees in about 14,000 plants. The biggest decline came from U.S. automakers and their big suppliers. In 1978, those firms employed 736,000 people in the state. By 2007, the numbers had plummeted to 256,000 — about 65 percent of which occurred in the last 10 years.
Now, the tide may be turning back toward Michigan. But it has nothing to do with what's happening in the state Capitol. Due to market factors, experts say a new manufacturing model for the 21st century is under way — one that focuses on innovation to serve many different industries, instead of depending too heavily on the auto industry.
For example, there are new companies, like Adaptive Materials Inc., that take over old factories for new production needs. Or existing firms like Detroit Chassis, which produces a variety of vehicles for automotive, recreational, and commercial truck uses, have moved operations from Mexico to Michigan. Meanwhile, Alticor (parent company of Amway) opened its Ada, Mich., plant to manufacture products for global brands and learned to compete head-to-head with outside suppliers.
In 2008, companies such as generic drug maker Perrigo, wind-turbine firm Mariah Power, and ironworks company Thunder Bay Development announced plans to expand or restart operations in Michigan. Even the auto companies are rethinking their Michigan investments. Chrysler LLC is spending tens of millions of dollars revamping its Jefferson North Assembly Plant to build a new generation of more fuel-efficient vehicles. In turn, GM recently announced plans to build an engine plant in Flint.
Their reasons for rethinking Michigan are myriad. Labor costs are rising in countries such as China, as government leaders insist that outside companies unionize their workers. Other countries have been more direct. For example, Venezuelan leader Hugo Chavez has been nationalizing industries at a record pace while encouraging the formation of hundreds of unions. But such campaigns have their limits, as Chavez recently went on national television to demand that unions rein in their newfound powers (Chavez noted that the camera operator working for the state-owned VTV was making eight times his hourly wage that day because it was a Sunday).
Such moves make U.S. manufacturers more cost-competitive. Higher fuel and freight charges are also making it more expensive to manufacture components overseas, especially for parts that go into products made and sold in the United States. According to a recent
McKinsey & Co. report, such increases cut any gains made from lower labor costs. The report notes that for products that need to be shipped long distances, there may now be a cost advantage to producing them in America. Another contributing factor, of course, is the recent weakness of the U.S. dollar against other currencies.
All that is making manufacturing in Michigan, and the country as a whole, look a lot more attractive. And that's even before considering such intangibles as quality and safety of products, good infrastructure, and a trained manufacturing workforce.
Add those in and Michigan manufacturers are increasingly competitive, says Mike Coast, president of Plymouth-based MMTC, which helps train companies in lean manufacturing and product diversification.
One MMTC study attacks the long-held notion that moving manufacturing to a low-cost country can save companies up to 30 percent. By adding in the costs of inventory, duty, freight, and the cost of "time on water," the number shrinks to less than 17 percent, the study shows. That number doesn't include recent shifts such as the price of fuel and the limited number of container ships available. Add those to the mix, along with U.S. increases in productivity, and the number drops to 8 percent or less, depending on the products being made.
Those global economic shifts come at the same time Michigan manufacturers are more willing and capable of launching attacks on their cost structure. More importantly, says Coast, firms are ramping up productivity and innovation, including focusing on lean manufacturing that can take cost out of manufacturing systems.
"We have to get more companies to move out of being mature companies and back into innovation — call it de-maturation," Coast says. "We're teaching them to think outside the box and, more importantly, to live outside the box."
Other experts see the trend, as well. "We believe there are a significant number of American companies that are within striking distance of being competitive with low-cost countries," says Daniel Luria, MMTC's research director who conducted the study. "If you're within 10 percent of being competitive in pricing, then surely there are things … Michigan companies can do to attack those issues and increase business here."
Ada or Guangzhou?
Learning to attack those issues and compete globally has become critical in Alticor's hometown of Ada. Seven years ago, the company took a major step to shore up its existing business by opening up its factory lines to other manufacturers. It was a big step for the privately held company, which had grown into a $7.1-billion powerhouse solely by selling its own products through an army of independent distributors.
Alticor could've continued with that business model, company executives say. But given global competition, pricing pressures, and a cyclical industry, depending on a single stream of revenue wasn't an option, especially if the company wanted to maintain its commitment to manufacturing in Michigan.
"The roots of the company are here. We're committed to being in western Michigan," says Dave Buttrick, vice president of manufacturing at the Ada plant. "But that meant we needed to make ourselves competitive with the rest of the world."
In the beginning, Alticor's executives, led by Chairman Steve Van Andel, viewed the contract manufacturing business as a way to even out the fluctuations of its business.
When demand is slow for its own products, the company fills up bottles and tubes with lotion, soaps, and cleaners made by some of the world's biggest brands. (The company doesn't disclose who those customers are and requires that visitors to its factories don't disclose the well-known household brand names that run down their bottling lines.) But there's no mistaking that the new business has taken up slack time in the factory. It's also helped keep its workforce stable at around 2,500 workers. Today, the company's manufacturing lines are split almost 50-50 in terms of volume between Amway business and outside companies.
But the new business has done something else by making its workers far more competitive. "When it was just Amway, we could say our margins are good, life is good, why do we have to change," says John Lindseth, Alticor's vice president of global manufacturing. "But when employees depend on other customers for as much of their job security as they do good old Amway, then you have a burning platform for change."
Getting there meant changing the culture of the company and workers, Lindseth says. "We weren't always the best or the cheapest. Seven years ago, our costs were probably 30 percent higher than they should've been."
Making the necessary changes to reposition Alticor as a lower-cost competitor didn't happen overnight. Initially, workers were skeptical of the changes, figuring that they were going to be the traditional "flavor of the month" campaigns that slipped away after executives moved on to the next cost-cutting plan.
But this time, the cost-cutting wasn't for the core business to make more money — it was also to make certain that Amway could keep making products in Michigan and that employees could keep their jobs. More than 80 percent of Amway's revenue comes from outside the United States, so it's become critical for employees to prove that the Ada plant is the best place to make a wide variety of products. "Employees began to realize that they were being given the chance to improve our overall position," Lindseth says. "They knew if we didn't, we would have problems with capacity and employment."
In three years, the company cut $130 million in costs by implementing lean-manufacturing techniques. At first, it was about making changes to existing lines so more capacity from outside manufacturers could be taken on. But increasingly, the changes enacted for the new business model have begun to inform the old business model of making products for Amway.
In one instance, the company turned over the design of a new manufacturing line to employees. Using cardboard, duct tape, and string, the employees laid out a line that looked nothing like one of Amway's traditional long factory lines with employees doing specific, repetitive tasks.
Instead, the employees who make Amway's water- and air-filtration systems work as teams in a series of short double-sided lines. Their workstations can easily be moved. People doing different jobs on the line can look over at each other, keeping an eye on how the line is progressing. By shortening the lines, the production takes up much less space, but can be expanded easily as orders increase.
Such changes have made the Ada plant far more competitive — even when compared to the company's manufacturing operations in China. "We have the unique experience of being able to compare what we do here with what we do in Guangzhou, China," Van Andel says.
The company was required by government regulations to open a plant in China to sell its products there That plant is almost a duplicate of the company's Michigan operations, save for one thing: employees. "It's fun to make a comparison because Grand Rapids is every bit as cost-effective — and with the same or better quality as the plant in China," says Van Andel, who remembers the challenges of setting up a workforce in China. "What's more is that we have fewer people here and they're more productive. Too often in
Michigan, we sell ourselves short."
Made in Detroit
Few industries have been hit harder by global competition than the Michigan auto industry. But there are signs that even U.S. automakers are realizing that making cars in Michigan may be as cost-effective as moving operations elsewhere in the United States or even offshore.
"This region is at the end of an era," Chrysler President and Vice Chairman Jim Press recently told the Automotive Press Association. "But there's a new era coming. We can now compete on a global basis, even though we're still going through a period of discomfort."
Chrysler is investing $1.8 billion in a new vehicle program that will be manufactured in its Jefferson North Assembly Plant. Today, the factory makes the Jeep Grand Cherokee and the Jeep Commander. But Chrysler is revamping the plant to build a new line of fuel-efficient vehicles.
Like Alticor, Chrysler is focusing on making its skilled labor force far more productive. Instead of a top-down approach to manufacturing, Chrysler management now allows small teams of workers to run their sections of the assembly lines. The workers can stop the lines and contact skilled trades people (to fix their machines) on their own. Traditionally, workers would have to wait for a supervisor to determine if there was a problem with the line. Using more technology and a more engaged workforce means that the next changeover — when a plant shifts from one vehicle program to another — will cost 80 percent less than before.
"It's my observation that manufacturing should be focused less on labor and much more on innovation and technology," Press says. "We've got that rich engineering capability here. So this is where we need to be making cars. This is where we need to be."
8 Potential Disadvantages of Setting Up Shop in China
If your company is considering relocating, joint venturing, or acquiring a manufacturing facility in China, take these factors into consideration:
1. The cost of labor and associated expenses are increasing annually at an alarming rate.
2. The value of land and buildings, especially in and near major cities, has risen dramatically.
3. The cost of shipping product from China to the United States has increased sharply because of higher fuel prices (part of a global phenomenon).
4. The Chinese yuan is no longer pegged to the U.S. dollar, meaning American currency could become weaker than it already is, resulting in less U.S. purchasing power.
5. The big push by the Chinese government to unionize the country. The New York Times, citing remarks by All China Federation of Trade Unions official Wang Ying, recently reported that roughly 80 percent of the top 500 global corporations operating in China [had been] unionized by the end of September 2008.
6. Communication barriers are more difficult to overcome than in other BRIC countries. Many businesspeople have indicated that it's much harder to efficiently communicate with the Chinese than with the Russians, Indians, or Brazilians.
7. Because of certain cultural factors, the Chinese have a decidedly short-term outlook. They don't necessarily view long-term business relationships as a crucial ingredient for success. However, there are many exceptions to this, and if you find the right business partner, it's a moot point.
8. Quality, Quality, Quality. For many Chinese companies, quality equates to "it looks the same." In addition, some Chinese companies will duplicate products with the same flaws and imperfections as their competitors'. Of late, many products made in China have had major quality recalls — baby formula, chocolates, and children's toys. The Chinese haven't yet mastered the tribal knowledge necessary to produce quality products in line with the United States. That's not to say they can't. However, there are many products that the Chinese can produce in an acceptable manner. You just need to be selective.
We're not advocating that U.S. companies avoid China; rather, a sound expansion plan necessitates examining all options. There are many countries that produce quality parts at attractive prices. China just might not be the obvious choice anymore. In addition, with all the financial and political uncertainty around the world, area executives may be wise to defer a global remobilization plan and remain in Michigan a bit longer.
Consider the advantages: Unions are becoming friendlier; the state's high unemployment rate translates into a steady supply of workers, including thousands of skilled and highly educated workers; real-estate prices are extremely reasonable; fresh water is abundant; and Detroit Metropolitan Airport has completed more than $2.0 billion in improvements. In turn, many area manufacturers possess the tribal knowledge and workforce required to produce quality parts. In addition, your company already has the investment here. In other words, Michigan might not be such a bad place to be right now.
Facebook Comments