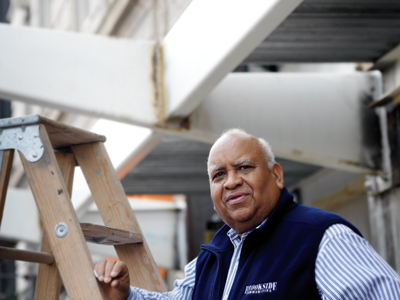 Looking to carve a niche in the convention industry, the Doubletree Guest Suites Fort Shelby hotel in downtown Detroit will provide meeting planners with flexibility. Leaving large gatherings to their competitors, the $80-million renovation of the Doubletree includes two large ballrooms complemented by 17 breakout rooms.
"The idea is that you can have a large meeting for a technology or automotive firm, and then that same group can break into smaller teams to focus on specific tasks like engineering or technical sessions," says Emmett Moten Jr., principal of MCP Development in Detroit, and a former economic-development director for the late Mayor Coleman Young.
During a recent tour of the Doubletree, set to open Dec. 15, it was clear the design team had multi-tasking executives in mind. The hotel's 203 suites are larger than most rooms — 650 to 900 square feet — and offer a separate living room furnished with a large desk, ergonomic chair, and other furnishings. "We'll have all the latest technology offerings, and there will be a business center equipped with a concierge so you don't have to run down to the lobby to send faxes or copy material," says Bill Aprill, the Doubletree's director of sales and marketing. "We even added ergonomic chairs in the meeting areas."
Given the hotel's history — it opened in 1917 at First and Lafayette on the site of a former fort and was expanded a decade later — the Doubletree team kept most of the original meeting spaces intact. One ballroom includes a stage and a projection room, which was restored and outfitted with state-of-the-art audio and video equipment.
Meanwhile, the first-floor dining space will aim to re-create the famed Empire Room, where business moguls and dignitaries from the 1920s often dined. In its place will be a Finn & Porter restaurant offering steak and seafood. The 120-seat restaurant will include two private dining areas, as well as a private wine cellar furnished with a 16-seat table. "We restored the marble in the lobby and preserved the stone-and-brick exterior," Aprill says. "It will be one of the finest hotels in our network." In addition to the hotel, the 22-story structure will offer 56 apartments that will be converted to condominiums in five years.
Facebook Comments