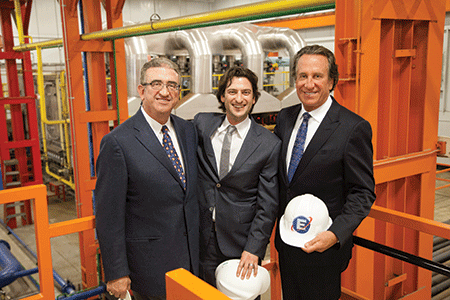 In the beginning, Albert Goodman, a onetime metallurgist at Ford Motor Co., bought and sold excess steel from a desk crafted from plywood set atop overturned crates in a rented warehouse in Oak Park. The year was 1953, and it wasn't the best time to jump into the commodities business, especially within the automotive sector.
At the time, Henry Ford II, then president of Ford Motor, was eager to gain market share. He instituted a price war and ordered drastic price cuts on nearly every model. General Motors and Chrysler, which rarely backed down from a fight, went toe-to-toe with Ford.
The smaller players couldn't compete. The following year, Nash merged with Hudson and was renamed American Motors Corp. Soon after, Packard acquired Studebaker (Packard ceased production in 1958, while Studebaker quit the market in 1966). AMC was eventually acquired by Chrysler in 1987. Through it all, Eaton Steel survived.
"When my father and uncle (Ozzie) started out, it was a brokerage business," says Mark Goodman, co-owner of Eaton Steel. "They would buy excess steel and then run out and find  customers. Soon after, they developed stand-alone products they could sell. They knew it was important to sell a commodity and add value to differentiate the company." Now, more than 60 years later, the Goodman family — which includes Mark's son, Jeffrey, and his brother, Gary — is one of North America's largest providers of hot-rolled and cold-drawn steel products. End users include the automotive, heavy truck, farm equipment, oil and gas, hand tools, and aerospace industries.
A capital-intensive business, Eaton Steel finds it must constantly adapt to meet the needs of its clients. "A decade ago, we started a value-added program," Gary says. "Rather than sell standard, 20-foot-long (steel) bars, we went to our customers and said, 'Look, we'll cut you the bars into any length you want.' So we went from one sheer and two saws to six sheers and 10 saws. It's a good part of our business now."
The growing business now owns or occupies nearly 700,000 square feet of manufacturing,research, and logistics space in Oak Park,Livonia, and Taylor, as well as Houston and numerous depots around the country. Last year, the company processed and delivered about 300,000 tons of inventory.
For reasons unexplained, the Goodmans prefer to name their affiliated enterprises after Greek gods. There's Hercules Drawn Steel Corp., Titan Metallurgy, Atlas Trucking, and Atlas Logistics. The latter two companies oversee a fleet of 120 trucks, both owned and leased, that deliver products to plants and facilities primarily in the United States.
To boost efficiency at a large addition the company recently completed in Oak Park, Jeffrey designed and developed an underground conveyor system that collects scrap metal from cutting and grinding machines.
"We don't have to shut the machines down or move barrels around anymore," he says. "We pass those savings on to our customers." db
---