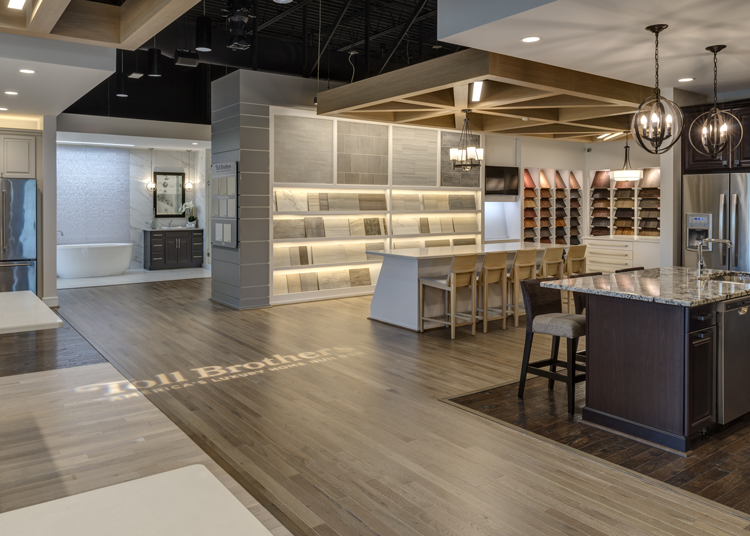 There's no shaking the fact that residential builders outfit their model homes with a design room so buyers can select everything from door handles to kitchen cabinets. The trouble is, the design rooms are often set in a small bedroom  and lack perspective.
For Toll Brothers, which is building nine residential developments in metro Detroit and has three more projects opening in Ann Arbor and Scio Township this year, the solution was to open a 5,000-square-foot design studio in Plymouth Township where customers can walk through fully furnished kitchens, bathrooms, bedrooms, and great rooms.
"We've been doing well in metro Detroit, as we sold 154 homes last year and this year we're looking to sell 300 homes," says David Straub, president of the Michigan Division at Toll Brothers, which is building in Ann Arbor, Northville Township, Novi, and Canton Township.
"Before, with so many people coming through the model homes, and then bringing customers to a small room to select their colors and fixtures, it was cumbersome. Plus, our customers were having trouble visualizing their new kitchen, for example, because the onein the model home could be different from what they wanted."
In addition to developing single-family homes, Toll Brothers is exploring the construction of mid-rise residential buildings in urban areas in Michigan, including luxury condominiums and apartments. Potential sites include downtown districts in Detroit, Grand Rapids, or near the University of Michigan (the company builds mid-rise apartments for students).
"For students, they want a nice place to live where they have a gym, a pool, and a Starbucks on the first floor, with other amenities," Straub says. "In downtown districts, there's the potential for a lot of growth for mid-rise apartments. More and more, there are people who want to have an urban experience."
Facebook Comments