For the third year running, Junior Achievement of Southeastern Michigan, in partnership with DBusiness magazine and News/Talk 760 WJR, selected five executives in metro Detroit who have driven their respective businesses and organizations to new heights. A SPECIAL EVENT was held to honor the five Champions at the Quicken Loans J.A. Finance Park on May 9. Our Champions: James K. Kamsickas Global CEO IAC Group, Southfield   Why he is a Champion of The New Economy:
James K. Kamsickas has guided IAC Group through the gyrations of the automotive industry, including the 2008 global financial crisis, with a manic focus on discipline. Since it was formed in 2006, IAC has assembled more than a dozen distressed companies and integrated the operations into a leading supplier of interior components and systems. Customers include General Motors, Ford, Chrysler, Fiat, BMW, and Volkswagen.
How do you keep pace with all of the innovations in consumer electronics?
On the electronics front, the OEMs and their suppliers directly source the technology itself, and it's our job to integrate that into the design of the interior as it relates to the instrument panel, consoles, and cockpits. All of the OEMs have different products and strategies, from radios to sensors to GPS, and our job is to make sure everything connects and looks great. If you take the (upcoming) Dodge Dart or the (2013) Ford Fusion, our job is to package all of those innovations and make sure the interior of the vehicle is a rich, comfortable environment.
Why has interior styling become such an important factor on the showroom floor?
Five years ago, vehicle interiors were down the list of OEM considerations regarding consumer offerings. It used to be exterior styling and engine performance (horsepower) drove most sales, along with the cost of the vehicle. But what the auto companies have learned recently is that the fit and finish of the interior is a major consideration for folks looking to buy. The research is coming from J.D. Power and customer feedback, and it shows interior craftsmanship is incredibly important to people. Before, the interior was largely made up of hard plastics with a shine, but now the focus is on soft materials like stitched leather, rich lighting packages, and wonderful instrument displays.
What do you attribute the change in demand to?
More and more, the average person is spending a significant amount of time in their vehicle. Here in North America, the suburbs are getting more populated and people are moving farther out. In emerging markets, there's more traffic in urban areas. People see what others have, and they don't want the plastic-and-shine. And younger buyers everywhere want all of the latest gadgets. Before, the OEMs didn't focus as much on interiors; rather, it was on the best way to build a vehicle from a production standpoint. That's totally changed now. 
What were your guiding principles during the 2008 global financial meltdown, and how do you manage the cyclical nature of the automotive industry?
We've had a playbook from the beginning, and we look at seven critical elements. We came into the business (in 2006) when Wilbur L. Ross, our majority owner, created IAC. He came from a history of assembling distressed companies in various industries, and in our case, it's been (integrating) 14 different businesses (that have been acquired) over the last five years. When a downturn arrives, we already know what's coming in terms of expectations. We didn't know how bad 2008 would be, but one of our core missions when a new company is acquired is to eliminate inefficient capacity. We also work with organized and unorganized labor to find solutions, and we're very disciplined in terms of our operations and goals. We have 76 (manufacturing) facilities globally, and our customers expect us to build the same quality vehicle in North America, Europe, and Asia. We spend a lot of time on operations, and you can't over-leverage your balance sheet. With some companies, they look for the next big thing — but in our industry, with the capital that's required to invest in new programs, you can't keep leveraging your business in that way. One miss and you could be out. So the way we operate is to make sure we have a strong balance sheet, very lean operations, and strong discipline.
What have you learned from IAC Chairman Wilbur L. Ross, and how often do you meet with him?
Like any new relationship, we spent a lot of time initially getting to know one another, understanding the foundation, and learning the expectations. Once you understand the playbook, the relationship — like any relationship of this type — evolves into quarterly meetings. Given that Wilbur is our chairman, I report quarterly to the board. Only a few people, like Wilbur and his partners, have played in as many distressed sandboxes. The beauty is nothing really fazes them. A lot of times, people panic in distressed situations. But here it's nothing new. We stick to the basics, take out the unnecessary fat and waste, and make sure we have a good return. Wilbur just isn't automotive, he also has an in-depth perspective in steel, coal, energy, and banking. So we have this wealth of business knowledge to tap into.
Prabhakar Patil
CEO
LG Chem Power Inc., Troy
Why he is a Champion of the New Ecnonomy:
LG Chem's lithium-ion batteries, which power the Chevrolet Volt — and soon, the Ford Focus Electric, among other future electric vehicles — will be in greater demand due to rising energy costs, more stringent government fuel regulations, and growing consumer acceptance. Prabhakar Patil, CEO of LG Chem, says lithium-ion battery use in vehicles will outpace consumer electronics by 2020.
Electric-powered vehicles have been slow to take off, even with hefty public subsidies, and yet you're projecting significant growth?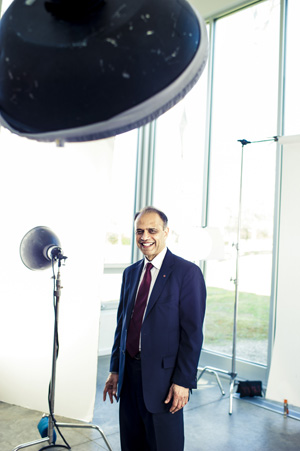 The OEM segment is going to grow steadily. The Obama administration has mandated that Corporate Average Fuel Economy (CAFE) be 54 miles per gallon by 2025, and you can't meet that (requirement) with conventional technology. You will see demand for battery packs that power smaller cars grow, especially as gas prices rise. We see a lot of growth in foreign markets, as well. We also are working on stationary lithium-ion products for the utility industry, as solar panels and wind turbines don't generate power on a consistent basis.
When will the electric vehicle market be mature enough to grow without subsidies?
My internal target is to cut the cost of lithium-ion cells by a factor of two in the next five to 10 years. When that happens, you won't need subsidies. That's why the subsidies that are offered today will sunset in the next few years. The subsidies were necessary because the market needed a kick-start. It's like the chicken and egg thing. Something had to give, so you bring in subsidies — and then faze them out as the market grows.
You have a plant opening in Holland, (Mich.). How will that complement the research and engineering center in Troy?
Right now, we supply the electronics and cells from Korea, and GM takes those components and creates modules and the power packs for the Volt. They do that at their plant in Brownstown Township, before shipping the packs to their Hamtramck plant for final assembly. As Holland comes online (by the end of 2013), we'll produce the cells there and ship them to Brownstown (for GM), and for Ford, to the Michigan Assembly Plant in Wayne. The electronics will continue to come from Korea. We'll also supply Eaton Corp. with power packs for their commercial truck division in Galesburg (near Battle Creek). Plus, we'll develop and design lithium-ion packs in Troy, produce them in Korea, and ship them to Volvo in Sweden. We have more than 100 people in Troy, mostly engineers. And when Holland is at capacity, we'll have close to 400 people working there.
LG Chem could have located anywhere in North America. Why choose metro Detroit and Michigan? What are the drawbacks?
Because lithium-ion batteries are so complicated, it would have been impossible to get the Volt up and running from Korea. Their engineers were in our facility, and we had engineers in their facility. In Michigan, you have access to engineers and other technical people. There's a very strong work ethic. We also have collaborations with the University of Michigan and Wayne State University, which have very strong engineering programs. There are no drawbacks for us. The state is determined to make itself a center of excellence for lithium-ion batteries, and we're part of the team.
A pure electric vehicle has a range of around 100 miles, making a trip from Detroit to Chicago impractical. When will range and recharging improve?
Performance will improve as we continue to develop the market and introduce advances. It's a process. Right now, you're seeing a host of hybrid vehicles, including regenerative systems that capture electricity when you apply the brakes … keep in mind the target market for electric vehicles is urban centers. Things will improve as the technology evolves. Lithium-ion will be the dominant technology of choice for electric vehicles, given it takes as much as seven years to develop, test, validate, and introduce a brand-new propulsion system.
Alicia R. Jones
CEO
Harmony Point Computer Training Center, Detroit
Why she is a Champion of the New Economy:
Alicia R. Jones has provided computer training to more than 1,500 children and adults since 1998, and that's only the beginning. This fall, Jones, CEO of Harmony Point Computer Training Center, east of downtown Detroit, will move the school to a new campus in Midtown. The future IT hub, which will accommodate 2,100 students annually, will feature computer labs, a production studio, a 500-seat theater, and a cyber café.
The digital divide is a major challenge in Detroit. How do you overcome illiteracy and learning disabilities?
We have an 85-percent success rate as it relates to students who graduate and land a job, or continue on in a given educational field. We have a waiting list of people who want to enter the program, which is free or available at a very low cost for veterans, disabled individuals, and disadvantaged people. For people who have the means, the introductory price is $500 for six to eight weeks of training. Every student is tested before they begin, so we can determine their skill set. If someone is illiterate, we place them in a computer-based literacy program where they learn to comprehend our technology curriculum. We teach people how the Internet works and explain basic operating systems. The students also take apart and reassemble the computers, to demystify the technology and essentially remove any fears or phobias. There's intermediate and advanced training, as well.
What jobs are available?
Our graduates have gone on to become software engineers, technology directors, and network administrators. Our graduates have earned scholarships or started their own companies, working with TechTown's business incubation center (at Wayne State University). This summer, we're launching a computer-training program at 16 Detroit public schools. In addition, our new headquarters will be a green campus and we will have a geothermal energy system, along with solar and wind power capabilities. We'll train students in the green energy environment. The school will be open 24/7, and we'll have an area for companies from around the country that want to come here and interview our students or set up a particular curriculum.
How does the latter program work?
Working with the private sector, we customize curricula for employers. Say a company needs six IT administrators to help oversee their internal systems. We train the administrators and get them certified, or work with the company's existing staff to offer training programs. Our partners have included the U.S. Labor Department, Michigan Works, the Michigan Economic Growth Authority, and Comerica Bank.
What's the biggest demand-driver?
It starts with tech support in nearly every sector. Engineers need tech support because they often don't do the front-end work. So we train engineering assistants, database administrators, administrative assistants, and people on the ground floor of IT. We get them prepared so they can go on to become engineers or IT directors. Some people come to us with technical experience, but they are not certified or they are unemployed. For every student, we offer a battery of professional development training that includes conflict resolution, corporate etiquette, time management, diversity training, life skills, budgeting, and interviewing skills. In this way, our students are prepared to enter the professional work environment.
What's your most successful turnaround story?
A mother had told her 12-year-old son that he needed to support the household, so he began stealing cars and was in and out of juvenile detention. He came here when he was 18 years old and on probation. He went through our professional training, as well as anger management classes. He also underwent professional counseling, to resolve the issues of the past, and now he's an instructor for an IT company in Troy.
If Bill Gates offered assistance, what would you ask for?
I'd tap his brain trust and have his team help us develop a curriculum, both now and into the future. IT changes rapidly, and we offer our students a strong foundation that they can lean on to anticipate technological advances. I'd like to collaborate with his team at Microsoft to improve our training programs. We'd also like help in establishing metro Detroit as the Silicon Valley of the Midwest. We are very passionate about what we do, and we have a dogged tenacity to infuse technology into communities that have historically been left behind.
Jim Anderson
President and CEO
Urban Science, Detroit
Why he is a Champion of the New Economy:
As a pioneer in computer mapping, Jim Anderson, president and CEO of Urban Science in Detroit, turned a simple request for plotting home addresses into a global, multimillion-dollar company. Today, with branch offices in Munich, Paris, Rome, Tokyo, and elsewhere, Anderson and his team of 750 employees help automotive clients and dealerships meet or exceed sales, marketing, operational, and customer service goals.
How did you get started?
I received my graduate degree in civil engineering while working my way through college, and I stayed on at Wayne State University as an instructor. I was part of the team doing early research on computer mapping in the mid-1970s. There were no PCs or BlackBerrys. We had dumb terminals, and we used punch cards to tell the computer what to do. Our students were involved in computer mapping, and one of them went to work for Cadillac. They asked her to map all of the automaker's customer addresses in the Chicago area. To complete the project you would go to the store, and get a large map and lots of dots to stick on the map — I think it worked out to 37,000 dots. Cadillac needed that information to help locate their new dealerships. My student asked her boss why they didn't use computers, and he said they had tried it, but it couldn't be done.
So what happened next?
She said there was a guy who could do it. So I started working on the Cadillac project in 1977, and we got it done fairly quickly. As more work came in, I was working two jobs, but it wasn't fast enough for Cadillac. They said we needed to find a way to speed things up, because it took so long to work through the university. So I promised everything I owned to the bank, spent $40,000 on a plotter — which today costs about $99 — and left the university and went to work for myself. We still have Cadillac as a client today and I still am with Comerica Bank, as they loaned me the money.
What are the drivers of your business?
We listen to our customers, we seek out problems that haven't been solved yet, and we stay with a client as a new job is rolled out. We're always asking our clients what they need next, or we try to figure out what they need that they might not have thought of yet. If it comes down to a mathematical or analytics equation, it emerges as a computer problem, and we develop software programs to get the job done. Today, we leverage our software around the world. We plan to apply our processes and software outside the auto industry in the next two years. One area of growth is in financial services, which is very data-rich and global in nature. Another possibility is health care, but it's more of a regional issue, particularly in the United States. The communications industry is another possibility.
How do you stay ahead of the trends?
We're always in a state in reinvention, either improving on what we've done or inventing the next solution to a problem. For a long time, we were known as a computer mapping company. But if we had stayed in that business, we wouldn't be here today. A mapping project might have cost $500 and took a few hours to complete. Today, it costs 50 cents and takes five seconds to produce. We evolved with our clients, and we studied what they were trying to accomplish in the sales and marketing world. They had the data, and we brought in our tools from science and engineering. We turned their problems into equations, and then provided them with solutions. We help our (auto) dealer clients with measuring customer service goals, operational issues, marketing, and a number of other activities.
What is your business philosophy?
I read a lot of books that detail the characteristics of companies that stand the test of time. I'm not getting any younger, so I want to make sure what we've built will last. We have a vision and a mission that everyone in our company understands. We call it Plan VMS521. The 'V' stands for the vision of a perfect world, and how to get there. 'M' is for mission or what we are striving for. 'S' is for our cornerstone strategies, which involves our people – our most important ingredient. Also (vital to our success) are our clients and product excellence as well as our operational efficiencies, and our desire to be an independent company as it relates to diversity and growth. As for the numbers, five is for our five-year outlook, and one and two are our one-year and two-year tactics to get there.
Mindi Fynke
President and CEO
EHIM Inc., Southfield
Why she is a Champion of the New Economy:
The personal exercise craze and better diets have raised overall wellness, but health care costs have never been higher. Mindi Fynke, president and CEO of EHIM Inc., a pharmacy benefit manager, says overnight changes to health care were never in the cards. "Because of the heavy upfront costs, it will take years to reap the benefits of wellness and technology upgrades, but the important thing is we are finally moving down that path."
Why has health care gone from an afterthought 25 years ago to an issue that's at the forefront of bottom-line expenses?
The top reason is increased patient costs. Twenty-five years ago — and really, up until not that long ago — employer-provided health care was almost taken for granted by employees who used it. That old model was unsustainable. While people are healthier overall, progress comes with a cost. Now the onus is more on the employee. As more wellness initiatives are introduced, the costs go up — but there are long-term savings. There are a lot more tests administered, which has greatly increased the diagnosis of pending or looming health care problems. Early detection is so much better today, but there is a balance as it relates to investment in new equipment and procedures.
Managers quickly see the benefit of reducing health care costs by promoting wellness initiatives, but how do you help convince employees to see the light?
Health care is now being presented as a financial incentive. Depending on the health care plan, people who lead healthier lifestyles won't pay as much for their insurance. The industry has created a "consumer" concept for employer-provided health care recipients. Strategies like increased deductibles, coinsurance, or contributions from paychecks have been utilized, and patients are now asking how much things cost, to ensure they maximize their dollars. These are questions no one asked until recently, and it's a conversation that everyone has to be a part of.
How has it changed your business?
We developed a software program that tracks a client's prescription plan, which is the heart of our business. The program allows us to work with medical carriers to help reduce overall medical costs for our clients, who make up businesses large and small. It's incredibly secure, and we can measure how compliant a person is in taking one or more medications. If a person is not compliant, a doctor or medical professional can step in and make sure they take the medication. With that type of intervention we can greatly limit a person getting sick, visiting urgent care, or being admitted to a hospital.
What effect will the growing use of mobile technology in health care — call it Dr. Smartphone — have on your business?
We're already seeing great applications that help people tap into their health care plans and better understand what's provided. Mobile apps allow patients to immediately access their health care records, engage in their own spending, and, ultimately, track their wellness patterns. The more tools we provide people, the more they are able to continue being part of the decision-making process.
How will the rollout of electronic medical records affect your business?
We're very supportive of electronic medical records because everyone will be on the same page, and there will be less redundancy. The challenge is that there are a lot of different electronic record systems being used, and making sure they all are compatible is important. We will be connected to those medical records (pre-approved by respective employers). It's a much faster way to help a provider see the depths of the issues facing a patient based on the medications they are on. db
---