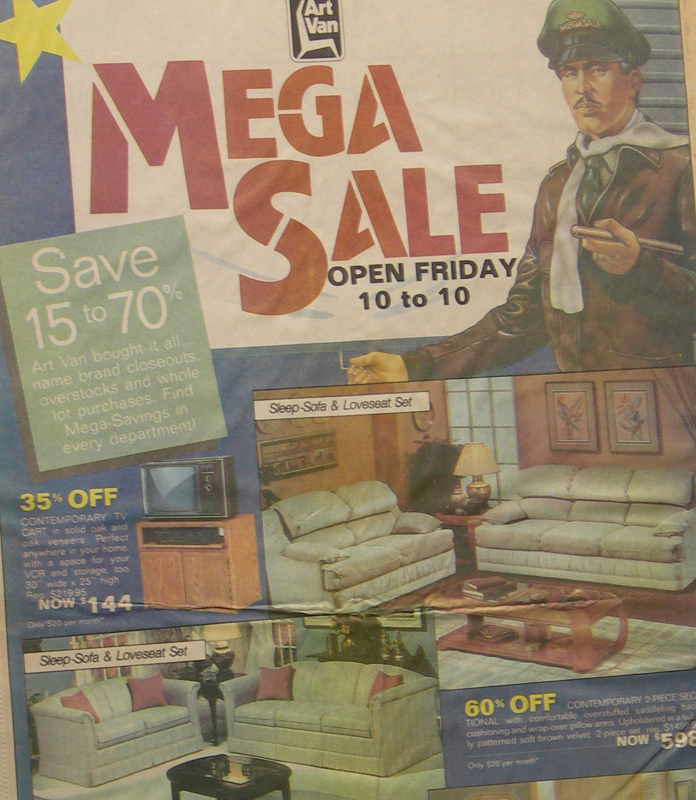 Editor's Note: On May 12, Dallas-based U.S. Assets Inc. and Love's Furniture Inc. announced they acquired the inventory and assets of 27 former Art Van Furniture, Levin Furniture, and Wolf Furniture stores in five states, 17 of which are in Michigan, according to a deal approved by the U.S. Bankruptcy Court. The stores are expected to reopen this summer.
---
Few of the thousands of loyal customers who, for more than six decades, flocked into Art Van stores around the state, had ever heard of Alan Sussman.
Yet the longtime marketing and advertising executive from Southfield probably had as much to do with making Art Van a household name in Michigan as the late Art Van Elslander, the founder of the stores bearing his name.
The Sussman Agency on Northwestern Highway churned out television and radio commercials hyping the latest Art Van sale — between 7,000 and 8,000, by Sussman's count — making Art Van synonymous with affordable value, or, as Van Elslander was fond of saying about life's altruisms: "Death, taxes, and Art Van's on sale."
Apart from starring in commercials, the company patriarch shared the spotlight with the likes of supermodel Cindy Crawford and carried her line of furniture. He also was beloved as a major philanthropist and benefactor.
For many years, Art Van Furniture was the title sponsor of America's Thanksgiving Day Parade, produced by The Parade Company in Detroit. Scores of other charities benefited from major gifts and the annual Art Van Charity Challenge, including Gleaners Community Food Bank, Beaumont Children's Hospital, the Leukemia Research Foundation, ACCESS, and the New Day Foundation for Families. Overall, Art Van, his company, and his employees helped more than 450 charities throughout the Midwest.
As a 30-year friend of Van Elslander, Sussman was shocked, but not totally surprised, by the stunning demise of the Warren-based Art Van group of furniture and bedding stores. In March 2017, Thomas H. Lee Partners, a Boston-based equity firm, paid Van Elslander $612 million for the Art Van chain.
Three years later, the company that Van Elslander started with one store in East Detroit (today Eastpointe), and nurtured for 58 years into a statewide phenomenon of more than 100 outlets along busy thoroughfares, landed in U.S. Federal Bankruptcy Court in Delaware.
"These are the same kind of people that put Toys R Us out of business, and they sing out of that same hymnal — they come in, fire all the people running the company, load it up with debt, and sell the real estate," Sussman says of the equity fund owners. "At the time (of the sale), Art was 86 years old, he wasn't in good health, and that's the reason he sold. I don't think he realized what Thomas H. Lee Partners was about."
Days before the bankruptcy filing on March 8, going-out-of-business sales already were in full swing across metro Detroit. And almost as abruptly, the sales were halted, overcome by in-store chaos and the COVID-19 outbreak.
Shoppers snarled parking lots, traffic backed up onto main streets, and skeleton sales staffs overwhelmed by the crush got relief only when police in several jurisdictions stepped in to declare the stores public hazards and ordered them closed. The COVID-19 outbreak was the last nail in the coffin.
"They could have gone about the bankruptcy differently. I've never seen an announcement of a GOB (going out of business) sale before filing a bankruptcy," says Van Conway, CEO of Van Conway and Partners, a Birmingham-based financial advisory firm that helped steer Detroit through its bankruptcy case in 2014.
Conway says that, as a general rule, when a retailer gets into trouble one-third of its locations are making money, one-third are losing money, and one-third are breaking even.
"Take the 50 stores or whatever the number is that make money and sell them, and then liquidate the rest or whatever you want to do," Conway says. "But when you announce the GOB before the Chapter 11, you've basically gutted the good stores. I'm not saying they would have stayed in business, but if you went into Chapter 11 with a plan to close the losing stores and sell the profitable stores, you might have had 40 percent retention of stores and employees versus zero."
Conway says that unlike an individual owner, equity funds aren't inclined to fight to save a business. "Typically, what I've found with private equity funds, when the deal goes south, they wash their hands and walk away and they don't really care much," he says. "They have these multibillion-dollar funds and they're not emotionally invested."
Although industry insiders detected problems with Art Van earlier this year, it was still shocking news to customers and the general public when company lawyers showed up in federal bankruptcy court in Wilmington, Del., to put the once-thriving company out of business.
Initially, the Chapter 11 filing sought to establish an orderly liquidation process in which the stores would conduct going-out-of-business sales, but the process was convoluted.
A month after the filing, on April 6, the company's management team changed course, converted to Chapter 7 liquidation, and turned the business over to a court-appointed trustee. A lawyer for Art Van told the court the company owed $14 million in employee obligations, $2.5 million in professional fees, and had less than $13 million in its accounts. Two years ago, Art Van reported revenue of $850 million.
U.S. Bankruptcy Judge Christopher S. Sontchi approved the company's Chapter 7 application and a withdrawal of $2.9 million for employees' back pay. At the time of the bankruptcy filing, Art Van had 4,500 employees. That number was now less than 50 workers, the lawyer told the court.
Neither Matt Benson nor Robin Weinberg, media contacts for Thomas H. Lee Partners, responded to emails asking for comment.
Art Van operated 169 stores in nine states — 92 as furniture showrooms and 77 free-standing Art Van PureSleep outlets. Other company brands included Scott Shuptrine Interiors and Art Van Flooring. Another 20 stores, half of them in Michigan, are individually owned franchisees operating under the Art Van banner. The latter stores weren't part of the bankruptcy.
A pro forma court document drawn up as part of the bankruptcy filings indicated Art Van Furniture had assets of $100 million to $500 million, with liabilities in the same range.
Listed debts totaled $208 million in loans and letters of credit serviced through Bank of America and Wells Fargo Bank. Another $64 million was owed to its top 30 vendors around the country and as far away as Hong Kong. In addition, nearly $1 million in outstanding credit card payments, along with various fees, were listed.
Sussman's agency is the top unsecured creditor at $7.8 million, a figure he disputes, followed by La-Z-Boy Inc. in Monroe at $5.1 million. Sussman says he's out about $700,000. He believes debts owed to radio, television, and other media outlets that carried Art Van's advertising were combined and added to his listing.
Sussman and others say at the time the Art Van chain was sold to Thomas H. Lee Partners, the company was financially sound. "The stores were in great shape, they were making money and were profitable," he says. "A lot of people believed Art Van was the best furniture company in the country. It was envied by all the people in the industry."
Yet the closing and conveyance of Art Van to Thomas H. Lee Partners served to precipitate its demise, as a rising threat from competitors — Target, Walmart, Amazon, and Wayfair in furniture and Leesa, Casper, and Tuft & Needle in bedding — was just unfolding. Not to be overlooked were Art Van's struggles as a regional player in matching the economies of scale of national retailers like Williams-Sonoma Inc., HomeGoods, and Bed Bath and Beyond Inc.
On the online front, Digital Commerce 360 estimates that the 28 leading e-commerce furniture retailers in 2019 represented $11.3 billion in sales, up 34.5 percent from $8.4 billion in 2017.
Fast-forward to 2020, when revenue growth for the $65-billion furniture industry, made up of 38,615 businesses employing 231,449 people, was projected to decline 4.2 percent as more homeowners aged in place rather than moving, according to a December 2019 report from IBISWorld. In turn, rising production costs due to the Phase One conclusion of the U.S.-China tariff negotiations began to drain profit margins.
These are the same kind of people that put Toys R Us out of business, and they sing out of that same hymnal — they come in, fire all the people running the company, load it up with debt, and sell the real estate.

— Alan Sussman, The Sussman Agency
At a time when Thomas H. Lee Partners was counting on customer loyalty to drive sales, the stores' beloved founder — who was the face of the company and a major benefactor of charities throughout metro Detroit — was walking out the door. They had no one to replace him.
"The support that Art Van provided to so many charities in our region was just incredible," says Tony Michaels, president and CEO of  The Parade Company. "It was a way of life for him, and it was the culture inside the company. He was very dedicated to charities. He felt if you had success in your life, it was your duty to help out others. And he hoped that he would inspire other people."
The question becomes, what happened?
In hindsight, had Elslander known, he would have thought twice about what was to become of a keystone of the company's success.
At the same time Thomas H. Lee Partners acquired Art Van Furniture's operating assets, five Real Estate Investment Trusts closed on a separate deal for Art Van's real estate portfolio. The REITs then leased the stores back to Thomas H. Lee Partners at expensive long-term rents. The proceeds from the sale-leaseback transaction were used to fund the $612 million purchase price paid to Van Elslander, according to court documents.
The sale-leaseback deal included 20 top-performing stores in Michigan, as well as the company's 1 million-square-foot headquarters in Warren. The leases were for 20 years and guaranteed an 11-percent return, based on sales generated at each store. "The REITs pretty much sealed Art Van's fate, because you lose control of the bottom end of your (chain of) stores," Sussman says. "If a store is underperforming and you want to close it, or you seek to consolidate with another store, you can't do that because someone's holding a 20-year lease on it."
The 11-percent return was almost triple the rate Van Elslander wrote off as rent for his own stores, according to Sussman.
Bruce Dietz, owner of an Art Van franchise store in Gaylord, says a company store farther north, in Petoskey, was paying $54,000 in monthly rent to one of the REITs — almost twice as much as the $26,000 he says the rent should have been in that market.
"They're trying to sell that store now for about $5 million over the appraised value," Dietz says. "Unfortunately, that's probably what they paid for it, and that's why they charged $54,000 a month, basing the rent off of sales."
David A. Lerner, a 20-year partner in the bankruptcy group at Plunket Cooney, a large law firm in Bloomfield Hills, believes the meltdown at Art Van following the sale to Thomas H. Lee Partners was caused by online sales pressures throttling traditional brick-and-mortar retail.
"We're going to see a whole host of retailers go into bankruptcy — J.C. Penney Co., Neiman Marcus, and Pier One have filed — just a laundry list. And they'll blame the pandemic, but it's not that," Lerner says. "It's what's been happening in the brick-and-mortar world for the last number of years.
"They just can't compete with buying stuff online. You could go into Art Van, look at a piece of furniture, Google it, and see that Wayfair had it for 30 percent off and free shipping. And until recently, there was no sales tax."
Pat O'Keefe, founder and CEO of O'Keefe, a financial consulting and turnaround expert firm in Bloomfield Hills, says when a successful family-owned business like Art Van goes up for sale, private equity firms sometimes see more value in the real estate assets than in the business they're actually buying.
He notes the Art Van sale-leaseback deal was eerily similar to one used in the 2003 court-approved sale of Kmart Corp., the longtime retailer that traces its roots to a five-and-dime store in downtown Detroit in 1899. The former No. 2 retailer behind Sears was bought out of bankruptcy by Chicago billionaire venture capitalist Eddie Lampert.
Lampert reportedly paid $800 million for the company. Soon after the acquisition, he sold 70 Kmart stores to Sears Roebuck & Co. and Home Depot for $900 million. Kmart's stock soared, making Lampert millions of dollars in profit. "So for him, it wasn't a retail play, it was a real estate play," O'Keefe says.
The sale of Art Van came out of the same playbook, O'Keefe says. Thomas H. Lee Partners sold off the stores and made a substantial return on the sale-leaseback arrangement. "Since they achieved whatever returns they were hoping to get, it didn't matter if the business survived or not. The consequence is hundreds of employees (in Michigan) lost their jobs and there was no reason for that to happen," he says.
While the new buyer didn't have experience in the furniture retail market, its consumer portfolio includes national retailers such as 1-800 Contacts, Party City, and Dunkin Brands, the corporate parent of Dunkin' Donuts and Baskin-Robbins.
Thomas H. Lee Partners was founded in 1974, and today has raised more than $26 billion in equity capital. Its investments are channeled into four business sectors: consumer, financial services, health care, and technology/business solutions.
Sussman says Thomas H. Lee Partners was naïve about Art Van's operations. "Can you imagine buying a business from a genius like Art Van — and he was a genius, a retail furniture genius, one of a kind, an anomaly — and then these people come in and say he didn't know what he was doing?" Sussman says. "One assumption they made was that people in Michigan didn't like Art Van, because they were always on sale. Yet Art Van had the largest market share of any business I've ever handled, and I've been in this business for 56 years."
Shortly after the ownership change, Bob Price, senior vice president of merchandising and inventory management, vacated Art Van to become CEO of Houston-based Star Furniture. Price is credited with having an interior designer's touch that he cast across showroom floors to draw curious shoppers looking for design ideas. The stores were so well-arranged, they attracted budget and well-heeled customers alike. Soon after Price left, several of his department colleagues followed him to Texas, or left and went elsewhere.
Within a few months, the new ownership team announced the same-day acquisition of two chains: Levin Furniture, with stores in Pittsburgh and Cleveland; and Wolf Furniture and Gardiner Wolf Furniture, operating in Pennsylvania, Maryland, and Virginia. The combined 53 stores continued to operate separately under their own nameplates.
The acquisitions at first buoyed the company's prospects to new heights. Furniture Today reported Art Van, with projected sales of $1.3 billion, was expected to move into the top 10 among U.S. furniture stores.
Those giddy moments were tempered, however, by the continued talent exodus at Art Van's headquarters along 14 Mile Road. Kim Yost, CEO for more than a decade, retired 11 months after Thomas H. Lee Partners took control. He was replaced by Ronald Boire, a manager who hop-scotched from top jobs at Barnes & Noble Inc. — he left the CEO post after one year — to Toys R Us, Brookstone, Kmart, and Sears, all of which later fell into bankruptcy.
Boire, in turn, went out the door 14 months later. He was replaced last September by Gary Fazio, who had retired four years earlier as CEO of Serta-Simmons Bedding Co.
"They brought in people who didn't know anything about home furniture retail at all. They had zero understanding of the business," Sussman says. "How do you bring in a CEO with no experience in this industry?"
In a 21-page declaration to the bankruptcy court, David Ladd, CFO at Art Van, another Kmart/Sears veteran, acknowledged that the company faced "numerous operational challenges," including "leadership turnover."
Through 2018, the company lost eight of its top nine executive leaders over a 21-month span due to "unplanned and, in many cases, voluntary departures," he wrote to the court.
"This is a clear sign of a troubled company; a revolving door on the C-Suite means that when that many executives leave, they go because they're uncomfortable. It certainly is a sign that something's wrong," says Judy O'Neill, an adjunct professor at the University of Michigan Law School and a former partner and bankruptcy lawyer at Foley and Lardner in Detroit.
Last year wasn't any better. August was a particularly brutal month in Art Van's corporate suites in Warren. Ladd says the company terminated "the then-current CEO, the chief merchant, the head of stores, and several other executives."
In all, some 22 company veterans exited the company, either voluntary or through downsizing, in the two years after Thomas H. Lee Partners arrived on the scene, according to other published reports.
During the management upheaval, the wall-to-wall Art Van television sales commercials that drove foot traffic into the stores were slashed, along with other cost-cutting measures implemented by new managers.
In September, Gary Van Elslander, son of the company founder and a former company president, was brought in as board chairman. Ladd acknowledges the move was a morale-booster and an attempt to re-establish the lost connection employees and customers had with Art Van Elslander and his family.
The company also launched a new marketing campaign and reworked its e-commerce operating systems and website. Next, they upended store interiors. Ladd says the company turned over 60 percent of its furniture assortment and reorganized flagship showroom floors by "lifestyle" sections instead of by category of product — changes he says "negatively impacted sales."
By January 2020, quarterly revenue had declined 27 percent on same-store sales. Ladd blames the losses, in part, on growing digital competition from Wayfair and Amazon, who together controlled 63.1 percent of the online furniture market, according to 1010data. At the same time, Ashley HomeStore, Bob's Discount Furniture, and Mattress Firm opened at least 30 stores in the past three years in Michigan and Illinois.
Ladd says a five-store Art Van expansion into the Chicago area that began in 2013 and continued into 2018 was a failure. Another drag was the company's takeover of its largest franchisee's multiple stores in St. Louis last year. None of the stores were profitable.
While revenue was declining, expenses increased significantly, Ladd says. Last year Art Van had $8 million in additional costs due to tariffs triggered by the Trump administration's trade war with China. Those tariff costs continued to escalate in the first quarter of 2020, Ladd told the court.
"Art Van wasn't alone feeling the pain of the U.S. tariffs on China," says Alex Calderone, managing director of the Calderone Advisory Group, a turnaround specialist firm based in Birmingham. "China's skilled inexpensive labor force is essential to the American furniture industry. A lot of larger companies with greater purchasing power could pass the tariff costs on to suppliers, but Art Van was a little player compared to an Amazon, Walmart, or Target. The $8-million cost would be a substantial hit for them."
Thomas H. Lee Partners also paid $5.8 million to settle a 2018 class-action lawsuit for violations of the Telephone Consumer Protection Act. It also couldn't overcome a failure to incorporate the 53 bolt-on Levin and Wolf-branded stores into the Art Van brand.
"When you have companies with two different cultures and you marry them, it's like two strangers getting married," Conway says. "With the bolt-on strategy, we used to joke it's only profitable in a Harvard MBA textbook because a lot of things have to go right, including the cultural differences that can destroy a company. Those companies were in a different market than where Art Van was concentrated. But now you're going into other cities and replicating what Art did, but you don't have Art. It's like buying the New England Patriots and you don't get Tom Brady. I don't know if it's the same team."   
An effort last year to integrate the operations of Wolf Furniture into Levin flopped as Wolf's same-store sales declined 22 percent in the second half of the fiscal year, resulting in "meaningful turnover of tenured staff," Ladd told the court.
"When you're making acquisitions, taking all these aggressive moves, leveraging a company up with excessive amounts of debt, those strategies work under best-case scenario situations," Calderone says. "But when the best-case scenario doesn't pan out and you're stuck with a mid- or bad-case scenario, the earlier strategies leave very little room for repairing the damage that's done if the mid-case or worst-case scenario materializes. I think that's what happened under these circumstances."
O'Keefe says for the Levin-Wolf acquisitions to have worked, Thomas H. Lee Partners should have moved immediately after the purchases to assimilate the administrative functions of those chains into the Art Van system. "A lot of equity firms conceptualize such potential benefits but don't get them done because they don't move fast enough," he says.
The Levin-Wolf saga had one last chance for a happy ending.
Before the bankruptcy filing, Thomas H. Lee Partners agreed to sell back 44 Levin stores and two distribution centers to their former owner, Robert Levin. Levin anticipated preserving the family-owned business while saving 1,000 jobs. He announced a $2 million fund to help employees and hired a legal team to monitor the bankruptcy proceedings.
In early April, however, the deal disintegrated. Each side released acrimonious statements accusing the other of reneging on their signed agreement. Regrettably, the stores were added to the Chapter 7 liquidation.
When you have companies with two different cultures and you marry them, it's like two strangers getting married. — Van Conway, Van Conway and Partners
Ladd's declaration to the court also described desperate moves to save the company in the months leading up to the bankruptcy filing.
Attempts to rearrange financial obligations and debts with its lenders, including Bank of America Merchant Services, PNC Merchant Services, and Wells Fargo, failed. He says there were discussions with at least 31 potential buyers and investors to recapitalize or sell all or parts of the business.
The most promising possibility was one that included the Van Elslander family, new money from Thomas H. Lee Partners and three major suppliers, and the five REIT lessors who agreed to take less rent. The deal called for closing 49 underperforming locations. However, before an agreement could be signed, the growing fear of the impact of COVID-19 on the retail industry killed the deal.
The end came for Art Van when Bank of America and PNC Bank, which processed credit cards used for customer purchases, refused to continue their services unless the company came up with $33 million in collateral.
O'Keefe, a federally approved bankruptcy trustee, says the Art Van drama could continue playing out in civil court. When a deal fails within a couple of years of a sale, the beneficiary of the sale, in this case the Van Elslander family, or Thomas H. Lee Partners, could be sued for fraudulent conveyance in that sale.
"The test is whether or not the company had sufficient working capital on the day the sale closed and whether it was foreseeable that more capital was needed because of industry downturns, or cyclical recessional pressures," according to O'Keefe. "A lot of families don't understand how that could possibly be the case. They give up their business, they have no control over how much leverage was put on it, but they're the clear recipient of the over-leverage because the company's assets were levered up to fund the acquisition, and then it failed."
Lerner agrees that the case could generate further legal action.
"There are a lot of pockets out there that are empty," Lerner says. "You've got angry employees who didn't get their paychecks or their medical insurance covered, consumers who paid for stuff they didn't receive, angry landlords asking, 'Where's my money?' Wells Fargo is going to say, 'We're out X dollars on our loans,' so I wouldn't be surprised to see some fraudulent transfer lawsuits spinning out of this. And it's sad, because this was a great family business in Michigan and Art Van was a great philanthropist for the city of Detroit."
---
Legal Robbery
For the franchisees of Art Van Furniture, pain was the watchword as the once successful retailer succumbed to an inept and rapacious management team.
In the first three years that Bruce Dietz operated his Art Van franchise furniture store in Gaylord, he couldn't have been happier with the business.
"Everything about that franchise was perfect," he says, describing the operation he joined in 2014. "It was a great family-run organization, and the franchisees were close family with the Van Elslander family," Dietz says. "They really supplied us with whatever we needed to be successful. They were very intelligent people with lots of passion."
The sale of the company in 2017 to Thomas H. Lee Partners, a multibillion-dollar equity fund manager based in Boston, changed everything, he says.  Almost immediately, the Art Van managers and executives he got to know in the Warren headquarters were gone.   
Dietz says he never interacted with any of the new Thomas Lee Partners managers, but he could see alarming changes in procedures and inventory after Art Van's longtime CEO, Kim Yost, and many of the upper management team began filing out of the company.
"We were doing 5 percent to 7 percent growth rate every year since we opened, and after Kim Yost left, we started running down about 15 percent to 20 percent," Dietz says.
He recalls being at home at 11:30 one night in early March when he was blindsided and stunned by a text from a friend who owned the Art Van franchise in Alpena. Art Van had filed for bankruptcy, the message said. "I never saw it coming; they never told us they were having financial problems," Dietz says.
Looking back, the merchant says he should have seen trouble coming.
"They changed the so-called secret sauce of how Art Van ran sales, the promotions, and the financing. They changed the lineups for sales and there just wasn't the backup of personnel down there (Warren headquarters) to talk to," Dietz says.
"They bought it to strip the cash out of it, just like Toys R Us and other companies where the same thing happened to them. It's legal robbery, that's what it is. They put a lot of people out on the street without a job and without insurance. It's a terrible thing to do."
Dietz says he and his son, Justin, his Gaylord store manager, intend to keep their store open under another name. They also hope to purchase the Art Van company store in Petoskey, if the price is right. "It's in good shape, and we could have it up and running (soon)."
---
After Art Van Furniture was sold, the new

leaders either lacked market experience or

came from other troubled retailers.

 

Ronald Boire
President and CEO
Art Van Furniture Inc., replaced Kim Yost
April 2018 – August 2019
Previous Positions:
CEO, Barnes & Noble Inc.,
September 2015 – August 2016
President and CEO, Sears Canada Inc.,
January 2015  – August 2015
President and CEO, Brookstone,
August 2009 – January 2012
President, North America, Toys R Us Inc.,
September 2017 — December 2009
  
Gary T. Fazio
CEO
Art Van Furniture Inc., replaced Ronald Boire
September 2019 – March 2020
Previous Positions:
CEO, Serta Simmons Bedding,
January 2013 – December 2015
CEO, Simmons Bedding Co,
July 2010 – December 2012
CEO, Mattress Firm Inc.,
January 2001 – February 2010
  
David Ladd
CFO
Art Van Furniture Inc.
January 2017 – Present
Previous Positions:
Sears Holdings Corp., Kmart Corp.