This is a Detroit story, a Sicilian story, and an immigrant story. It's a story of farms and freeways and houses, tens of thousands of them: luxury mansions, ranches, condominiums, apartments, manufactured homes — and, now, senior living communities in southeast Michigan.
Mostly, this is a story about family.
About the Moceri family, primarily — but also, by marital extension, the Grillo family, as well as other in-laws and every southeastern Michigan family that has called one of the 55,000 Moceri-built dwellings home since the 1950s.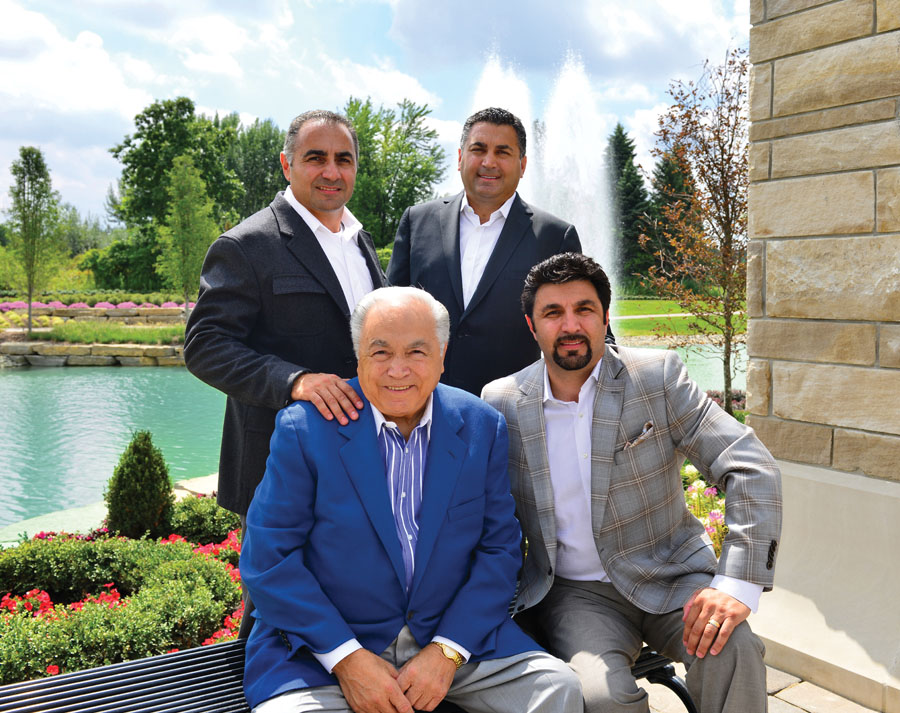 Dominic Moceri, 85, the reigning family patriarch and founding partner, insists that Auburn Hills-based Moceri Cos. does not build "subdivisions" or "developments." They build communities, where an entire family of several generations can stay in place, with extended family members nearby, cradle to grave.
While other Michigan-born home building competitors from the 1950s, such as Pulte Homes Inc. and Kaufman & Broad (now KB Home), expanded nationwide, the Moceri family stayed put. "We have entertained the idea" of expanding beyond Michigan, Moceri says, "but I felt there was strength in being strong in one place as opposed to all over the place."
As with many immigrant sagas, the Moceri family's journey was a bumpy one: from Sicily to Detroit, then a tragedy and a retreat to Sicily, and, finally, a return to Detroit for one branch of the family, while another set off for California.
Domenico Moceri and his bride, Antonia, left their native Sicily in 1890 for the United States and settled in Detroit. Domenico, who became a U.S. citizen in 1893, went into the produce business as a fruit peddler, the same trade he worked at back in Sicily. But in 1906 he lost his wife, and with his brood of five children — which included Sebastian "Buster" Moceri, born in 1902 — Domenico went back to Sicily to be near relatives and friends.
Sebastian, a U.S. citizen by birth, returned to Detroit in 1922 at age 20, ran a produce business, developed relationships with farmers north of Detroit, and later ran a retail grocery store, Your Market, in Detroit. He also began buying parcels of land that would later be developed into residential housing communities by his son and grandsons.
During this same period, Buster's  father, Domenico, remarried in Sicily. His new bride, Rosaria, was already a mother of three. Together, the couple had five more children, for a total of 13 offspring. Part of the family headed for California in the 1940s, where they built one of the nation's largest wholesale produce companies, Moceri Produce. Food giant Kraft Inc. acquired San Diego-based Moceri Produce in 1986, a year after the smaller company hit sales of nearly $57 million.
Another Moceri produce firm, operating as Jim Moceri & Sons, was based in Detroit's Eastern Market until the early 2000s.
Buster was originally in the wholesale business, but entered the retail sector in the mid-1930s, when he opened a grocery store called Your Market  at Plymouth and Greenfield roads on the west side of Detroit, according to his grandson, Dominic J. Moceri, 52, a partner at Moceri Cos. who heads up finance and acquisitions. From 1936 to 1952, Your Market competed against Chatham, A&P, Wrigley's, and the Borman family, which would later do business as Farmer Jack.
A harbinger of changing shopping patterns, Buster was the first Detroit supermarket operator to open on Sundays, his grandson says. Customers flocked to the store, lining up outside on Sunday mornings in the 1940s. Some angry competitors pressured him to close, but Buster refused, and soon the other retailers were selling on Sunday, too.
The Big Squeeze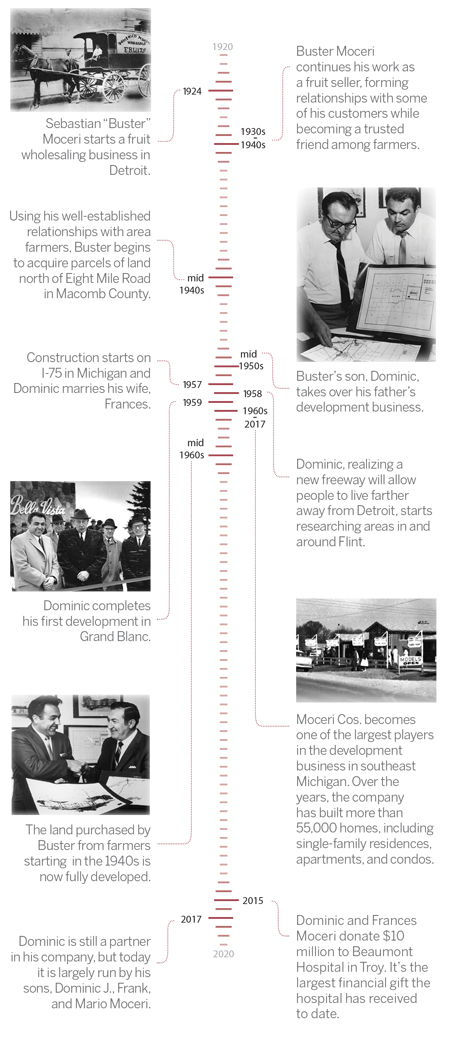 As Detroit's economy expanded following World War II, Buster realized growth would really take off in the suburbs north of Eight Mile Road. Dealing with farmers he'd met through his food business, Buster acquired prime corner parcels of land, mostly in Macomb County, which would become sites for Moceri-built houses decades later.
"While he was in the produce business, he was always interested in land," says Dominic, the family patriarch. "He would buy small parcels and speculate with them. He got to know a lot of the small farmers out there."
Some of those farmers, after scraping by through the Great Depression and the war years, had trouble with the banks when they tried to sell farmland. But they trusted Buster and, when they were ready to sell, they found a willing buyer.
Dominic, born in 1931, began acquiring land in the 1950s while working for his father. When the federal highway construction boom extended I-75 up through the middle of Michigan, he realized people would be able to quickly travel longer distances from home. "It was a natural migration, north of 8 Mile, 9 Mile, and then you better start buying at 10 Mile. It didn't take a lot of brains, I guess," he recalls with a chuckle.
He bought parcels not only in Macomb, but also in Oakland, Genesee, and Wayne counties, selling lots to other builders. "My father wasn't a builder, he was a land guy then, but he would soon become a builder," says Dominic J., one of the patriarch's six sons.
"I got in the building business because I tried to sell lots to other builders in 1956, '57, '58, and they kept squeezing on price," the elder Dominic says. "They had to squeeze because business was tough. So I said, we might as well start to build ourselves."
His first building project was in Grand Blanc, near Flint, where the automobile industry was booming and General Motors workers wanted homes. A newlywed, married to the former Frances Grillo, Dominic teamed up with her family, which had built homes in St. Clair Shores and East Detroit (now Eastpointe). Another early housing development was Jayno Heights in Waterford Township, which was constructed in 1957 and was located near a concentration of GM factories and offices in Pontiac.
From the late 1950s until Sebastian passed away in 1974, the family grew and prospered in southeast Michigan. Dominic and his wife had six sons by then, ages 9 to 16. All would enter the housing business, and the younger sons are now partners with their father, while the eldest brothers — Sebastian, 58, and Mike, 57 — struck out on their own as custom builders and project managers.
At Moceri Cos. today, while Dominic J. handles finance and acquisitions; Frank, 51, heads up construction and his twin, Mariano, is the director of asset management and operations. Jerome, 56, runs the manufactured housing operations.
How did the mix of career roles for the brothers evolve? "I guess it was a matter of timing, and of disciplines," Dominic J. says. He explains he had a penchant for community relations and finance, Mario's primary interest was in property management, and Frank had worked for his older brothers and uncles, learning building and construction from the ground up.
"I used to do it all by myself," quips their father, Dominic.
The youngest three decided they'd be stronger working together rather than doing their own things, and were disciplined enough not to cross over into each other's specialty. Timing had a big impact, too. The older brothers entered adulthood during the severe recession of 1978-82, while the younger boys came out of school during the go-go mid-1980s.
"We didn't have the scars from the 18 percent, 21 percent interest rates of the early 1980s' recession," Dominic J. says. "We were able to avoid that scarring. However, the bad times came back in spades in 2008, so we had trouble then."
The company was over-leveraged when the credit crunch of the Great Recession loomed, but they survived by doing structured workouts with their lenders before calamity struck.
"The first uh-oh for us came when Delphi Corp. filed for bankruptcy (in October 2005)," Dominic J. says. "All of a
sudden no one was visiting our sales office — there was zero traffic — so we saw the winds gathering that consumer confidence was going in the toilet."
"We came close to belly-up lots of times," the elder Dominic says, reflecting on starting out as a builder with no track record. "You had to build fast. Interest rates were 18 percent, 20 percent, and we were borrowing — not from the banks, but private financing. You had to get in and get out, and if you didn't, you'd get killed. You'd have to sell it fast, have to sell it low, make small margins. It took guts."
Public Trust
Guts are clearly one key ingredient for those who want a long, prosperous career in home-building. Two others are satisfied customers and the trust of public officials.
Robert Cannon, Clinton Township supervisor since 2001 and a former board chairman of the Southeast Michigan Council of Governments, has had many dealings with Moceri Cos. "They're very humble people," he says. "They tell you what they're going to do with a project, and then they do it better."
Cannon didn't know back in the early 1980s — when he was a new trustee on the township council and Dominic was seeking approval to build apartments at Romeo Plank and 19 Mile roads, directly across the street from Chippewa Valley High School — that he would come to admire the builder's commitment to the community.
"I was the only vote opposing (the project)," Cannon says, "because I didn't want the little shopping center he had proposed as part of the development. I was worried about the high school kids going back and forth across the street to the stores."
Moceri's project was approved, but Cannon says Dominic later confided that "he was glad I opposed it, because it made him think more about the development."
On a more recent Clinton Township project, Cannon asked the Moceris to adjust their plan and add a bike path along Romeo Plank and Hall roads, connecting Macomb and Clinton townships.  "It wasn't an easy job, along a creek and trail, but it was all done at their expense and put in before the rest of the project. My engineers said it probably cost $500,000 to $750,000 to put it in," Cannon says. "It's beautiful, (and) everything turned out great."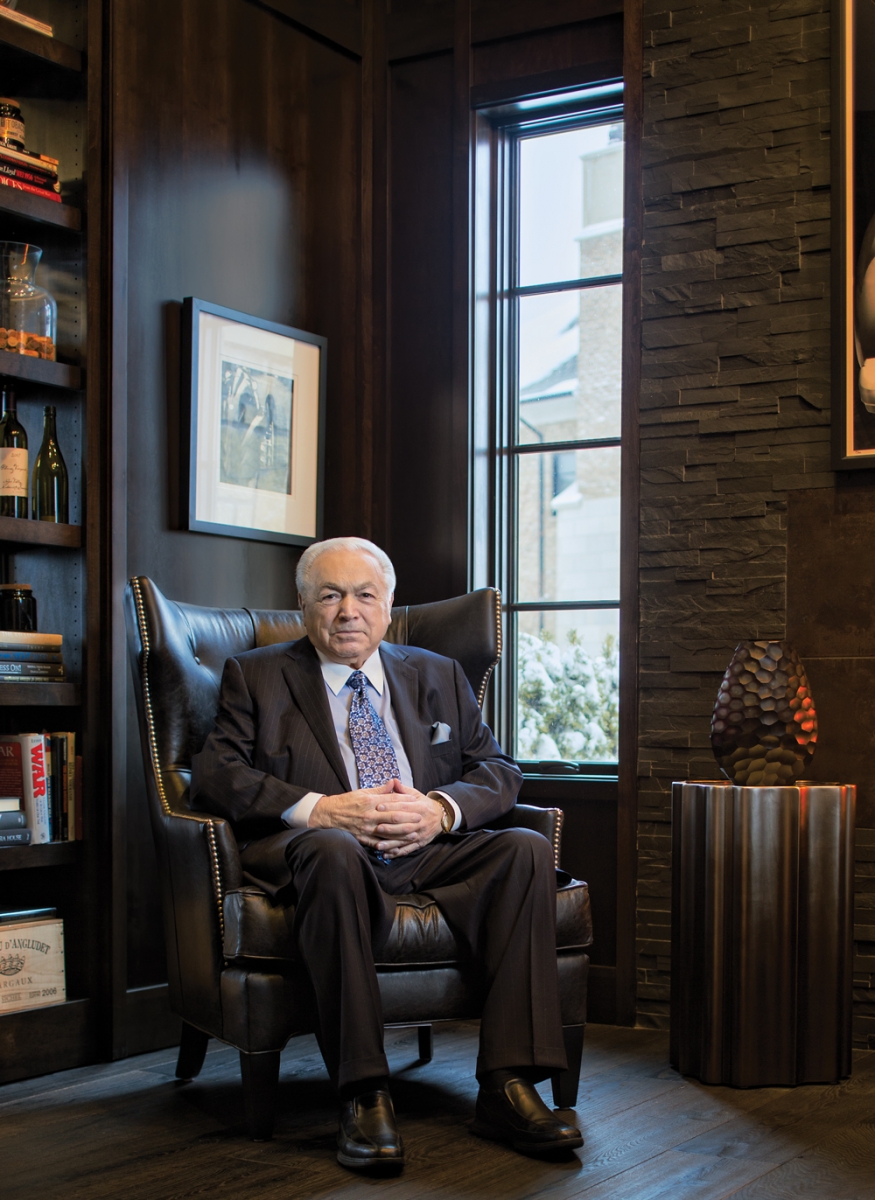 Dominic J. credits his father for the firm's good relations with public officials across the region. "Because of my father's reputation and ethos, public officials take our calls, (and have) placed us on committees about housing," he says, noting that he's a past president of the Building Industry Association of Southeastern Michigan in Farmington Hills, while his brother, Mario, is a past president of the state's Manufactured Housing Association.
Bill Kozyra, chairman and CEO of automotive supplier TI Automotive Ltd., has high praise for the five Moceri homes he has purchased.
Kozyra's current Oakland Township residence is a Moceri-built home with a second structure on an adjacent lot that functions as a museum for his collection of modern-day roadsters. It also houses an underground stone wine room and indoor lounge that leads out to a built-in pool.
"It's a very unique design," Kozyra says. "Their architect, Dominick Tringali, basically designed it to match the original house from an architectural standpoint, except that there's no front door. He integrated the entire two parcels and two structures with sort of a breezeway that architecturally matches the homes."
Kozyra's first experience with Moceri was in 1996, at the Kings Pointe development near Adams and Dutton roads in Oakland Township. "I went into a model at Kings Pointe, which was a target living location for me, close to I-75. I asked a salesperson if I could meet the developer — in this case, Frank Moceri — and so I met Frank and that led to meeting the other brothers," Kozyra recalls.
Today, after that 1996 purchase and two others before his current side-by-side structures, he says he's "a good example of a repeat customer who appreciates how they do their business. They stand behind their work and that's what consumers are looking for when they spend multimillions on these homes."
Evolution of Times and Taste
While known in recent years for luxury homes on huge lots with projects like the so-called "Billion Dollar Mile" in Oakland Township, the Moceri family has built residences in a wide variety of styles and price points over the past 60 years.
"We strive to be ahead of the curve, but remain within the financial reach of our customers," Frank Moceri says. "Features only in custom homes 15 or 20 years ago — such as granite countertops, stainless steel appliances, hardwood plank flooring, and 'smart house' technologies — are now standard for our apartments and entry-level homes," he says.
Dominic J. adds, "We want to be inclusive for generations of Michigan families, to make sure we're including all ages, segments, and socioeconomic incomes. We're focused on that, because you can't have a sustainable community without that diversity."
To illustrate how Moceri Cos. has evolved through the decades, Dominic J. rattled off the following projects:
The "Warren Ranch" was the nickname for thousands of popular Moceri single-story homes built on several square miles in Macomb County from 12 Mile to 16 Mile roads, between Schoenherr and VanDyke, in Warren and Sterling Heights between 1957 and 1973.
Camelot Mile, from Hall Road north to 21 Mile Road in Macomb Township, featured manufactured home communities, built from 1969 to 1972.
Moceri built more than 7,000 housing units from 1966-76 in the Kirkridge and Bella Vista communities in Grand Blanc — a blend of apartments, town homes, condos, startup single-family homes, and luxury homes.
In Canton Township, Moceri built homes in thePickwick and Hamptons communities along Canton Center, Warren, and Lilley roads from 1976-84, but sales were a challenge at the height of the recession in the early 1980s, when interest rates skyrocketed. "Our timing wasn't too good on that," Dominic J. says.
Both before and after the Mall at Partridge Creek opened in 2007, the Moceris built housing nearby in Clinton Township — apartments and condos decades ago,and, more recently, the Montclair at Partridge Creekdevelopment of more than 600 luxury town homes is under construction, located south of M-59 between Romeo Plank and Garfield roads.
The Vineyards in Sterling Heights, developed from 1991 to 1998, has a diverse mix of single-family homes, town homes, move-down duets, and luxury custom homes in the square mile encompassing Ryan to Mound roads, and 19 Mile to M-59. It also has more than 200 acres of parkland.
In Northville Township, the Stonewater community boasts several inland lakes, as well as 424 luxury homes built between 1998 and 2005.
From 2003 to 2005, Moceri built mixed-use lofts in an urban setting that Auburn Hills had planned as a city center at Auburn and Squirrel roads.
A new loft-apartment community in Birmingham, dubbed Irongate, features nostalgic architecture that pays homage to the nearby Eton Street train station. It also offers live/work space with retail, office, or incubator space on the first floor.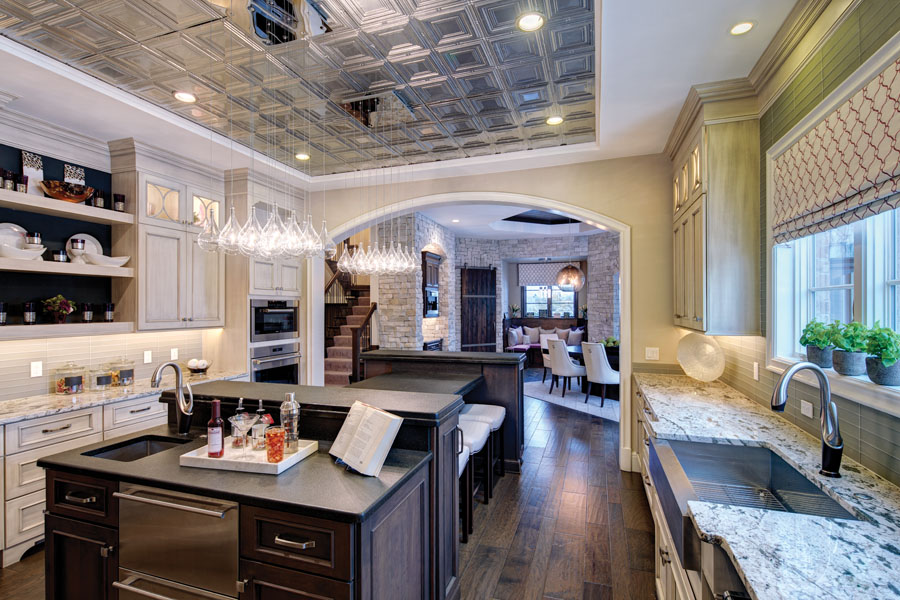 The Moceris' $137-million Pinnacle at Oaklands community — dubbed the "Billion Dollar Mile" along Silverbell Road, east of Adams Road — was a featured site for the 2014 Homearama event. When completed, it will include 81 homes ranging in size from 4,800 to 9,000 square feet. That stretch of luxury mansions, however, isn't so much a crowning achievement for the Moceri family as it is "a launching pad for our inspired senior living community," Dominic J. says.
55 and Bolder
Last October, Moceri Cos. announced plans to invest more than $1.2 billion over 10 years to build eight new luxury communities in southeast Michigan for residents 55 and older. Using the umbrella name of Blossom Collection, the company uses the phrase "55 and Bolder" to market the communities. Housing units will be available for active, independent residents, but also for people in need of assisted living care, as well as those who suffer from dementia or memory loss.
"This is our first foray into this type of luxury senior housing," Dominic J. says. "We had done some ranch-style condos in Clinton Township and Sterling Heights, but they didn't have the services. Now we have a full range of health and wellness services, and you don't need to leave the community to enjoy the amenities — (including) a full-line spa, almost like a Ritz resort."
The dining facilities for the collection will be centered at Blossom Ridge, a 169-unit development now under construction, and will be operated by another family-run business, Andiamo Restaurant Group in Warren. "What a great place to have your grandkids come visit you, or to have a graduation party for a grandson or a granddaughter, or a shower hosted in grandma's clubhouse," Dominic J. says.
Moceri Cos. originally proposed in 2011 that a 238-unit Blossom Ridge senior housing community be built on 42 acres the company owned at Adams and Dutton roads, just a mile south of Moceri's ritzy "Billion Dollar Mile."
But after the initial Oakland Township approval in 2012, township voters elected new trustees who opposed the Blossom Ridge plans, and the project was scuttled in 2013. Moceri filed a federal lawsuit, claiming the township was denying accommodations for those with disabilities. Before long, the Michigan Paralyzed Veterans of America joined the lawsuit.
One of the supporters of the lawsuit was Cannon, the Clinton Township supervisor from neighboring Macomb County. "I have never seen such a blatant disregard for persons of special needs or senior citizens as the recent position taken by the Oakland Township trustees," he said in early 2015. "Their actions are cowardly and disingenuous."
Early last year, Oakland Township trustees approved a consent agreement to end the litigation and allow Blossom Ridge to move forward.
For the Moceri family, it was a green light for an idea they'd been planning to implement for 20 years or more. "We reserved this land, these square miles, decades ago for that use," Dominic J. says. "We intentionally left these properties vacant, with the vision (of) providing places and services for people as they age, so they can live near their children and grandchildren. We felt it was premature to go forward with it 20 years ago; the baby boomers weren't old enough yet. Now we've hit that critical mass."
What's Next?
A saying that crops up often in conversations with Moceri family members is that real estate and housing aren't always about "location, location, location," as the popular maxim goes;  rather, "timing, timing, timing" is more important.
So it was with recessions and rising interest rates, and also now with the demographics of aging leading the Moceri family into new approaches to senior living. For virtually all of the Moceri family's history in southeast Michigan, their efforts have tracked the migration of people from Detroit to the northern suburbs.
Now that the times are changing in Detroit, and young people and numerous businesses are moving into the city and investing downtown, might the Moceris' pendulum swing that way, too? Probably not just yet, Dominic says. "Maybe, in the future, for our grandchildren, but I don't see it for ourselves right now. We've got a lot of stuff in the hopper as it is."
His son, Dominic J., agrees. "I'm encouraged by competitors and associates who've taken a deep interest in and passion for revitalizing Detroit," he says. "We think we can serve the region better now by staying strong in the suburbs, and with our philanthropy." Last fall, Beaumont Hospital in Troy opened its new Frances and Dominic Moceri Learning Center, funded with a $10 million gift from the couple.
If the Moceri focus swings back to Detroit, perhaps it will be when the next generation leads the business. And, yes, there's another Dominic in the mix — Dominic F. Moceri, 25, son of Frank, a Northwood University graduate who is working on construction in the company's custom home division, and with community master plans and design.
"I want to keep carrying on what Grandpa has built," he says. "We're growing at a rate that we haven't for some time, and entering new sectors with the New Blossom collection. I hope we can go further than four generations."