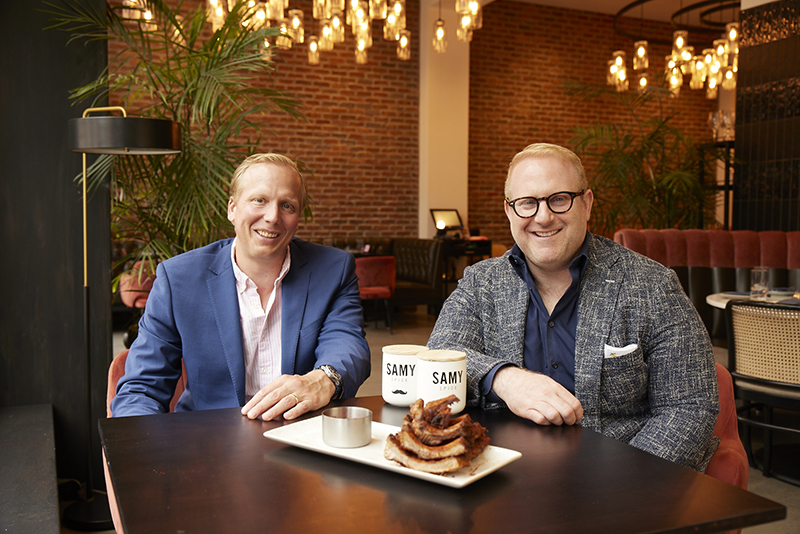 When Sameer Eid developed a dry rub and finisher for spareribs, he never envisioned his spice creation would be the foundation for a line of food, cookware, and apparel.
Soon after the rub was introduced, patrons at Phoenicia in downtown Birmingham began asking for the spice on other menu items. "It grew from there, and the spice began to be referred to by different names, one of which was Samy Spice," says Samy Eid, who co-owns Phoenicia and Leila in Detroit's Capitol Park with his father.
Two years ago, Samy and his brother, Omar, along with Todd Williams, began cultivating plans to distribute the all-purpose spice in gourmet markets and food stores across the country. The goal was to create an attractive container that would encourage people to display the spice on a kitchen counter or a shelf, rather than store it in a cabinet or a pantry.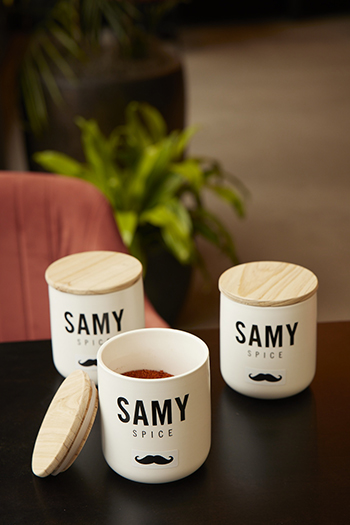 After designing a sleek, white jar with a cork-like top — the spice comes in one or two plastic bags inside the container — the trio formed Leila Provisions in Pontiac, named for Samy's mother. The container design included an image of Sameer's trademark handlebar moustache.
"We ordered the jars from China and we learned a tough lesson in shipping logistics, given it was difficult to get the jars cleared through customs," says Samy, who also owns Forest, a restaurant in Birmingham. "Right now we're selling Samy Spice at Phoenecia, as well as Caruso Caruso in Birmingham, Zieben-Mare in Franklin, and the Birmingham Farmers Market."
In the coming months, the mixture of salt, paprika, garlic, natural spices, and yeast extract will be available in more stores, while the company website will be redesigned to accommodate more offerings. Two other mixtures are in the works: a Zaatar blend and a butcher's blend.
"The trick is to get all of the new products to run efficiently on a conveyor line," Samy says. "When you buy spices today, not much thought goes into developing attractive containers because it's hard to find packaging sources in the U.S. Plus, we're using as many local ingredients as possible, which makes things a bit more challenging."
As Leila Provisions expands, Samy and his two partners are reimagining kitchen staples such as cookware, utensils, and apparel items. "We want people to feel proud to have our spice containers on their countertop, not in a drawer," he says. "From there, we'll develop other things for the kitchen. We definitely see Samy Spice giving life to other products for the kitchen and outdoor patios."
Facebook Comments