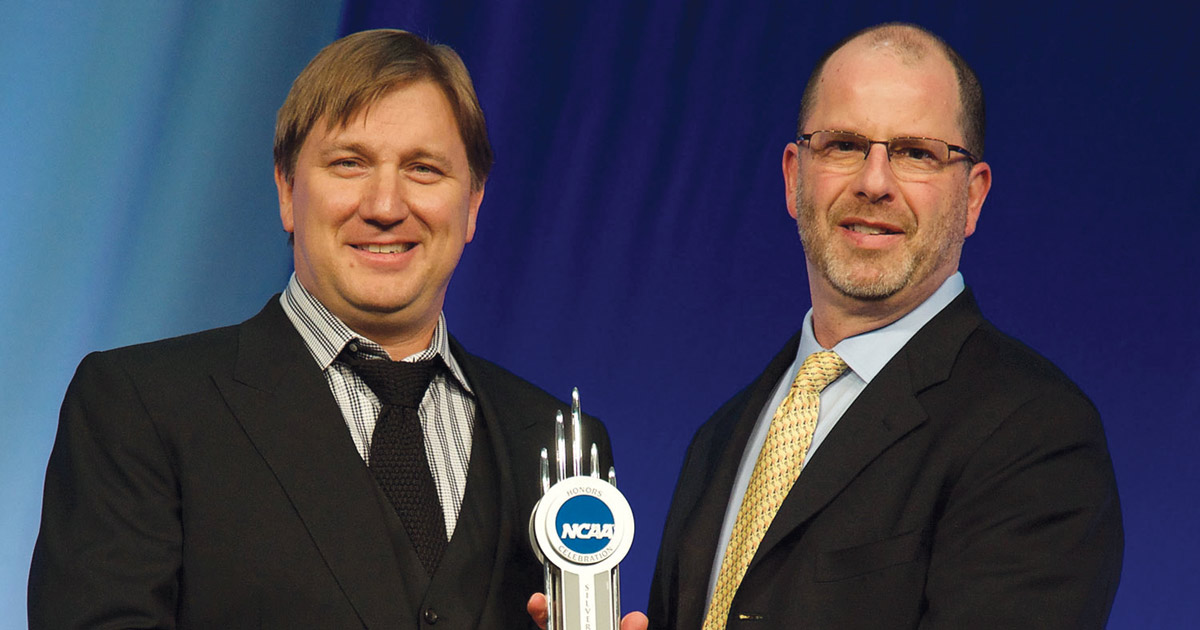 Dave Morrow, founder and CEO of Warren-based Warrior Sports, grew up in Troy, where he remembers his early years as being typical of any suburban kid coming of age in the 1970s.
As he got older, his friends gravitated toward the usual summer jobs. "Most kids were mowing lawns, caddying, or scooping ice cream," he says, "but I grew up in a manufacturing family. My dad owned a machine shop and had been a small business owner for many, many years."
That explains the unusual gift Morrow received on his very first day as a teenager. "On my 13th birthday, my father gave me an alarm clock, some steel-toed work boots, and a work uniform," he recalls. "And he goes, 'Guess what? You're gonna have a job.' "
Morrow laughs, then adds, "I guess today that's probably illegal. And it wasn't something I really wanted to do. Work started at six in the morning, and most young guys aren't used to getting up for work at five. You're driving to work with your dad and then he just plucks you down, pushes you into the shop, and says, 'You're gonna start sweeping floors.' And I was terrified, because I was working around heavy machinery."
Before long, Morrow was handling the biggest jobs in the shop, including the continuing casting machine, where molten metal is molded, cooled, and stretched into a finished product.
"A continuous casting mold could be like the size of a flatbed, and the head of a bolt was like the size of a small pizza," Morrow says. "When you were using an impact wrench, the socket alone would weigh four or five pounds, and the bolt you needed to back out probably weighed 30 pounds. It was a very dirty job. I basically worked as a machinist/shop laborer my entire youth."
"People tend to overcomplicate innovation, but it's actually very simple. It's just problem-solving, right?"
— Dave Morrow
It was a vastly different world from his buddies. "It was funny," Morrow says. "When I got older and could drive, my dad said, 'Why don't you invite a friend to come work with you?' I said, 'That's great.' But they'd last about four hours. I never had anyone make it through a full day. They'd go out to lunch and never come back.
"You grow up really fast," Morrow continues. "I learned, early on, the importance of a work ethic, getting out of bed in the morning, getting your (job) done, and doing a full day's work."
Morrow applied his focus and attitude to his career as an athlete at Brother Rice High School in Bloomfield Township, where he was a standout player in both lacrosse and hockey. When he arrived at Princeton University in the fall of 1989, he had to choose between the two sports. Morrow opted for lacrosse, but after playing sparingly as a freshman, he was ready to quit and resume his hockey career.
Enter Bill Tierney, the lacrosse coach of the Princeton Tigers, who recognized Morrow's raw potential. "My gift, which I carried through my career, was I could run real fast," Morrow says. "Coach Tierney told me, 'All you have to do is stop the other team's best player. Nobody can run faster than you. For them to beat you they have to run by you, and they can't.' "
Encouraged by Tierney's assessment, Morrow went on to become one of the greatest defensive lacrosse players in the history of the sport. As a senior, he was recognized as the national player of the year — the last defenseman to win the equivalent of the Heisman Trophy of lacrosse. He recently was recognized with the sport's ultimate honor, joining the 2018 class of the U.S. Lacrosse Hall of Fame, the first-ever inductee who played high school lacrosse in Michigan (the event takes place in late September).
Through all those heady days as an elite performer in the highest echelon of his sport, Morrow returned home every summer and toiled in his father's machine shop. And one day, they got an unusual job request.
"There were these two young guys who'd just graduated from college," Morrow says. "They had this idea to make a snowshoe, with the outer frame made from aluminum. So we had all these different straight tubes of high-grade aluminum that we were experimenting with."
At the same time, Morrow, who'd just completed his second lacrosse season at Princeton, was grappling with a problem shared by everyone who played the game: The shafts of the sticks, or handles, were made from low-grade aluminum, bent easily, and often broke in half. It wasn't at all uncommon for players to break two or three dozen handles each season. So Morrow and his father started experimenting with titanium.
"People tend to overcomplicate innovation," Morrow says, "but it's actually very simple. It's just problem-solving, right? I'd worked in a machine shop since I was 13 years old. I had years and years of history making things. And you develop an innate ability to look at things and be inquisitive about how they're made. Most people, when they pick something up, no matter what, they look at it for what it is. They don't think about how it's made."
The following spring, Morrow showed up at practice with an assortment of sample handles for his college teammates, produced under the imprimatur of his newly formed company, Warrior Sports (Brother Rice Warriors). Less than a month later, something completely unforeseen and extraordinary happened: Princeton won its first-ever national championship.
"I got a lot of notoriety," Morrow says. "At the time, there really were (few) well-known players who weren't from the eastern seaboard. So it was this crazy guy from Michigan, he's got this handle, and Princeton wins their first national championship."
Virtually overnight, everyone in the sport wanted to know more about that crazy guy and his titanium handles. "But there was no business, right? And there was no intent to start a business," he says. "It was basically my dad and I making a handful of shafts for my buddies and me, and hoping we all played better."
Morrow returned to Michigan for yet another stint in his dad's machine shop the summer preceding his final year at Princeton.
"These college coaches started calling my dad's shop, saying they wanted to buy the handles," Morrow says. "My dad says, 'What do we tell these people?' And he pulls me into his office and says, 'I think we should start a business.' I was a kid. I'm 20 years old. I'm not thinking about starting a business. I'm thinking about the same stuff every 20-year-old guy is thinking about — having fun, going to parties, and chasing girls and all that stuff. I told him, 'OK, let's start a business,' but I didn't know (anything) about that. I was an English major."
As he focused on earning his degree and leading the Tigers back to another Ivy League championship as a senior, Morrow also became immersed in all aspects of titanium tubing while running his fledgling business out of his dorm room.
"A lot of manufacturing went into it," he says, "and a lot of R&D — getting the titanium into a shape that was strong and straight enough to work as a handle for the sticks. So we'd make samples and I'd bring them to practice. Too light. Too heavy. We were shooting for the ideal strength-to-weight ratio. It was a continuous process of trial and error. I think our first sale was in February 1993."
Soon after graduation, Morrow was at the forefront of the next step for Warrior Sports, expanding from a company that not only manufactured lacrosse handles, but other sports equipment, as well.
"I was 23 years old, and I had to fly to Taiwan and figure out Asian sourcing. I didn't know (anything) about Asian manufacturing. I read Phil Knight's book about Nike on the plane going over there and it basically described him doing the exact same thing. You know, he just went over there and figured it out. And I go, 'If he can do it, obviously I can, too.' "
Once on the ground, Morrow walked into a number of shops and watched how things were made. "If they were making a hockey shoulder pad, once I saw how they were stitching it and putting it together, I said, 'OK, this is what we need to do to make a lacrosse pad.' I learned everything just by walking the floor and working with all the local people I met. Being in that environment didn't intimidate me; it kind of inspired me."
In the last 25 years, Warrior Sports has come a long way from that cramped Princeton dorm room. Morrow now has more than 80 U.S. and international patents for his innovations and ideas, and the company is renowned throughout the sporting goods industry for its innovative and high-performance equipment, footwear, and apparel for lacrosse and hockey.
As Morrow made forays into workshops, he continued his lacrosse career, winning gold medals in the 1994 and 1998 World Championships with the U.S. National team. In 1999, he co-founded Major League Lacrosse, the professional outdoor league which just wrapped up its 18th season.
While his parents and sister still live in Michigan, the 47-year-old Morrow settled in Denver with his young family.
"We chase the sunshine, but I'm in Michigan almost every week," he says. "We have 700 employees all over the world, and we had the opportunity to move almost anywhere. But there's an extraordinary work ethic in Michigan, and we just kicked off a new manufacturing plant in Sterling Heights. We could have put that anywhere in the world, but I wanted to put it there."
Morrow is also committed to giving back. Warrior Sports supports more than 70 local and national hockey and lacrosse organizations with financial or equipment donations.
"It's all focused around giving young people the opportunity to play hockey and lacrosse," he says. "I'm personally passionate about it simply because playing a sport at a high level changed my life. I tell everyone the greatest gift I ever got from lacrosse is self-confidence. And that self-confidence propelled me to where I am."
Facebook Comments