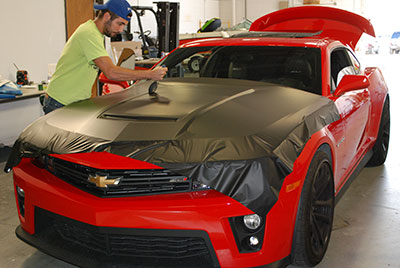 Sandstorms can ruin a vehicle's paint job in a matter of minutes, and a restoration job can easily cost thousands of dollars to repair. So when Troy-based Ziebart International Corp., which traces its roots to Detroit in 1959, debuted a paint protection film for vehicles called Z-Shield in 2014, sales in certain parts of the world took off.
With more than 400 franchise locations and 800 Ziebart Services Centers in 34 countries, the overall operation generated around $150 million in global dealership sales in 2015, up from $142 million in 2014. The privately held, employee-owned company projects a 5 percent increase in revenue in 2016.
To drive growth, the enterprise is expanding from a strong international base in the Gulf countries and select Middle East markets like Turkey, and broadening its reach into North Africa — including Morocco, Algeria, and Egypt. Other new outlets are planned for Australia, South America, Europe, and the Far East (the company signed a master franchisee in Thailand last year).
"When we expanded into Dubai, they quickly built up a profitable network of five stores, and they plan to have 10 stores in the next two years," says Thomas E. Wolfe, president and CEO of Ziebart International. "Turkey also plans to have eight to 10 stores (in 2016); they have five right now. In South America, we're looking to expand in Chile, Peru, and Columbia."
In addition, Ziebart recently acquired an existing franchisee in Poland where it modernized the sales floor, added warehouse space, and established a sales office. The refurbished facility is now being used to expand into nearby markets like Germany and Italy.
"We plan to have four new dealers in the U.S. next year, while another eight dealers will expand their operations," Wolfe says. The company got its start after founder Kurt Ziebart arrived in Detroit from Germany in 1953. Taking a job as a mechanic at an automotive dealership, Ziebart saw the need to develop a coating that would block rust from attacking the various metal components on a vehicle, especially the underbody.
Soon Ziebart and a group of partners opened a rustproofing shop in the region. At first customers were skeptical but, over time, as the coating proved to resist rust, sales took off and the company quickly expanded and signed up 18 franchises, mainly in the Great Lakes region, as well as in Windsor.
As the company changed ownership and continued to enter new markets, it got a jolt in sales in 1974 when Rod Serling, host of the popular science-fiction TV show The Twilight Zone and Night Gallery, appeared in commercials for Ziebart with a haunting message: "It's us. Or rust."
Throughout the 1980s, in a bid to diversify from its main service, the company began selling bed liners for pickups and offered replacement glass and window tinting, remote car starters, germ-fighting protectants, and an array of accessories including step bars, trailer hitches, toolboxes, sunroofs, and hood and window deflectors.
Last January, the corporation acquired Fine Lines Graphics & Films in Clinton Township, which specializes in vinyl wraps, window tints, clear film paint protection, and graphics (the wraps can change the color of a vehicle). Target markets include passenger and commercial vehicles, boats, delivery firms, fleet operators, and commercial trailers.
The wraps can also be affixed to tall structures — consider the large images of cars or trucks that periodically appear on Fiat Chrysler's headquarters building in Auburn Hills. In addition to branding attributes, the film helps block heat from the sun, which reduces cooling costs.
Some of the product line, though, is in a state of flux. Where Ziebart once dominated the market for remote vehicle starters, it eventually saw automakers and dealerships selling similar devices. It was the same for keyless entry systems and window-tinting. That's why the company's acquisition of Fine Lines Graphics was a key move toward propelling sales, says Thomas A. Wolfe, Ziebart International's vice president of product management.
In addition to changing the color and appearance of a car or truck, vehicle striping and graphics allow customers to customize the hood, side panels, roof, truck bed, or other exterior surfaces. The most popular installations are for sports cars, pickup trucks, and boats.
"It's a great product for anyone looking to personalize their vehicle or advertise something in a unique way, both in B2B and B2C markets," says Thomas A. Wolfe. "Our plans going forward are to begin offering franchises in the third or fourth quarter.
"They will be priced at around $100,000, and that includes the franchise fee, all the equipment, and the initial supply (of material). We see a lot of potential for growth." db
Facebook Comments