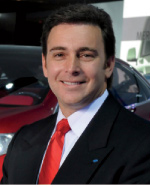 DB: Where are you?
MF: At Pebble Beach. I'm attending the Concours d'Elegance.
DB: At a recent industry conference, several senior Wall Street analysts predicted Ford could be profitable by year's end. What's your forecast?
MF: Well, we don't want to violate SEC guidelines (regarding financial data), but we have set out there that we hope to be cash-flow positive by 2011. But we aren't going beyond that because volatility is the new norm now.
DB: Some analysts suggest Ford benefited from the fact that it skipped a federal bailout, unlike GM and Chrysler. That was a risky move, wasn't it?
MF: We realized we had sufficient liquidity to keep ourselves funded through the downturn — and not just our day-to-day operations, but to fund our product development. Our pipeline, as you can see, is very full. We saw it (not taking a bailout) as an opportunity. Clearly, by not taking government money, we're hearing, anecdotally, from our dealers that people are coming into showrooms saying they were pleased by our decision. It has given us the opportunity to talk about our great product, and that's the primary reason people are coming into our showrooms.
DB: We're seeing the industry come on very quickly with electric and hybrid vehicles. What are Ford's plans?
MF: We said, from an electrification strategy, we're going to be very aggressive. We have an electric vehicle coming out next year, our Transit Connect, a (battery) Focus the next year, and two more in 2012.
DB: So how do you feel about the proposed new EPA mileage standard for electric vehicles, which yielded 230 mpg for the Chevrolet Volt?
MF: I think it can be really confusing for customers. We want to wait for more guidance from the EPA on their metrics for calculating mileage on electric vehicles.
---