One of the most celebrated tracts in the United States, Arcadia Bluffs Golf Course along the Lake Michigan shoreline north of Manistee, is about to take things to another level. Arguably the most storied course in northern Michigan, Arcadia Bluffs and its A+ ranking will soon double in size.
The new 18-hole layout, called The South Course, is under construction on a hilly, 310-acre parcel that's reminiscent of Pebble Beach, the famous links-style course along the Monterey Peninsula that overlooks the Pacific Ocean. Located along M-22, just a mile from Arcadia Bluffs, The South Course is set to open in summer 2018 with "a Golden Age parkland-style design" marked by 40-foot changes in topographic elevations, tree-lined fairways, large square and rectangular greens, expansive views, and putting surfaces within close proximity to the tee boxes, so golfers can walk the public course.
Dana Fry and Jason Straka, principals of Fry Straka Global Golf Course Design in Dublin, Ohio, which has produced an impressive resume of courses in the U.S. and Canada — including Erin Hills Golf Course in Wisconsin, which will host the 2017 U.S. Open later this summer — designed The South Course. 
The creation of the new course, which will offer a large clubhouse, four practice holes, and a driving range, will benefit from input from Warren Henderson, who worked with architect Rick Smith on Arcadia Bluffs. Henderson will lead the project management team and weigh in on the construction of the new tract.
Anticipating increased player traffic, Arcadia Bluffs is completing work on a second lodge to complement its original iconic red-roof-and-white-clapboard clubhouse and guest facility, which has a commanding view of the public golf course and the lake. The so-called Bluffs Lodge, set to open in June, overlooks both the ninth green and the fairway of the 10th hole. The new facility will offer 20 guest rooms, a 3,500-square-foot fitness center, plush locker rooms, a private massage room, and a lounge area, and sunsets will be made memorable by a bagpiper blowing soulful notes into the wind.
Not to be outdone, Crystal Mountain Resort in Thompsonville is putting the finishing touches on an $11-million expansion of the Inn at the Mountain, doubling the facility's capacity to 54 rooms and introducing a rooftop lounge and bar, a specialty market, a coffee shop, eight new downhill skiing trails, a triple chair lift, and a plaza surrounding the inn.
For Chris and Jim MacInnes, the husband-and-wife owners who have operated the ski and golf resort as a family trust for more than three decades and have invested close to $100 million during that time, the completion of the inn and plaza has been years in the planning. "This is the capstone of our village, something that has been in our master plan for 20 years," Chris says. "The market, the coffee shop, and the rooftop lounge with its views of the golf courses and ski trails, combined with the surrounding plaza, give the resort a vital focal point where guests can gather and unwind while admiring their surroundings."
The resort features lodging, dining, downhill and cross-country skiing, two golf courses, an award-winning spa, Michigan's only alpine slide, the Park at Water's Edge, the Michigan Legacy Art Park, and ample room for conferences and special events.
Moving south, upgrades are also underway at Treetops Resort in Gaylord, where a long overdue $4.5-million refurbishing of guest rooms is nearing completion. Forest Dunes Golf Club in Roscommon, which last summer opened a unique 18-hole reversible course called The Loop, designed by world-acclaimed architect Tom Doak (based in Traverse City), is building five new villas that will be ready this season to accommodate more golfers.
Improvements have also been made at Boyne Resort's Inn at Bay Harbor, long regarded as northern Michigan's marque resort, and last year the Inn on Little Traverse Bay, near Petoskey, became only the second property in Michigan to be accepted into Marriott International's Autograph Collection Hotels, an exclusive listing of 100 outstanding properties worldwide. The Henry in Dearborn is the other state property in the Autograph Collection.
At the Inn at Bay Harbor, recent upgrades included a freshening up of the lobby, which is dominated by a 34,000 gem-cut crystal Schonbek chandelier featuring 200 lights, along with the addition of deep blue wingback chairs, plush leather treatments, marble tabletops, decorative lighting, and a fireplace. As part of a $2-million upgrade, the inn's steakhouse underwent a renovation, while 35 master suites were redesigned — the first step in a makeover of all 123 guest rooms.
Another much-anticipated development will be the June 2 start of daily nonstop flights by American Airlines' Dallas-Traverse City Cherry Capital Airport. American Airlines joins United Airlines and Delta Air Lines in servicing the Traverse City market with
direct flights from the South. Landing the American Airlines-Dallas connection was the result of a four-year courtship and a multipronged campaign by officials at Cherry Capital Airport, the Traverse City Convention and Visitors Bureau, its counterpart in Gaylord, and Grand Traverse Resort.
The Pure Michigan campaign has spent millions of dollars on television and radio advertising around the country, including the Dallas-Fort Worth region, promoting northern Michigan as a comfortable respite for golfers, sportsmen, and family vacationers seeking relief from the searing Texas heat.
The Dallas route follows a similar coup last year for the airport and the region, when Delta Air Lines added seasonal daily nonstop flights from Atlanta — part of a string of seasonal direct daily flights from Detroit, Chicago, New Jersey (Newark), New York (LaGuardia),
Denver, and Minneapolis/St. Paul.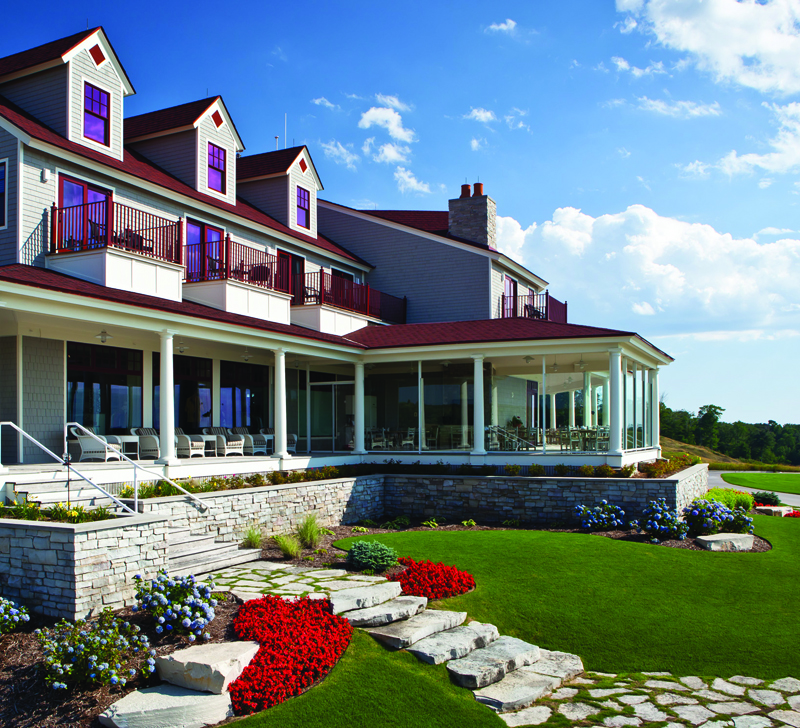 With the added traffic, Cherry Capital Airport, the state's fourth busiest behind Detroit, Grand Rapids, and Flint, will likely exceed last year's benchmark of 451,346 passengers — up more than 21,000 from the previous record, set in 2005.
Susan Wilcox Olson, a public relations representative for the airport and a longtime northern Michigan tourism and resort advocate, says the new nonstop flights will be joined by more flights in the future. "Traffic at the airport was up 5.1 percent last year, with 53 percent of the travelers coming from out of state," she says. "This January was a record over January 2016."
She says the growth in passengers confirms the overall economic impact (of the flights) to the region — from Frankfort to Petoskey, east to Gaylord, and north to the Mackinac Straits area.
Tim Norman, general manager of Grand Traverse Resort and Spa, who stands to benefit the most since the airport is minutes away from his front door, is bullish on the impact of the Dallas and other direct connections.
"Dallas is a major metropolitan area that travels well. Coming here is easy travel for them, and it's also an easy hub for the airlines coming out of the west," Norman says. "We've had the Pure Michigan campaign nationally, and we book national conferences. For us it's a true bonus, because it will be easier for (people) to come here."
Outside of golf, the Traverse City area offers 40 wineries along the Leelanau and Old Mission peninsulas, 16 craft breweries, hiking, fishing, boating, and numerous other recreational offerings. "We had two of our best months ever last year, but you can't expect to have the best October and the best April you've ever had every year, so we try to stay consistent and provide the kind of service (that makes) people want to come back," Norman says.
He says the resort is experiencing a steady rise in revenue year to year. "It's about the same kind of growth as the rest of the country in the hospitality business, up about 3 percent," he says. To help drive business, in 2015 the resort invested $7 million on a total renovation of the 186 rooms in its 16-floor tower, which looms as a landmark over the Grand Traverse Bay area.
While no major projects are planned this year, the resort continues to spend up to $2 million annually for maintenance, periodic renovations, and upgrades, including a new fleet of 247 electric golf carts to service the three golf courses, along with a new building that will offer a quick breakfast or lunch for golfers teeing off or making the turn on the Wolverine or Bear courses.
Guests will also notice a change in the food and beverage offerings at the resort's half-dozen restaurants. Rather than compete with some of the area's upscale steakhouses, Norman says a new chef, Brian Burkley from West Virginia, has designed a menu heavy on local fish selections. "Traverse City is a foodie town, so we're going to key in on the fish specialties and serve some things people aren't used to seeing," he says.
Also new this season is the addition of the Dave Pelz Golf School, whose namesake is
renowned nationally and abroad for his devotion to the short game. "It's another piece
of synergy for both of us," Norman says. "I always talk about partnerships, and that's just a good partnership."
At Boyne Resorts, Bernie Friedrich, vice president for golf and resort sales, says he's encouraged by the impact direct flights into Traverse City are already having on visitors to the company's three resorts at Bay Harbor, Boyne Highlands, and Boyne Mountain.
"We're pretty bullish about golf, and the last three years, our numbers have continued to increase," he says. "We provide a very good quality experience, and with Pure Michigan's help and the things we're doing, we're experiencing people coming here from a lot farther away and staying longer. People coming from Florida and California are used to paying a lot more for golf than they do here. We might be the cheapest state in the country to play very good golf courses.
"We see pockets from places like California, and with Denver having a direct flight into Traverse City, we're seeing increases in those pockets year after year. Illinois has been very good, but Texas and Florida are probably the two biggest ones — all the hot summer areas." 
Friedrich says Boyne's dynamic pricing strategy, where tee times are designed to suit different types of golfing customers on its 10 courses, has also helped. "We have those that come up with a foursome or eightsome, and to them the most important thing is they're out together playing golf, and the golf becomes a commodity — (it's) less important than just being together having a good time," he says.
More discerning players, on the other hand — those who enjoy playing top courses — are concerned with things such as course conditions and pace of play. By placing groups of golfers on the right course at the right time, everyone wins. As evidence, Friedrich says satisfaction surveys show customers appreciate the dynamic pricing and play system.
Enthusiasm for the coming golf season is also high in Gaylord, where Paul Beachnau, executive director of the Gaylord Area Convention and Tourism Bureau, is marking the 30th anniversary of the creation of the Gaylord Golf Mecca, an arm of the convention bureau that promotes 14 area courses and resorts. This year's promotion budget is nearly $900,000; a portion of the budget was spent in Dallas to develop relationships with local television and radio sports and golf personalities who help spread the word about Gaylord on their news outlets.
"We've been on the ground there doing radio and television spots. We have relationships with their FAN radio station, and Avid Golfer magazine (published in Dallas-Fort Worth) has sent their journalists to northern Michigan for broadcasts and reporting," he says.
Since the announcement of the Dallas flights earlier this year, Texas has jumped to No. 2 behind Ohio in the tourist bureau's tracking of inquiries from potential out-of-state visitors; Beachnau says requests for information are up 14 percent overall this year. Last year, the 14 courses that support the Golf Mecca campaign saw an increase of 4 percent in rounds played and expenditures on golf were up 10 percent, while room sales rose 10 percent.
One beneficiary was Treetops Resort, which last year saw its five courses collectively book 99,000 rounds of golf — a new record. This year, Treetops is ahead of last year's pace both in golf and rooms reserved.
While guests will find renovated rooms and common areas, other major overhauls won't be as evident, including new heating and cooling equipment and upgraded internet capabilities. In the near future, the resort's licensed day care center, along with the salon and spa, will be upgraded.
"I'm excited to see what's happening with our rooms," says Barry Owens, general manager of Treetops Resort. "We've gutted 42 of the rooms, and the renovations will make a huge difference for our guests this year, whether they're from Michigan, the Midwest, around the country, or Canada. The tourism industry is an important driver of the state's overall economy, and the more we can do in drawing new business helps everyone in Michigan." 
---
Altered Course – Golf instructor Brad Dean takes the helm at Interlochen.
For the first time in more than two decades, Brad Dean — long recognized as one of Michigan's finest golf instructors and PGA professionals — will open the season not on the teaching range, but in the corner office, running a golf club of his own.
Last fall, Dean was completing his 23rd year at Crystal Mountain Resort in Thompsonville, where he was director of golf and lead instructor of the Brad Dean Golf Schools he founded, when he was made an offer that he couldn't refuse. While playing a round of golf at the Interlochen Golf Club, on the outskirts of Traverse City, the club's owner, Tony Kochevar, suggested to Dean that he should buy the club.
"It's probably everybody's dream to go out on their own, but I wasn't looking for anything," says Dean, who was named northern Michigan's PGA Teacher of the Year three years in a row, and twice won Teacher of the Year awards from the Michigan Professional Golf Association. "I had been playing (at Interlochen) for fun the last couple of years and got to know Tony, who had been there for 36 years and was looking to retire."
Dean says he did his due diligence and realized he could make the deal happen under the terms Kochevar offered. "I was 50 years old and I realized if I was ever going to try something like this, then this was the time."
Over the past several years, Dean had taken on more management responsibilities at Crystal Mountain. He also learned about the business side of the resort from his close association with owners Chris and Jim MacInnes. "I owe them a huge debt of gratitude for what they did for me," Dean says. "They came to Crystal Mountain 31 years ago and built on the history and tradition of the property, and that's what I want to do here."
Since taking over at Interlochen, Dean has put his imprint on the property. "Except for the outer walls, we've renovated the whole building," he says of the clubhouse, which houses the pro shop and Bradley's Pub and Grill. He hired Chef Casey Love, who had established a following at the Poppy Cocks restaurant in Traverse City. The eatery will feature a smokehouse barbecue menu.
Dean says that while he will hire a golf professional to run the operation, he intends to be hands-on in supervising the restaurant and business side of the club.
Interlochen is best known throughout the state for its vibrant arts school and culture, but Dean says in recent years the town has become a bustling bedroom community for residents who commute to work in Traverse City. He believes his golf course is well-positioned to attract golfers as well as diners, given the resort is 7 miles west of Traverse City on U.S.-31.
The mature, 52-year-old scenic course measures 6,445 yards from the back tees and is highlighted by a tributary of the Betsie River that flows through it. Complementing the course is a practice range and a putting green. "It's a fun course to play, it's in great condition, and I think visitors will be impressed with the improvements we've made," Dean says.