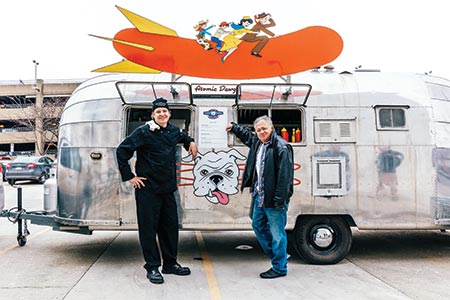 As a kid, Joel Martin couldn't get enough of the culinary fare at the popular Hot Diggity Dog at Eight Mile and Greenfield in Detroit.
"I just fell in love with hot dogs, and as I grew older, I became a discriminating fan and was always on the lookout for the best dogs I could find," says Martin, manager of F.B.T. Productions and owner of 54 Sound Studios, both in Ferndale. The studio, located along Nine Mile, has produced or been a part of countless hit records and songs recorded there, including Eminem's "Lose Yourself."
Martin also is an avid collector of items designed during the Atomic Age, of the period during the 1950s and '60s when nuclear war was a concern. Pairing the two passions, he opened the Atomic Dawg in Berkley two years ago.
The restaurant, located in a two-story building along Coolidge, just south of 12 Mile, was crafted from a former creamery and is now outfitted with 1950s neon fixtures, silver stools, and various pieces of period furniture. "At some point, I wanted to do a food truck, and since Airstreams come from that era, I knew that was the direction I wanted to go," he says.
After searching for more than a year, Martin found a 1953 Airstream Silver Cloud that had been sitting in a field in Flint. "It was a 13-panel trailer, which was very unusual, and the shell was in excellent condition," he says. "So I bought it, and (then I) found Sexton Enterprises in Ferndale. They had a blast replacing the axle and chassis, adding a lightweight aluminum floor because the wood floor was shot, and adding a custom curved hood above a flat grill and burners."
Researching his options, Martin learned hot dog carts in urban areas were often "grandfathered in," meaning a non-motorized stand on wheels, with the requisite licenses, could be used in populated areas. "We can be on sidewalks, rent areas in parking lots, and we can be on Woodward Avenue at night when there's a big event — which we'll let people know about via social media this summer," Martin says.
For the cuisine, he and his cousin, Bobby Schnitzer, a longtime food services expert, hit the road. The finest hot dogs, the pair determined, are Hoffy's natural casing beef frankfurters, produced since 1939 in Los Angeles. "They use gourmet beef, and have a mild smokiness and the right snap," Martin says. Nearly everything else is local, including handmade sausages from Corridor Sausage Co. in Eastern Market.
Martin brought in Chef Gary Brunner to create the Benicio Del Toro, the Santa Fe, the Hula Dawg, and a dozen other frankfurter and sausage selections (split, grilled, and filled). There are also burgers; a grilled, five-cheese sandwich; chili; a few sides; and shakes, malts, and floats.
"We focus on bright colors and bright flavors, and we use local food sources (for) fresh vegetables and spices," says Brunner, a principal of Atomic Dawg who owned and operated The Café in Royal Oak and worked at the Golden Mushroom in Southfield. "I don't know if you can call tasting our hot dogs as epic, but it's as close as you can get."
In addition to the trailer, which is available for catering, Martin is perfecting a series of hot dog carts — each one is half the size of his 20-foot-long Airstream ("half-pint trailers that can be operated by one person") — and selling them. He already has orders from Rockaway Beach in Long Island, N.Y., and Del Ray Beach, Fla., in addition to three other stands that he plans to build and sell this year. "That's our capacity, but we plan to build more next year," he says.
Not one to miss a beat, the producer — who handles the rights of more than 12,000 songs and ad jingles via Sync2Picture.com in Ferndale — uses an iPad and a custom speaker system to blast out urban, funk, and soul music while taking orders and conveying pickups. "OK, we have Stephanie with Gary's Grilled Cheese and Jim with the Milwaukee Dawg," Martin broadcasts through a microphone at a recent event. "This is unbelievable. I can't tell you how much fun I'm having." db
---